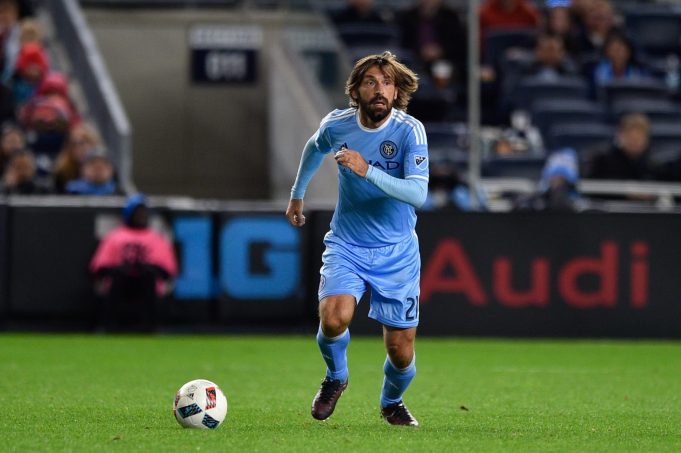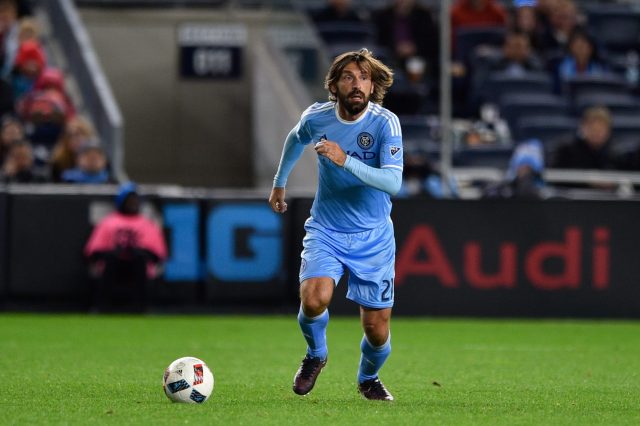 Center Midfield: Andrea Pirlo
37-year-old Andrea Pirlo is about to enter what will, in all likelihood, be his final season as a professional athlete. His long, successful career, which has included World Cup and Champions League triumphs, will likely end after this season, but the Italian still remains an integral part of NYCFC's first team.
While he doesn't have the pace or stamina that he once had, Pirlo's innate ability to pick out passes from deep has persevered, and the addition of several speedy attackers, including Jonathan Lewis and Sean Okoli, will undoubtedly benefit the maestro.
The jury is still out on whether Pirlo has been a worthwhile signing for the Blues, but he is a shoe-in to the first XI regardless.
Center Midfield: Thomas McNamara
Tommy McNamara has been a jack of all trades kind of player for NYCFC for a while. He has played on the wing, as a number ten, and in the center of midfield. Regardless of where he plays, he adds production and hard work to any side, which is why he was a favorite of both Jason Kreis and Patrick Vieira.
McNamara might be deployed as a center midfielder, responsible for protecting the back four due to the departure of Andoni Iraola. Pirlo will also sit in front of the back four, but he doesn't have the engine or pace that Tommy Mac does. The Pearl River, New York native will need to provide steel in the midfield and protect NYCFC's biggest weakness: the back four.
Center Attacking Midfield: Maxi Moralez
NYCFC's latest designated player might not bring the name-brand recognition that their other designated players have. He isn't a club/international legend like David Villa, Frank Lampard, or Andrea Pirlo. What he is, however, is an especially exciting player with terrific attacking potential. Whether he plays as a center attacking midfielder in a 4-2-3-1, or on the wing in a 4-3-3, Moralez is an electric player with the ball at his feet.
Moralez is fantastic at running at defenders and attacking pockets of space. He can also pick out a pass, and cause defenders to gravitate towards him, freeing up attention for his teammates. Some may argue that he should score more goals than he has over his career, but he still has tremendous attacking potential.
Tom Marshall, who covers Liga MX in Mexico, likened Moralez to Giovani dos Santos, or maybe even Sebastian Giovinco. If the Argentine could produce anywhere near the level that those two have, NYCFC could have pulled off the signing of the offseason.