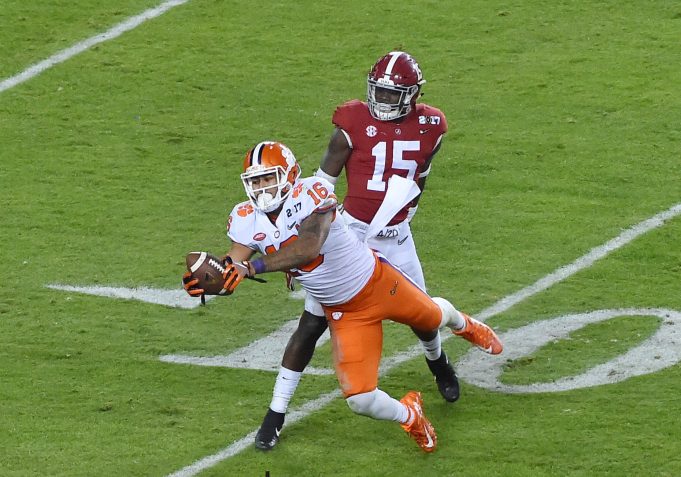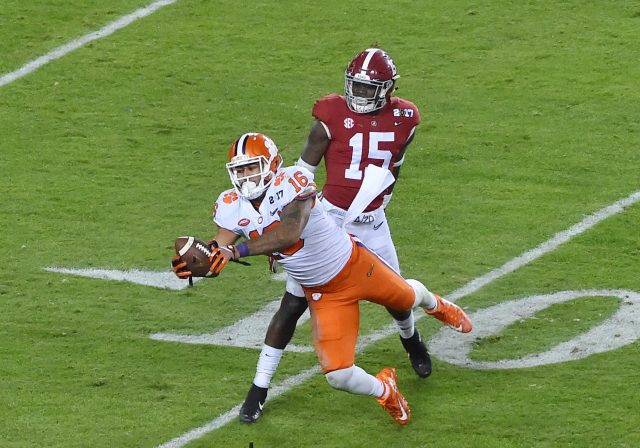 Look no further than the New York Jets own Brandon Marshall for a steal in the fourth round. The 2006 draftee has amassed five Pro-Bowl appearances over his career and could be considered the best in his class. While the success of mid-round prospects seems more like a coin flip rather than a sure thing, the picks during the fourth and fifth rounds can produce stars and depth alike.
If the Jets for one reason or another miss out on O.J. Howard or David Njoku, a nice consolation prize would be Clemson's Jordan Leggett. If the question is, how does Leggett perform against elite talent? Two national championship games against Alabama is a perfect place to start. In two games, against the Crimson Tide, Leggett garnered 12 receptions for 173 yards and a touchdown.
His key reception that led to the game-winning play for Clemson in the 2016 title game exhibited what scouts will clamor over during this year's combine process. Jordan is the type of all-around talent that is so valuable in the NFL. If there is a suitable comparison to Leggett in the NFL, the "workman" mentality that Jason Witten has exuded throughout his career would not be far off.
New York has frequently looked at the Big Ten as a breeding ground for the use of their draft picks. Michigan's David Harris, Penn State's Christian Hackenberg and the recently released Nick Mangold have all played in one of the best conferences in college football. Ohio State specifically has produced many former Jets players. Some have excelled, as in Mangold's case, and others have floundered, Vernon Gholston comes first to mind.
Ohio State wide receiver, Noah Brown could find himself as the latest Buckeye to join Gang Green. Brown, like JuJu Smith-Schuster, is a big bodied receiver who has no fear when it comes to going after a ball that will put his body at harm. Where Brown may not have a ceiling like Juju is with his acceleration off the line. Again, could be a nice possession receiver and touchdown machine for Gang Green, if he can stay healthy.
Alternative Picks: Isaiah Ford, WR, Virginia Tech and Evan Engram, TE, Ole Miss