John Gillon not only helped Syracuse beat Duke at the buzzer, he allowed the Carrier Dome to explode in full celebratory fashion.
Syracuse Orange 78 (17-12, 9-7)
Duke Blue Devils 75 (22-6, 10-5)
NCAA, Final, Box Score
Carrier Dome, Syracuse, NY
All it took was one miraculous shot for the Syracuse Orange and all its supporters to explode. And boy, what a shot it was:
https://twitter.com/ESPNCBB/status/834585351234658304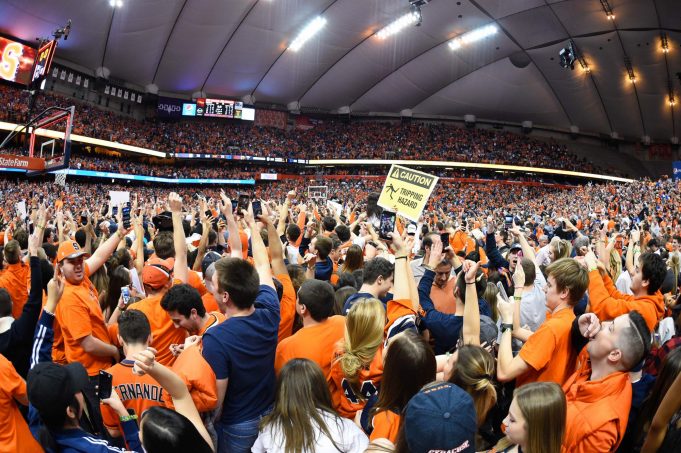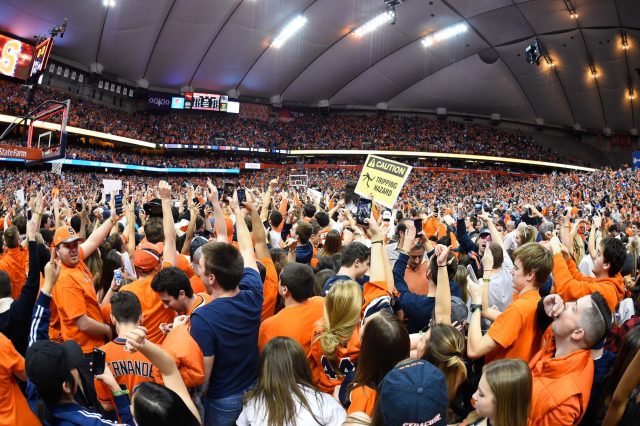 Syracuse's John Gillon played the hero role as he took the ball past halfcourt and rose up against three Duke defenders. Sure, it banked in, but from the range, as long as it finds its way through the rim, mayhem should ensue.
The senior, Gillon, not only hit the big one, but he led all scorers with 26 points in the contest (9-14 from the floor). He also chipped in with six assists and two boards. Freshman Tyus Battle helped the cause with 18 points of his own.
For the Dukies, Luke Kennard paced Coach K's offense with 23 points. The much discussed Grayson Allen struggled for much of the day, shooting just 2-for-11 and finished with just eight points.
For the Orange, their nine-point second-half comeback win will loom large when the committee takes a look at the at-large tourney bids.
Syracuse has won 4 games this month and they've all been 2nd-half comebacks. pic.twitter.com/YSIWddeSbO

— ESPN Stats & Info (@ESPNStatsInfo) February 23, 2017
There goes that man pic.twitter.com/F3gPwysQ2I

— Syracuse Basketball (@Cuse_MBB) February 23, 2017