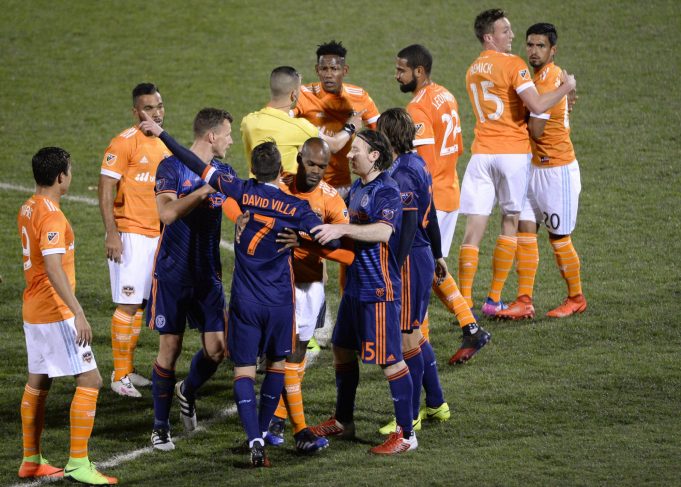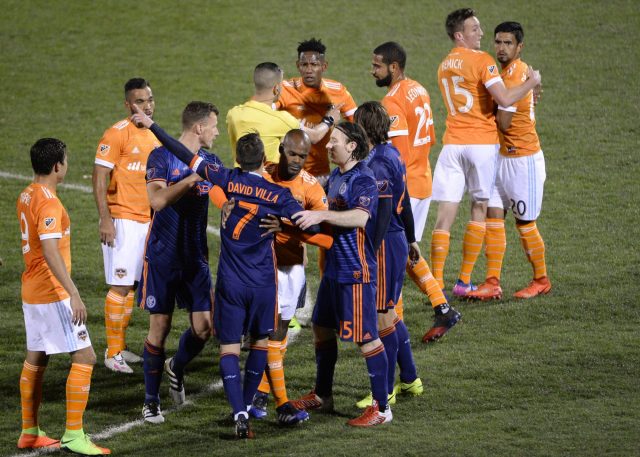 NYCFC star and reigning MLS MVP, David Villa, sees a red card during a preseason match on Saturday night. 
Villa Sees Red
There is still a month to go until opening day of the MLS season, but don't tell that to David Villa. The passionate NYCFC star forward and reigning MLS MVP had an eventful evening on Saturday night. In a preseason friendly against the Houston Dynamo Villa scored a beautiful goal but was also shown a red card.
https://www.youtube.com/watch?v=nOSR_f2QpZo
Playing with 10 men for most of the match, the Bronx Blues fell 1-3.
With the Dynamo up 2-1, Villa jockeyed for position prior to a corner kick. While play in the box is often physical, Villa went over the line. He took a swing and made contact with the head of Dynamo defender AJ DeLaGarza.
Villa was immediately shown a yellow card. Moments later, after a video review, Villa was shown a red for his aggressive actions. He immediately left the pitch and joined coach Patrick Vieira in the locker room, who had been dismissed earlier in the match.
Villa is a player that goes all out at all times. It is a quality that has served him well over the course of his extraordinary career. However, a preseason friendly against an inferior inter-conference opponent is not an ideal place for this much intensity.
It is not likely that the incident will impact Villa's availability for opening day but the league may hand down a preseason suspension or fine.
Villa is becoming the face of MLS. Behavior like this is unbecoming that role.
NYCFC Notes
With another strong showing, 16-year-old James Sands is gaining the confidence of coach Vieira and had a legitimate chance of being a starter for NYCFC this year.
Video Assistant Referee (VAR) technology was used in the NYCFC/Houston game. The new tech is being tested in a total 29 preseason games to help eliminate clear errors. Goals, penalty decisions, direct red card incidents and cases of mistaken identity are all subject to VAR review.