Every game it's looking more like the signings of Andrew Ladd and Jason Chimera are paying huge dividends for the New York Islanders.

Heading into the offseason, New York Islander fans pretty much knew that some longtime fan favorites would not be returning in Kyle Okposo, Frans Nielsen and Matt Martin. But how would general manager Garth Snow replace these guys?
Well on July 1 – the first day of free agency – Snow inked two veterans in Andrew Ladd and Jason Chimera.
The deals were met with their fair share of skepticism. The 30-year-old Ladd signed a seven year deal worth $5.5 million annually. Meanwhile, Okposo signed a contract with the Buffalo Sabres for seven years and $6 million dollars annually. Why wouldn't Snow just pay the 28-year-old Okposo the extra half of million?
He had proved that he played well alongside center John Tavares. Perhaps Snow and Okposo didn't get along, or maybe he just wanted playoff winning experience in Ladd, who won a Stanley Cup with the Chicago Blackhawks.
Snow made another signing on July 1 to replace the teams bruiser Matt Martin when he notched veteran Chimera on a two year, $4.5 million contract. As much as Martin was loved in New York, it was his time to go. Chimera is a good bridge forward to have with the talents of Matt Barzal, Michael Dal Colle and Josh Ho-Sang down on the farm.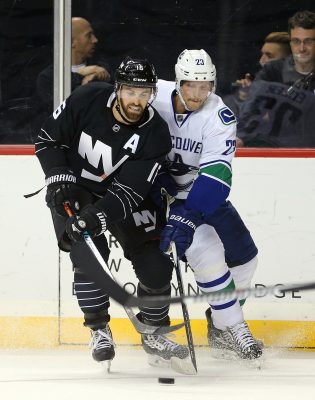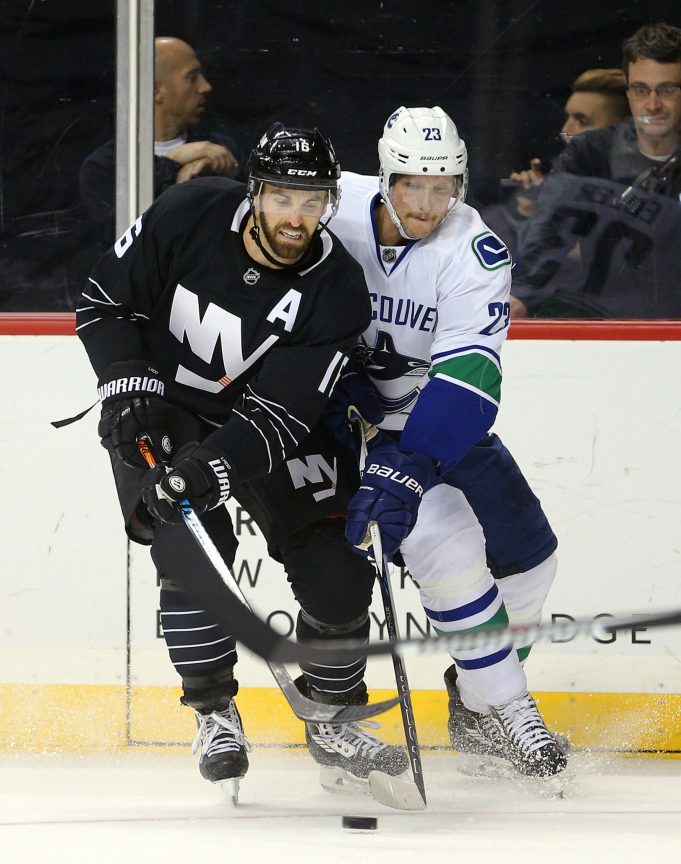 However, the beginning of the '16-'17 season did not start very well for these two wily veterans. In his first 21 games as an Islander, Ladd only tallied two goals and one assist for a total of three points. He didn't get his first goal until the 13th game of the year against the Vancouver Canucks. Okposo already had 15 points during that span with the Sabres. Naturally, fans started to get frustrated. Ladd was brought in to produce goals and play alongside Tavares, and he was doing neither.
Chimera got off to a slow start as well. During his first 21 games, he had one goal and five assists for six points. But he's in a different situation than Ladd. Being a 37-year-old on the third line, you don't really expect him to be putting up big numbers.
But then the script flipped on January 17, when Jack Capuano was relieved of his head coaching duties. The Islanders have been a whole team since Doug Weight took over the job. Since then, the Islanders are 9-3-2, sitting one point back of the last Wild Card spot. A big reason for that has been the play of Ladd and Chimera.
Recently, the duo has been playing and building chemistry together on the third line. That showed in the Islanders big win in Philadelphia last week when Ladd hit Chimera with a long pass down the ice for a goal, which turned out to be the game winner.
Offense at Puck – great job by @NYIslanders Ladd to skate laterally inside the blue allowing Chimera to drive in behind D. #PHtipoftheday pic.twitter.com/lmPSWYiWp2

— Pyramid Hockey (@johnbecanic) February 10, 2017
Since the coaching change, their numbers have risen. During the 14 games under Weight, Ladd has 10 goals and three assists, while Chimera has six goals. With this pace, both of them should hit the 20 goal mark for the season, something Islander fans wouldn't have thought possible back in December.
Ladd had the spotlight in the Islanders big 4-2 win over the New York Rangers on Thursday night. Tied at 1-1, Stephen Gionta stole the puck from Marc Staal against the boards and fed Ladd in the slot who buried it to give the Islanders the 2-1 lead. He later went on to score an empty-netter at the end to protect the win.
Stephen Gionta just ABUSED Marc Staal. Andrew Ladd gets the credit, 2-1 #Isles. pic.twitter.com/ONbNfJ4x76

— Elite Sports NY (@EliteSportsNY) February 17, 2017
These two can't stop now though. If the Islanders want to get that second Wild Card spot, they need that Ladd and Chimera line to keep producing. Everyone knows what the Bailey-Tavares-Lee line can do, as they've been red hot as well. It's scoring from the other lines that will propel the Islanders into the playoffs, and that has to come from Ladd. That's why he was signed this past summer and his play will be a major factor in determining if this team will play at the end of April.
The Islanders have a tough stretch coming up. After the home-and-home with the New Jersey Devils this weekend, they go on a nine game road trip against some tough opponents including the Blackhawks, Montreal Canadiens and Edmonton Oilers. After this road trip, fans will have a good idea of the identity of this team.