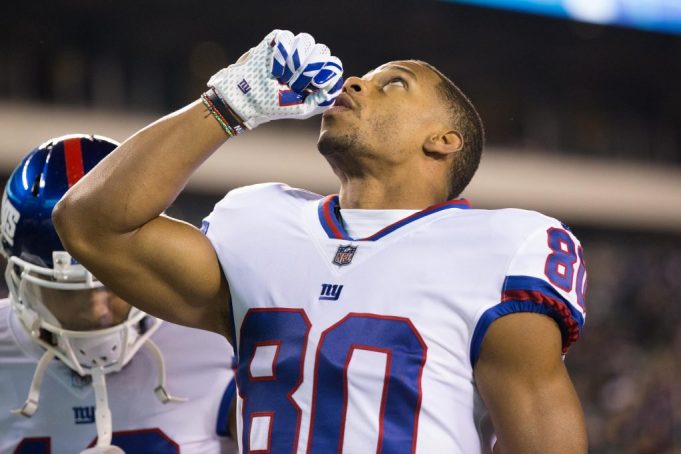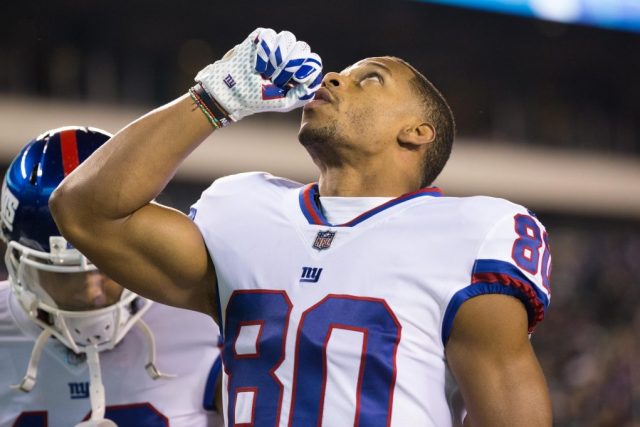 4. Will Victor Cruz be a New York Giant next season?
One of the most intriguing storylines this offseason is what the Giants decide to with veteran wide receiver Victor Cruz. It also happens to be arguably the most difficult decision of them all. Do the Giants see the 30-year-old Cruz as a part of their future, or do they wish to go in another direction at the wide receiver position?
Before I get into the specifics of this difficult decision, I would be remiss if I did not mention that Victor Cruz is an incredible person, an incredible teammate, and an incredible leader.  He has done so much for the Giants' organization, and it would not have four Super Bowls without him. His passion for the sport is undeniable, and his will to win is greater than most in the game today. That being said, it seems unlikely that Cruz will return to the Giants in 2017 under his current contract.
In 2014, Cruz signed a five-year, $43 million contract with over $15.6 million in guaranteed money. At the time, he had just come off of a three-year span from 2011-13 where he recorded 241 receptions for 3,626 yards and 23 touchdowns. He was as good as any player at the slot wide receiver position and deserved of every penny of the contract. However, Cruz's career was derailed on the fateful October night in Philadelphia in 2014 when he tore the patellar tendon in his knee — causing him to miss the rest of the 2014 season and eventually all of 2015 after he suffered a torn hamstring due to overcompensation on the healthy leg.
While he did return to play 16 of the 17 games this season (including the postseason loss), he is not the player he was before the injury. He did not show the same burst, ability to gain yards after the catch, or elite ability to separate from defensive backs in which he demonstrated before the injury.
He struggled to separate in man coverage and was not a consistent target for Eli Manning — recording a career-low 54.2% catching percentage on targets. He finished the 2016 season with 39 receptions for 586 yards and a single touchdown—all of which are full-season career lows. Earlier in his career, he thrived on making big plays, especially in the vertical passing game. At this point in his career, he is no longer such a threat.
Is Cruz still an NFL caliber receiver? Yes. Is he a NFL caliber receiver worth a $6.4 million base salary with a colossal $9.4 million cap hit? Absolutely not. He did show this season that he could make a play when his number is called—as he made a few pivotal catches including the game-winner in week one. If Cruz is to return to the Giants, a contract restructure seems all but likely, as his declining production does not align with his large cap figure.
But while a restructure could take place, the Giants may look to go in another direction. Last season, the Giants selected wide receiver Sterling Shepard in the second round of the NFL Draft. Shepard was thrust into an immediate starting role and thrived — recording 65 receptions for 683 yards and 8 touchdowns. Starting all 16 games and playing 95 percent of the offensive snaps, he quickly became Manning's second-favorite target behind Odell Beckham Jr. It was not Shepard's production that does not bode well for Cruz's future with the Giants, but rather it was where the production took place.
Shepard almost entirely lined up in the slot in 2016, which forced Cruz to split out wide for most offensive plays. While Cruz is much better suited to play in the slot than the outside, Shepard displayed a lot of the same separation ability that a young Cruz displayed as he ascended to become a top receiver in the league. In fact, Shepard ranked 10th among all slot receivers in slot receiver separation, according to NFL.com, and thrived against opposing nickel corners. It is evident that Shepard is the slot receiver of the present and future of the Giants, making Cruz all but expendable as the odd man out in the receiving corps due to his ineffectiveness while split out wide.
While all signs point to the end of Cruz's tenure with the Giants, the decision goes beyond the football field. His intangibles not only as a leader on the team but also as a role model for the young receivers in Beckham Jr., Shepard, and Roger Lewis are invaluable. Despite his declining performance, this may be enough for the Giants to keep him. He brings much more than just his play on the field, and a contract restructure does make sense for both sides. While Cruz has adamantly stated that he wants to finish his career with the Giants, he has not yet heard from the team regarding his future, according to James Kratch of NJ.com. Only time will tell if Victor Cruz will be a New York Giant in 2017.