One of the top names Jerry Reese and the New York Giants need to look in on is UCLA defensive end Takkarist McKinley.
Last season, the New York Giants were equipped with, arguably, the top defense in the entire league. Their defense has the potential to have a very different look in 2017 and what could happen in the trenches is a huge reason why.
Jason Pierre-Paul and Johnathan Hankins, two stalwarts on Big Blue's defensive line, are set to be free agents. With this in mind, it will be tough for the Giants to be able to re-sign both of these players. JPP has reportedly said he wants an Oliver Vernon-esque contract while Hankins is likely to command a Linval Joseph-like contract. However, the G-Men won't have the resources to sign both.
Due to this, the Giants could be going into the draft looking for a defensive lineman. One of the top options available is Takkarist McKinley, a defensive end from UCLA.
The overall views on McKinley are mixed, but I believe that in the right system, he could develop into a star.
On the negative side, the 21-year-old only has one pass rushing move. McKinley is very raw, but in the future, he should be able to develop more pass rushing moves. In addition, his pad level is not consistent enough, which leads to him getting beat easily. The kid can also work on improving his strength.
There are two main issues with the DE, health and his lack of hand use. These two might be directly correlated. The UCLA product has, "the tools … of a top-20 player." According to draft expert Matt Miller. The only holdup on him is his health. He has a torn right labrum which may eventually require surgery. Perhaps his lack of hand usage is linked to his shoulder injury. Even if it isn't, hand usage is one flaw that can be fixed.
While watching film on McKinley, one cannot help but be awed by his effort. The young UCLA product gives every snap everything that he has. There are few things that are unable to be taught in football, height, athleticism, and love for the game. Some players, like Justin Gilbert, have proven that even though one may have the measurables, it takes passion to make it in the NFL. 
Luckily, for whatever team drafts McKinley, he has plenty of passion.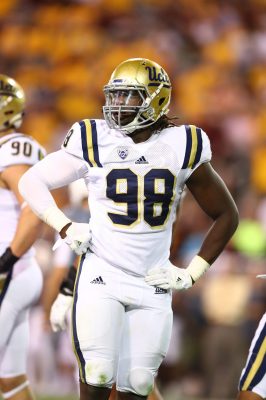 The DE out of UCLA has elite speed for his position and is expected to perform rather well in the 40-yard dash. This freak athlete was able to get by in college by using his best trait (speed) to get to the quarterback. While speed rushes are used in the NFL, McKinley will need to work on some counter moves in order to complement his speed rush.
There is no doubt that given time, McKinley could develop into a great player. If drafted by the Giants, he would be given time. As soon as drafted, he would have the option of being able to undergo surgery on his torn labrum. While he is recovering, Romeo Okwara would be a serviceable option to start. Okwara has already proven that, given the opportunity, he can step up and perform serviceably.
Even if the UCLA product were to decide not to undergo surgery, he would still be eased into the NFL by the Giants.
It would not be the first time the Giants have taken a flier on a DE out of UCLA with an iffy injury history. Big Blue drafted Owa Odighizuwa in the third round in 2015, and while he hasn't panned out as yet, he still has time.
If McKinley is on the clock when the Giants are drafting, it will be hard for the G-men to pass up on his immense potential.