Miami University tight end David Njoku is a youngster Jerry Reese and the New York Giants absolutely need to kick the tires on.
There is one word that can be used to describe the Giants 2016 offensive performance: disappointing. As a result, Big Blue could be going into the draft looking at offense, depending on how free agency shakes out. With the 23rd overall pick in the draft, the G-Men should have plenty of options.
One option that Big Blue should consider is a local kid from NJ, David Njoku. The Miami tight end is hands-down the second-best tight end prospect in the draft.
One reason Njoku is so coveted is due to his mind-numbing potential. The tight end is listed as 6-foot-4 and 245 pounds, according to Miami. In addition, he is expected to run in the sub 4.5 range and have a 40 inch vertical.
These numbers are insane for the tight end position. For example, the most recent tight end prospect to compare to Njoku athletically is Eric Ebron. Ebron ran 4.6 and was equipped with a 32-inch vertical. These numbers pale in comparison to what Njoku is expected to post.
The ex-Hurricane is expected to be one of the top performers at the combine. Matt Miller feels that if he tests at the combine like he is expected, then he is a surefire top 20 pick. If what Miller says is true, that would put the Jersey boy out of the Giants range.
Adding another multi-dimensional playmaker to the offense is exactly what the Giants need. Last season, all of the G-Men's tight ends combined for 79 catches for 609 yards and three touchdowns.
Last season alone, the Miami product was nearly able to top that total. He posted career highs of 43 catches for 698 yards and eight touchdowns. Granted, these numbers are tough to compare to pros, but it showcases Njoku's immense potential.
[graphiq id="5jquhGloDFb" title="New York Giants Tight ends" width="600″ height="578″ url="https://w.graphiq.com/w/5jquhGloDFb" ]
The last true game-changing tight end that Eli had was Jeremy Shockey. It has truly been awhile since Eli had a reliable safety blanket. The Giants top current tight end, Will Tye, would serve as a serviceable backup behind Njoku, if he was drafted.
Although O.J. Howard is the consensus top tight end prospect, Njoku has his perks. Howard is hands-down the more polished prospect. Yet, the Miami product has more upside.
One NFL scout said this about Njoku, "Our tight end coach said it's the most upside he's ever seen in a TE prospect." There is no doubt Howard will go before Njoku, but the former Miami tight end clearly has more potential. However, it is to be seen whether the young stud will be able to put together all the pieces.
Another plus about the tight end is that he is one of the youngest players in the 2017 draft class. By opening week 2017, he will only be 21.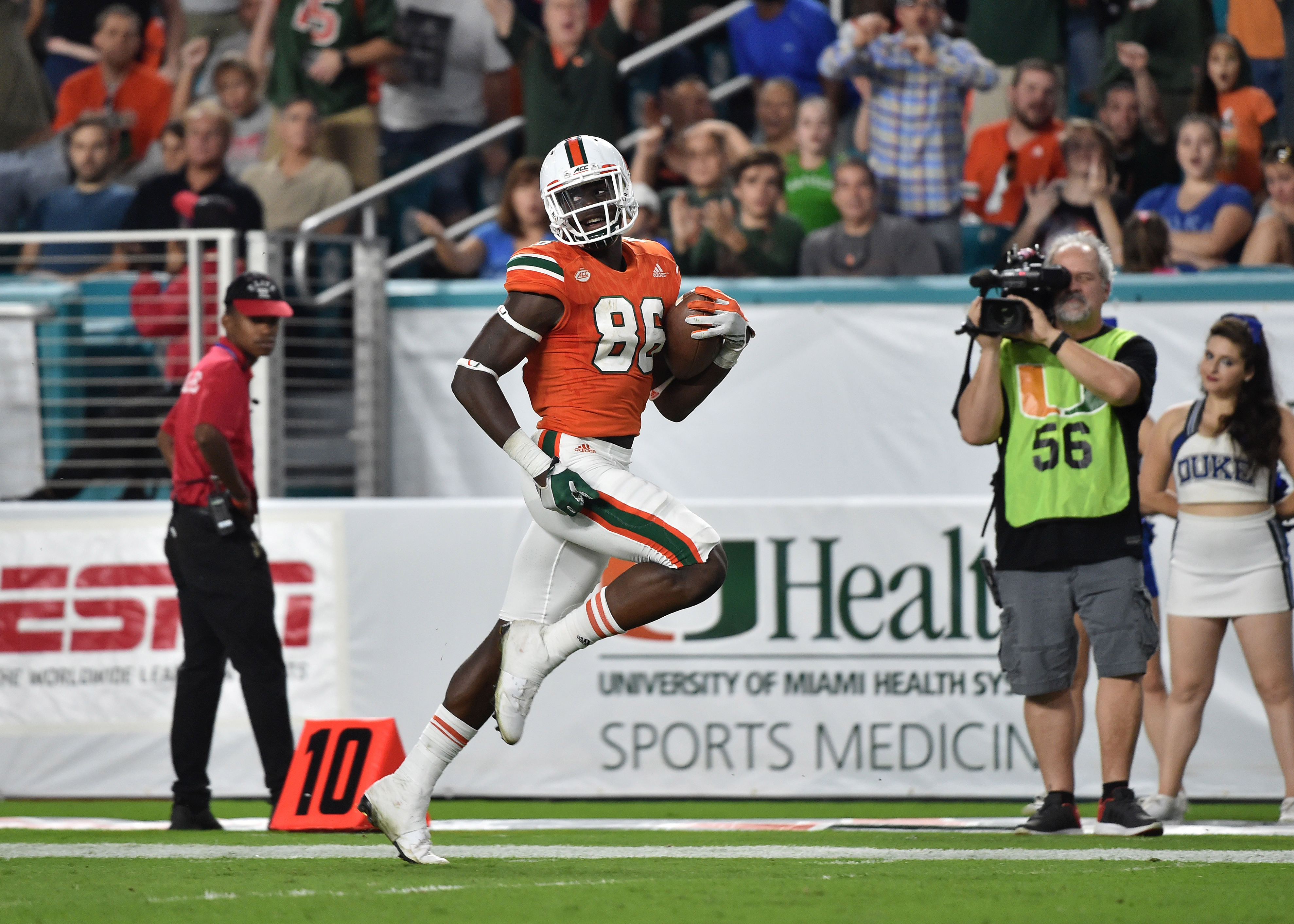 However, not everything about Njoku is positive.
While he has made strides on the field, at this point, he is more of an athlete than a player. Also, his routes could use some fine tuning and he struggles with concentration drops at times. Although Njoku's current run blocking would be an upgrade over what the Giants have obtained from their current tight ends, he could also use some improvement in this area of his game.
The upside is that all of the negatives of Njoku's game can be fixed with some good coaching. Once drafted, he will instantly become the red zone target the Giants have been lacking in recent years. The 20-year-old would also help Eli age gracefully by adding a much-needed security blanket to his receiving corp.
The stud would fit right in as a member of Big Blue. If he is on the board when the Giants are drafting, they should definitely take a long look at him.