The New York Jets are once again looking for a quarterback, but no, the answer isn't Tyrod Taylor or Deshaun Watson.
T
he Jets showcase so many glaring holes heading into the offseason. So where does one start? Oh, that's right, the quarterback position because, after all, this has been a perpetual quandary.
With Ryan Fitzpatrick and Geno Smith set to become free agents, it leaves Bryce Petty and rookie Christian Hackenberg left on the roster.
As I've vehemently declared in the past, the Jets better hope either of these projects pan out. For a team that has been so inept with regard to decision making, swinging and missing on fourth and second round picks in successive years could set the franchise back significantly.
Thanks to the glaring weakness — one that has Jets fans pulling their own hair out without notice — rumors start flying.
Enter Tyrod Taylor and Deshaun Watson, two guys the Jets need to absolutely stay away from this offseason.
This isn't to insinuate these guys are flat out terrible. They are both better than Fitzpatrick, though that's not really saying much of anything. It's just that given the circumstances, neither of them make a ton of a sense.
With Taylor, he was given a chance in Buffalo. Rex Ryan named in the starting quarterback and allowed him to keep his job for two years. Ultimately, Rex ended up being given a pink slip because they Bill seemingly regressed on defense under him (an area that was supposedly his specialty). But Taylor has to bear some of the criticism.
With him as the starter, the Bills were 15-14 in two years. While the record was neither bad nor terrible, it wasn't good enough to get them back to the postseason, a place they haven't been since 1999. You can point to the defense has one of the issues. Buffalo went from boasting the fourth best in total defense to 19th in consecutive years. That wasn't what they thought they were getting themselves into when they signed Rex.
But the offense was a problem at times too.
This season, the Bills finished 16th in total offense (10th in points) despite leading the NFL in rushing per game (164 yards/game). The next best were the Cowboys, who finished a whooping 15 yards behind. What this shows you is that too many drives were ending in field goals.
And that, quite frankly, falls on the quarterback, who finished the year with just 17 touchdowns. That gave him sole possession of 24th in the league. He also failed to throw for at least 200 yards in in nine of the 15 games he appeared in this season.
Would he be an improvement from what the Jets had under center last year? Absolutely. But the worst thing you can be in the NFL is 8-8 and that's exactly what the Jets would be if they went in his direction.
Meanwhile, Watson is a QB with a ton of promise — especially after he proved on the biggest stage he was capable of putting his team on his back, not once, but twice. Last year in the national title game, Alabama was just better than Clemson.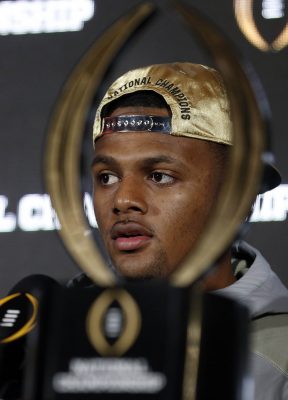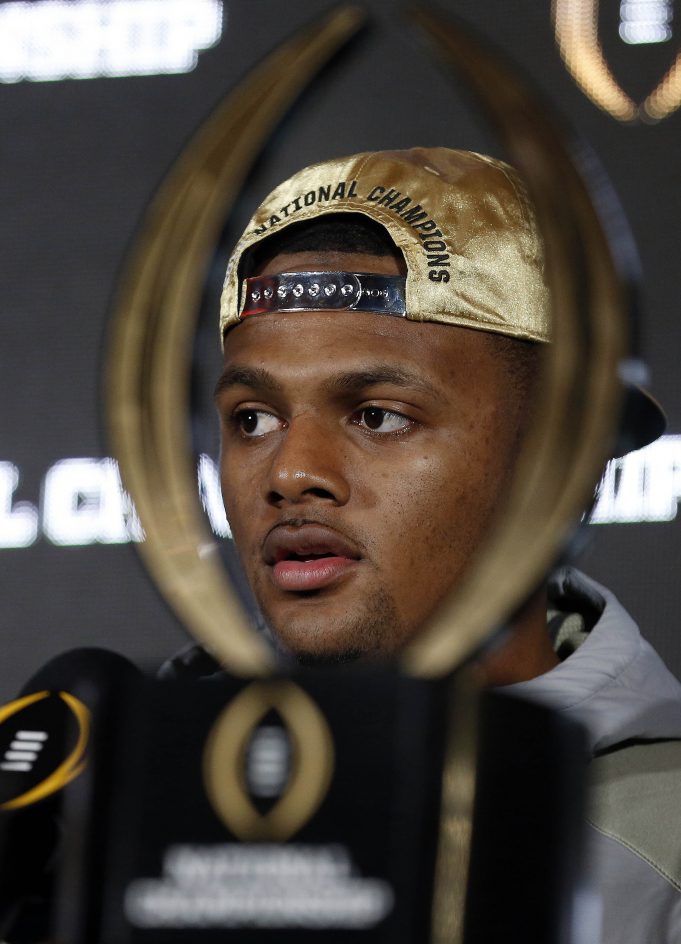 But fresh off the 45-40 heartbreaking defeat, Watson had the performance of his life with 420 yards and four total touchdowns. On national television, he ripped to shreds that best defense in the country that seemed to have no answer for him. His domination culminated in a game winning touchdown drive with one second left. The moment wasn't too big for him.
It just wouldn't be wise for this Jets team to take him in the draft with two young quarterbacks already on the roster. The methodology isn't the problem. You take the best player available when you're on the block. The issue emanates from the Jets' inability to make sound decisions as it pertains to the quarterback.
They couldn't develop highly touted Mark Sanchez and he's now become Mr. Clipboard in Dallas. Geno Smith was a disaster. And the list goes on and on. So what makes you think they'd be able to that with Watson? He sure isn't a finished product, as he'll need to display in the NFL he could read defenses, stand in the pocket and make accurate throws against bigger and stronger defenders.
On top of them developing Watson, how's that going to work out while they're still trying to figure out Petty and Hack? This sounds like a circus.
This sounds all too familiar. It also sounds like it needs to end soon, because it's really getting old.