With news of Rex Ryan's firing, many who bleed green are calling for a second stint. This makes no sense for the New York Jets.
Y
ou love the guy. We get it.
It makes complete sense.
Coming off the heels of a quiet, lock the doors and throw away the keys master in Eric Mangini, Rex Ryan's regime represented something different.
Rex was the anti-Mangini.
No longer would the New York Jets fail to capitalize on their status in the Big Apple. No longer would they be pushed around as little brothers. No longer would they be bumped for a lesser sport on the back page of the New York Daily News.
Rex had become the brash, in your face mean mug of a franchise fans had been dying for and Woody Johnson couldn't get enough.
Two straight AFC Championship Game appearances would follow Ryan's hire, and, suddenly, the hot team in the Big Apple wore green. Even more jaw-dropping is the fact Mark Sanchez, a guy nobody will confuse with Andrew Luck, was the QB on each run that saw a 2-1 road record during each tournament.
Devastatingly enough, for Jets fans, the all-time winningest playoff coach in franchise history couldn't keep it up.
In fact, his regime trended downward — the fundamental reason Ryan's head coaching career is a bit of a mirage.
Rex took Mangini's players on two wild rides through January. The minute he and Mike Tannenbaum (Mikey T., as most know him by) starting working hand-in-hand on the personnel side was the moment Woody Johnson's organization started to nose dive.
In 2011, the New York Giants and Victor Cruz's 99-yard touchdown against Rex's vaunted defense propelled a 7-7 Big Blue squad to the Super Bowl. The Jets finished a disappointing 8-8.
In 2012, free and clear from Brian Schottenheimer (as somebody needed to be thrown to the wolves), Tony Sparano and Ryan finished 6-10, with Tannenbaum still in charge tied at the hip with Rex.
If you're one who believes Rex Ryan should make his return to Florham Park, New Jersey, please shut off your computer, iPad, or phone and call a cab to the nearest doctor.
Why would anything change now?
In 2009, Ryan simply caught fire with the right personnel at the right time. Take a gander at the talent on the 2009-10 roster. The Jets were loaded:
Ryan possessed, by far, the best offensive line in the sport. While they weren't exactly equal to what we're seeing now in the Dallas Cowboys, it came pretty damn close. 
This was a personnel grouping spearheaded by Mikey T. and Mangini that showcased an 8-3 record in 2008 prior to Brett Favre playing through a serious arm injury during the final five games.
The idea that Ryan couldn't gather the regime and point it upward after slipping a bit in 2011 is a devastating blow for his career. Granted, John Idzik did him no favors in 2013 and 2014, but Ryan spelled out his own fate in the way he did business.
He and Tannenbaum rid the locker room of tough, quality players such as Jerricho Cotchery, Brad Smith, Thomas Jones, and Alan Faneca. Some were tough to keep, no doubt, as age and finances always fly into the picture.
But the players that came in did anything but sew up issues. Troublemakers like Santonio Holmes only furthered the divide between certain guys. At some points during the regime, the well-off defense and struggling offense could never see eye-to-eye.
Ryan, coaching in the top spot like a glorified defensive coordinator, didn't help matters.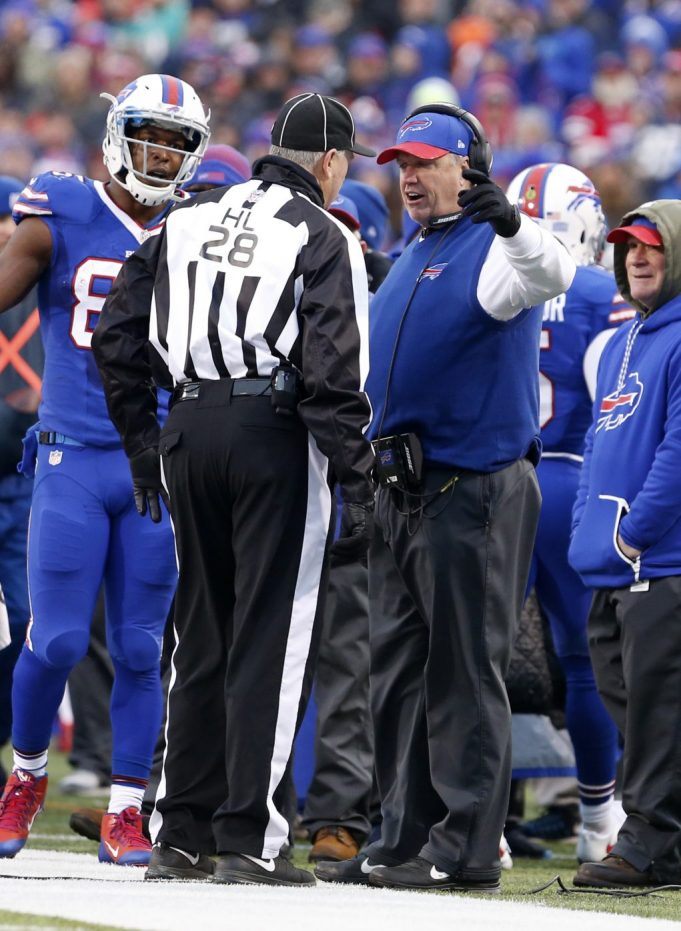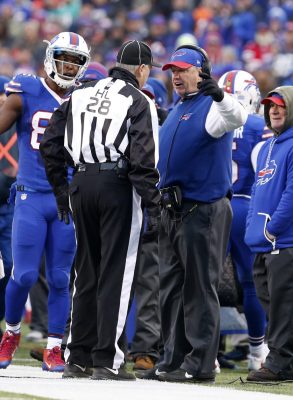 Then, when he was provided a clean slate with another franchise, the Buffalo Bills, he failed yet again. He took a Doug Marrone squad that finished 9-7 the campaign before and went 8-8 during his first season. Even worse was the idea that his defense (and, especially, defensive line) regressed under his leadership.
In 2014, Buffalo finished fourth in total defense. They topped the league with 54 sacks. In 2015, after Ryan made his usually brash entrance onto the Buffalo scene, the Bills defense slid to 19th in the league and second to last in the sack department (21 in total).
With Buffalo's personnel barely changing from Marrone to Ryan, how in the world is this possible, if Rex is a solid NFL head coach?
Love the guy. Do it. There's no reason not to.
He took Jets fans on a wild ride during January of 2010 and 2011. Unexpected, brash rides that forced us to fall in love with a new, unapologetic face of the franchise.
Please, though, don't believe for one moment that he's the Jets answer at this time. He's not.
Rex Ryan is what he is, and boasting a 61-65 career mark as an NFL head coach, his real value falls incredibly short of his box office persona.
He's a below average NFL head coach.