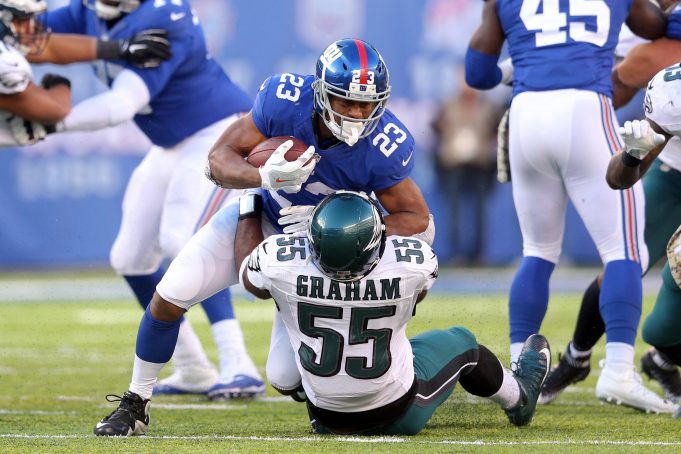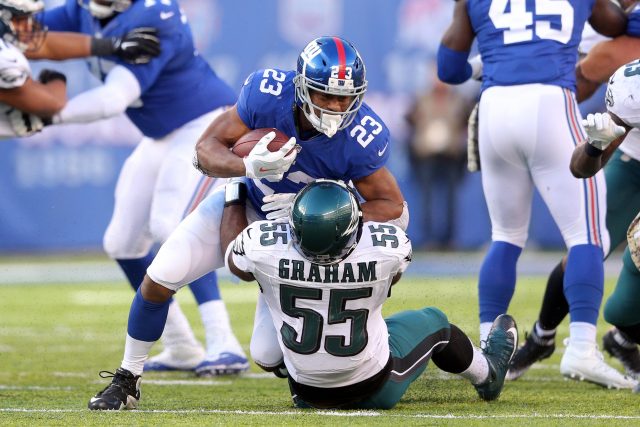 Matchups to Watch
Eagles defensive line vs. Giants offensive line:
The Eagles biggest strength against the Giants biggest weakness. Defensive players like Mychal Kendricks, Brandon Graham, and Fletcher Cox will be licking their lips in anticipation to go against a Giants offensive line that has struggled mightily all season. While the return of Justin Pugh is a welcome sight for Big Blue, a banged up Marshall Newhouse and a wildly inconsistent and often-penalized Ereck Flowers does not bode well against the Eagles defensive line.
The Giants offense is struggling enough as it is. If quarterback Eli Manning is constantly being pressured, the chances of getting anything going on offense are going to be slim. The Giants offensive line will receive a big test on Thursday, and a passing grade would bode well for the postseason.
The star of the Giants defense this year has undoubtedly been strong safety Landon Collins, who is among the top defenders in the NFL in terms of tackles, interceptions, and passes defended. He is best known for his ability to get into the box and stop the run, but he will be relied upon to contain tight end Zach Ertz, who Wentz will look to early and often as a security blanket. The former Stanford Cardinal has 63 catches, 644 yards, and two touchdowns this season, and will go up against a safety in Collins whose biggest weakness is his pass coverage against big tight ends.
This game could go a long way in solidifying Collins' candidacy for Defensive Player of the Year.
Carson Wentz vs Giants secondary:
The Eagles rookie quarterback has been struggling with turnovers all season. He now faces one of the best secondaries in the NFL. Advantage, Giants.
Even if Janoris Jenkins is out, all of New York's defensive backs have been playing well of late. Eli Apple had a key deflection to deny Golden Tate a touchdown this weekend. Dominique Rodgers-Cromartie had a game-sealing pick of Matthew Stafford. Leon Hall picked off Dak Prescott two weeks ago. Landon Collins is, well, Landon Collins.
Wentz has a decent amount of weapons on the outside. However, the Giants defense likes to make quarterbacks beat them. Stafford and Prescott, two of the hottest quarterbacks in the NFL, couldn't do it. Can a slumping Carson Wentz?
Odell Beckham Jr. vs. Nolan Carroll and Leodis McKelvin
Odell Beckham Jr. has been on fire in recent weeks — his touchdowns have accounted for 14 of the Giants 27 points in the past two games. Yeah, that's over 50%.
Whichever corner draws Beckham as their assignment, they will have their hands full. As OBJ has proven over the past two weeks, all he needs is one play to make an impact, whether it be a game-winning 60-yard touchdown off a quick slant or a game-sealing one-yard touchdown catch at the goal line.
This season, the trend on offense has been simple: if Odell is on form, they can beat anyone. Let's see what Carroll and McKelvin can do against No. 13.