No matter what the New York Jets do the rest of 2016 and throughout the offseason, owner Woody Johnson needs to change his ways.
W
oody Johnson so desperately wants to be one of the movers and shakers of the National Football League. You know it, I know it, we all know it.
The man who owns the other team in New York — the team that dons green instead of blue — wants his name and organization associated with some of the big boys like Jerry Jones, The Mara family, the Rooney family, Jerry Richardson, and, of course, Robert Kraft.
Much to his dismay, he's nowhere near the incredible stature of the aforementioned names. His heart is in the right place. There's no question about that. Since he purchased the New York Jets back in the year 2000 for a cool $635 million, Woody has always been thought of as an owner who craves success on the field. He salivates for success. Doing everything from drafting first-round QBs to opening the pockets for Brett Favre, he wants his Jets to succeed.
The problem? Well, great intentions don't necessarily equate to great results.
Woody has yet to truly employ a football man who can run his organization from top to bottom. Actually, Eric Mangini may have been that guy, but the young head coach's issues when dealing with authority led to his own demise. (It was his hard work with Mike Tannenbaum that led to their personnel to reach the AFC Championship Game in back-to-back seasons under Rex Ryan.)
Failures from John Idzik to Rex's personnel decision-making injection have fueled the mockery surrounding the New York green-wearing organization.
And now, instead of learning from past mistakes and hiring a football man to run things from top-to-bottom, Woody's football structure is still off.
When Woody cleaned house following the 2014 season, he brought on Charley Casserly and a host of others to find his next guy. Actually, to find his next two guys.
This was a major mistake.
In came Mike Maccagnan and Todd Bowles. Mikey Mac, the noted personnel man who Casserly swears by, would handle personnel. Bowles, the former Super Bowl-winning safety for the Washington Redskins, would be sideline boss.
Both men, whose job descriptions don't equate in NFL circles, would be working on a level playing field. Both men would be directly reporting to owner Woody Johnson.
How exactly does this work? Although Maccagnan didn't hire Bowles, they're each expected to work together. Each is expected to build a sensational regime and work in lockstep though neither were linked previously?
I mean, what exactly would Bowles be discussing with Johnson? I'm sure he's not explaining his gameplan to Woody on a Friday prior to Sunday's game. What, exactly, is the point here?
Coaching and personnel work one in the same. A team builds a certain identity through its coach's attitude, strategy and personnel. And success cannot breathe if the two men aren't on the same page.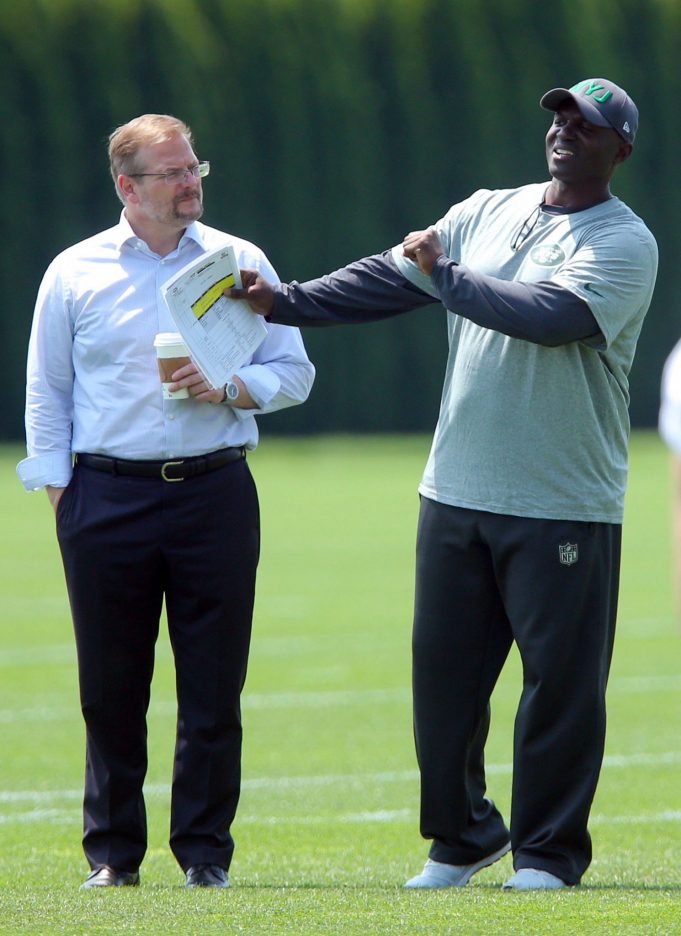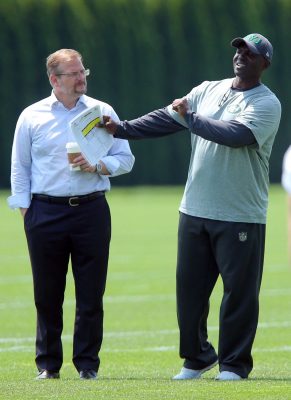 The first glaring issue that comes to mind, when speaking about the here and now with the Jets, is the issue along the defensive line. Maccagnan, and rightly so, accepted the gracious gift that was Leonard Williams at the No. 6 spot in the 2015 NFL Draft. This, despite the fact New York already possessed three studs at the same position with Damon Harrison, Muhammad Wilkerson and Sheldon Richardson.
However, this, also, despite the fact Bowles is a 3-4 defensive mind who wouldn't be able to fit every guy into his scheme.
Would Maccagnan have pulled the trigger if he and Bowles were closer on the situation? Were they as close as possible, already, on this particular situation?
To be honest, we have no idea.
All indications represent the idea that these two work wonderfully together. There have been zero "meeting of the mind-type" issues through the first two seasons together.
The odd power structure Johnson currently uses isn't completely unique. Other teams do, in fact, use it. But it's not something that's popular among the powerhouse teams and owners of the NFL. It's a structure that usually raises a few eyebrows in the room when bandied about.
Usually, there's one boss.
The president or general manager on the football side of things is and should always be the boss. It's his system. It's his players. It is, ultimately, his show.
He should be the only man who is selecting the head football coach of his team.
Now that all reports are indicating Todd Bowles will be back for the 2017 season, the flawed system will live on in Florham Park, New Jersey.
It will live on, at least, for one more season.