New York Giants quarterback Eli Manning has struggled with secondary reads. Here's why.
F
ollowing the Giants' uninspiring loss to the Pittsburgh Steelers, wide receiver Victor Cruz was
peeved
by the lack of balls thrown his way.
"I'm going to talk to somebody. Somebody's got to give me an answer as to why," Cruz said, via Seth Walder of the New York Daily News. "Absolutely, there's always opportunities for everybody to get the ball out there and I didn't get those today."
Cruz's comments were a blimp on the radar for most Giants fans. But in all essence, they were symbolic of a disturbing trend: Eli Manning's struggles with his reads.
This has been well-documented by members of the media in recent weeks. But without placing these claims in the proper context, fans have missed the full picture.
Pre-snap reads
Pre-snap reads are crucial, and nobody mastered this aspect of the game more than Peyton Manning, the legendary quarterback of the Colts and Broncos.
The elder Manning was able to identify weaknesses and areas of the field to attack. He read safeties, cornerbacks, and linebackers before the ball was even snapped.
This isn't an article on pre-snap reads and coverages, so comprehensive breakdowns can be accessed on websites such as Smart Football and Bleacher Report.
That being said, there are some pre-snap elements that are imperative to understand. For instance, a quarterback must decide how to classify a coverage based on the number of safeties in the middle of the field.
It's also beneficial for a quarterback to be able to detect subtle cornerback movements such as depth (how far off the line the corner is playing), eyes (looking at backfield or receiver) and leverage (aligned inside or outside the receiver).
Reads during the play
This isn't Madden. It's physically impossible to scan the entire field at the same time. For that reason, teams have developed something called progression reads.
This concept permits quarterbacks to place available pass targets in a specific order. There are typically three players in a progression.
The primary option is designed to break open first after the quarterback hits the last step in his drop. If the former isn't a viable target, then the quarterback moves onto the secondary option. This secondary route takes a little longer to develop and is thrown off a hitch step.
The third option isn't ideal. It's typically used only in situations when the quarterback is pressured. It's viewed as a rush route (usually a running back) or
How about Eli?
Let's dissect some of the game's most visible plays.
We start with a critical fourth-and-one from the Steelers' three yardline. Pittsburgh's safeties are giving an MOFC (middle of the field closed) look, and there's man coverage across the board.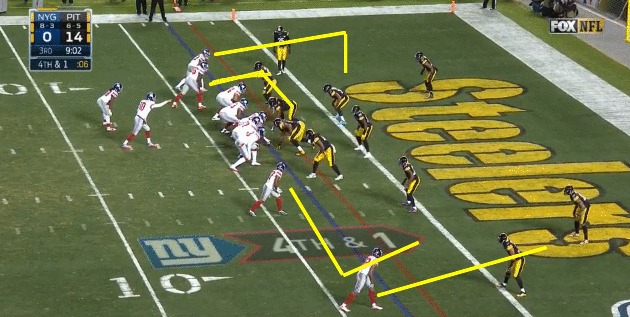 Linebacker James Harrison is the most important pre-snap read. The veteran has three options: drop, run away or blitz. Manning senses that Harrison is choosing the last option, so he signals to his offensive linemen to account for him.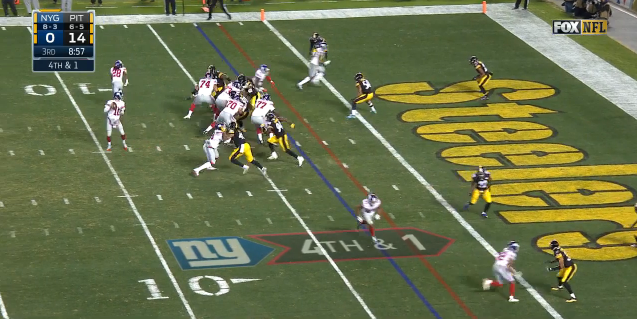 The problem is that John Jerry (77) chooses not to block Harrison, opting instead to help his fellow offensive linemen. This is a costly blunder, because even though both teams line up five players, only four are being blocked by New York.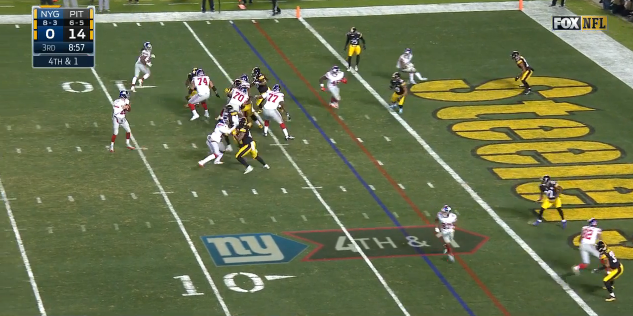 This results in Harrison having a free path to the quarterback. We don't know Manning's exact progression, but based on the timing of the routes, it seems like his first option is Odell Beckham Jr. (13) and his second is Will Tye (45).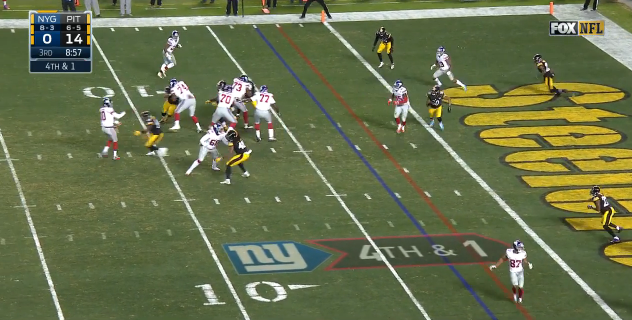 Linebacker Anthony Chickillo (56) chooses to defend Tye, since Pittsburgh's defensive backs converge on Beckham and take away any chance of a catch. In an ideal world, Manning looks to the flat and finds wide-open running back Paul Perkins. But since there's a free rusher, Manning has no choice but to throw the rock to Tye. This results in an incompletion.
Let's rewind to the opening drive of the second half. Pittsburgh's safeties are giving an MOFC (middle of the field closed) look, although Sean Davis (28) has started to creep up to the line of scrimmage. Ross Cockrell (31) is in a press-man look, while the other cornerbacks are in zone coverage.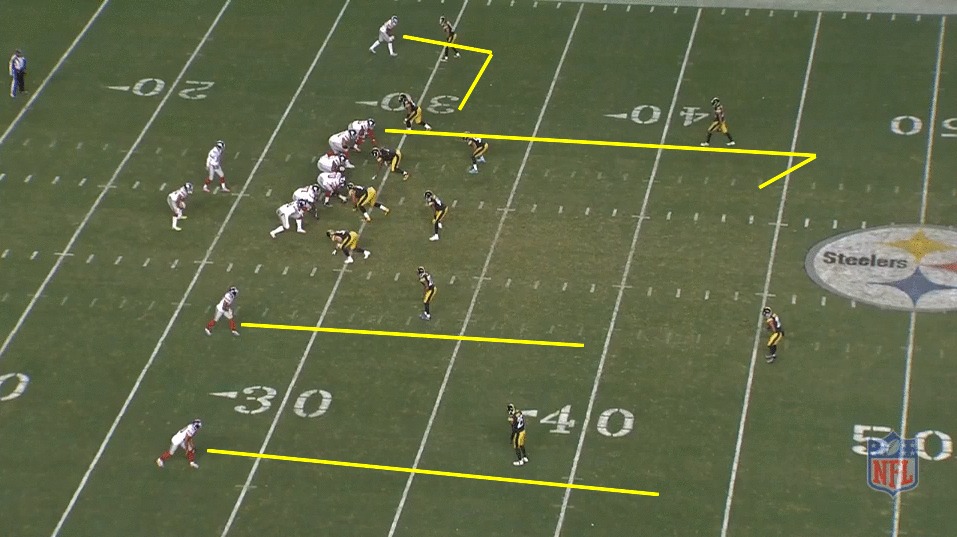 Based on the timing of the routes, it's obvious that Manning's primary target is Odell Beckham Jr. (13), who's being pressed by Cockrell. The wideout failed to gain seperation, but Manning, who shouldn't have felt pressured to throw the ball, did so anyways.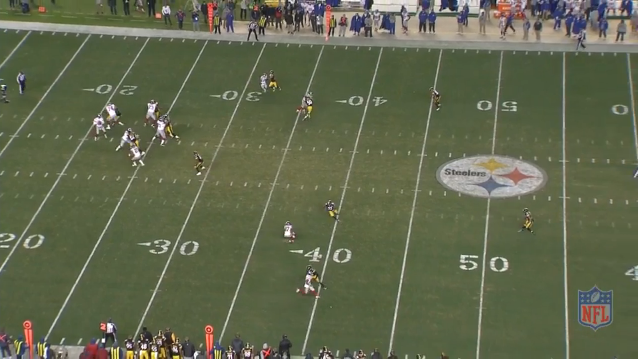 The replay is telling: Manning didn't even glance at his secondary options. Instead, he unnecessarily rifled the ball to the well-defended Beckham, who predictably couldn't hold on. This is an example of Manning's over-willingness to toss OBJ the rock.
What do we learn from this?
We've only examined a small sample size, but our conclusions are twofold: the offensive line isn't giving Manning enough time to go through his progressions, and the veteran play-caller is over-zealous to throw Beckham the rock.
The offensive line should get a boost from Justin Pugh's return, but at the end of the day, it's arguably — with or without Pugh — the league's worst unit.
At the same time, Manning isn't at his best when he's forcing the ball to Beckham. He'll need to be, or else the Steelers' loss will be the first of many.