Now that Jason Pierre-Paul is done for the season, his future career with the New York Giants may also be in jeopardy. 
F
rom when he was selected with the 15th overall pick in the 2010 NFL Draft up until
going under the knife on Wednesday morning
, there may be no more enigmatic player in New York Giants history than defense end
Jason Pierre-Paul
.
Despite playing just one season of major college football, the man known as JPP wowed scouts with his physical traits and raw ability. Combine that with the fact that GM Jerry Reese wanted to revamp his pass rush, and the organization surprised the league by taking Pierre-Paul in the first round.
After having a solid rookie campaign, he busted onto the scene as one of the best young edge rushers in football. In 2011, Pierre-Paul collected 16.5 sacks in 12 starts, all the while chipping in 86 tackles, two forced fumbles, and a safety. On top of being named to the first All-Pro team as well as his first Pro Bowl nod, Pierre-Paul put the icing on the cake by capturing his first Super Bowl ring.
By the looks of things, the Giants had their next Michael Strahan. Their next Osi Umenyiora. Their next Justin Tuck.
Their next great pass-rusher.
The Giants saw first hand how dominate Pierre-Paul could be. But then, they saw how he could disappear for games on end.
Over the next two seasons, JPP took a step back in production and disruption. Between 2012 and 2013, he combined to register just 8.5 sacks while also dealing with injury concerns. After looking like New York's bright young star, fans began to call him a draft bust rather than a franchise player.
In what had become a theme, however, Pierre-Paul answered the critics and responded with a stellar 2014 campaign. The defender reverted back to his better days as he amassed 70 tackles (77) for only the second time in his career, brought the quarterback down 12.5 times, had three forced fumbles, and knocked down six passes. He may not have received recognition on a league-wide level, but JPP resembled the player his organization thought he could be.
Because of his inconsistencies, Reese decided to slap the non-exclusive franchise tag on Pierre-Paul. While he could accept the one-year offer, JPP also had the chance to discuss a contract with other teams. In the end, however, he decided to call the Meadowlands home for the 2015 season.
And then, the infamous fireworks accident occurred.
Celebrating the fourth of July with family and friends, Pierre-Paul held a lit firework in his hands, unexpectedly going off before he had the chance to put it down. The incident resulted in Pierre-Paul losing parts of his thumb and middle finger, while his index finger was fully amputated.
https://www.instagram.com/p/BNtszG3DMOt/
Many believed JPP's playing career was done. How would it affect him putting his dominant hand in the dirt? How could he grab a hold of opposing linemen?
After four months of surgeries and rehabilitation, Pierre-Paul found his way back to the gridiron. Playing in eight games, he had just 26 tackles and one sack. Sure, the stat sheet was underwhelming — but when you watched JPP during each snap, he just looked … different.
A humbled Pierre-Paul was still a force by putting pressure on the quarterback, but also transformed into a hustler. There were plenty of times last season where his motor was on full display as he chased down receivers and running backs downfield.
He knew he made a mistake, and he wanted to prove that it wouldn't affect his game. The Arizona Cardinals offered him a better contract, but Pierre-Paul decided to re-up with the Giants on a one-year, $10.5 million pact.
A renewed, refocused, reinvigorated, and revitalized JPP entered the 2016 season as fully healthy as he can be. With the dominant Olivier Vernon now lining up across from him, many believed Pierre-Paul was primed to have a strong season.
And through 12 games, he was everything the Giants could've asked for — and more.
This season has been the year Pierre-Paul has put it all together. A true menace both against the pass and the run, he was well on his way to having the best season of his young career. JPP has 53 total tackles, seven sacks, three forced fumbles, one fumble returned for a touchdown, and an astonishing eight passes defended. While Landon Collins looks like one of the best young safeties in football and Vernon is dominant in his own right, it is Pierre-Paul that has been the heart and the soul of the Giants revamped defense.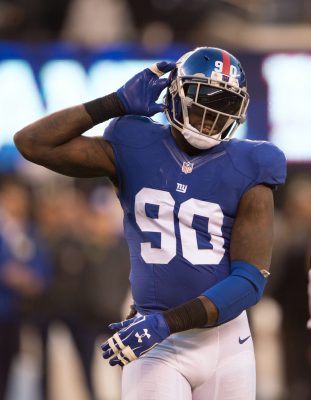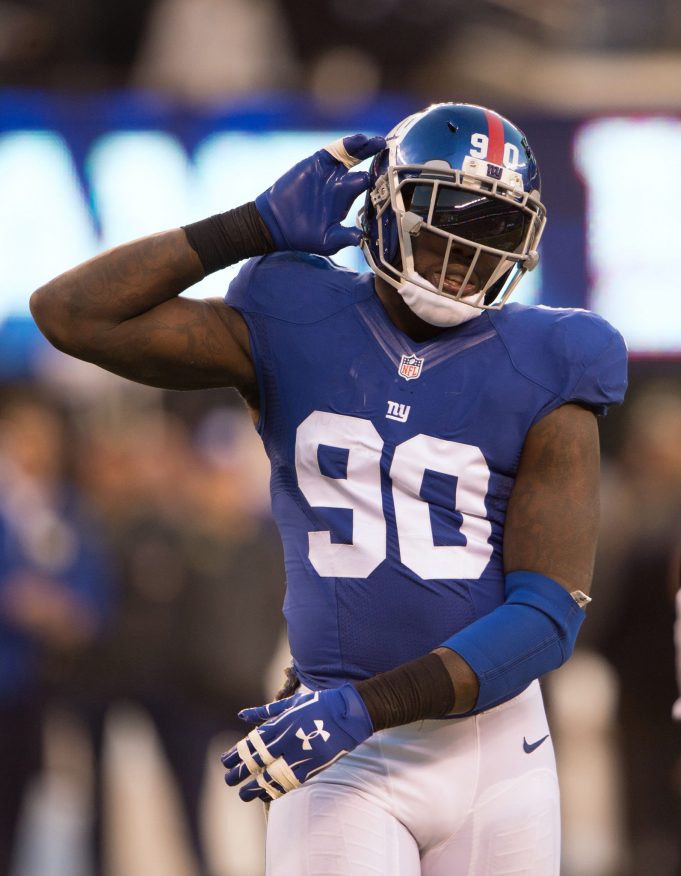 The Comeback Player of the Year award was in reach. JPP also emerged as a leader on the defense. He was going to be a primary reason behind the team's hopeful playoff run.
And now, it looks like everything has crashed down.
Against the Pittsburgh Steelers, Pierre-Paul exited the game with a groin injury. While many believed it wasn't too serious, the defensive end went to Dr. William Meyers to get an opinion on the injury.
Less than 24 hours later, he had surgery for a sports hernia and will be sidelined for the remainder of the season.
The loss of JPP is tough for a Giants team that is 8-4 and in the playoff hunt but is flawed in a multitude of ways. Their lone constant has been the foursome of Pierre-Paul, Vernon, Damon Harrison, and Johnathan Hankins. With number 90 out, not only will his production be absent, but Vernon will face even more pressure from opposing offensive lines.
For this year, Pierre-Paul's absence will hurt. But his season may not be the only thing ended by the sports hernia.
When the season concludes, JPP will be a free agent. At 27-years old, he's entering the prime of his career and has a ton of good football in front of him. A true dual-threat, Pierre-Paul will catch the eye of a number of franchises this offseason. And with Reese investing a ton of money into the defense last year, will he break the bank — once again — to bring JPP back into the fold?
It's a question that will loom large. But there's no denying that the top of the organization's to-do list should read, "re-sign JPP."
At one time, Pierre-Paul was going to be the next Strahan or the next Justin Tuck. In his seventh professional season, it appeared as though he finally put it all together.
Unfortunately, there's a chance the Giants don't reap the benefits of his immense talent.