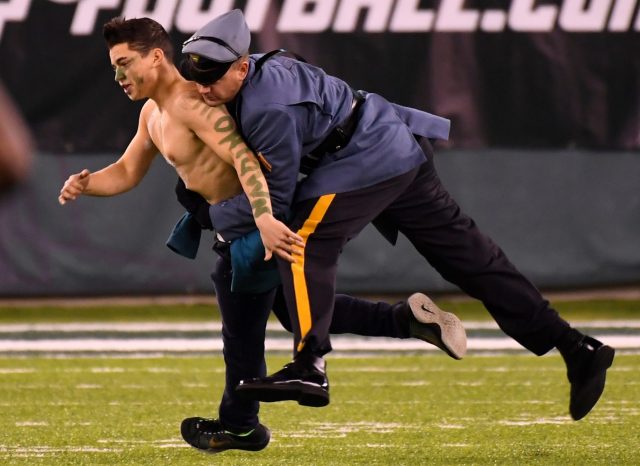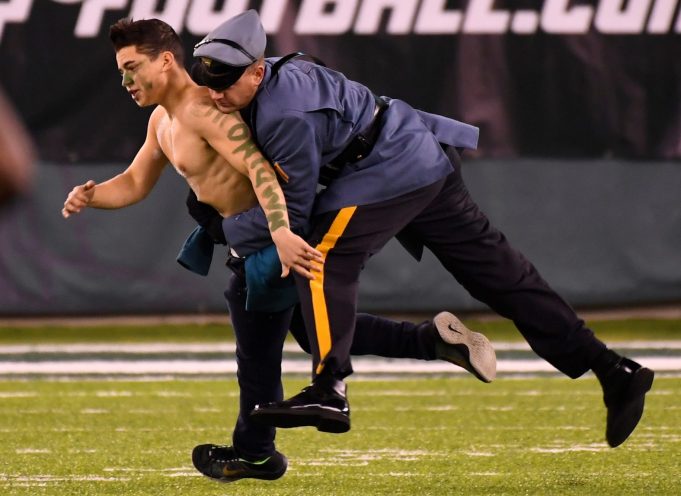 "Monday Night Football" radio personalities Kevin Harlan and Boomer Esiason comment on the best tackle from the New York Jets-Colts game.
If I hear somebody call Kevin Harlan a "national treasure" one more time, I may just run on the field myself.
While the oft-used description is annoying, it fits the veteran broadcaster to a tee. During a previous Monday Night Football game this season, featuring a blowout win by the Los Angeles Rams over the hapless San Francisco 49ers, Harlan provided the listening audience with top-notch commentary revolving around a fan running onto the field.
The man is at it again and this time he has Boomer Esiason by his side.
In the New York Jets humiliating loss to Andrew Luck's Indianapolis Colts on Monday night, two knuckleheaded fans decided to run onto the MetLife Stadium field shirtless. Harlan and Boomer weighed in:
Kevin Harlan proving once again why he's the ?. (Video via @R0BaTO) pic.twitter.com/R1c2mhFvk5

— Mike Lavieri (@mlavieri) December 6, 2016
While Harlan is receiving all of the pub, it was Boomer who provided the truest comment, saying, "They're actually hitting harder than the Jets defense," in reference to the New Jersey State Troopers who took the idiots down to the comfy and rubberized field turf.