The Brooklyn Nets stole Trevor Booker this summer for just $18 million, and he's been better than expected. 
Sean Marks threw money at Tyler Johnson and Allen Crabbe, neither of whom bit. His money ball then landed at the feet of Randy Foye and Luis Scola, who signed for $2.5 million and $5 million, respectively. There's also Jeremy Lin, who was a bargain at $36 million over three years. Lastly, there's Trevor Booker.
At two-years, $18 million, Booker's monetary value is half of Lin's, but his basketball value is equal.
Brooklyn's newest power forward stands 6-8, and tips the scale a 228 — a very burly 228. Behind all that burliness is agility seen by the NBA's best frontcourt players, and although Booker isn't the best, he's been a reason to continue watching Brooklyn despite the woes their experiencing.
Spending his last couple of seasons with the Utah Jazz, Booker flew under everyone's radar. Before that, he was hiding in Washington with the Wizards.
Back on the East Coast, Booker has a revitalized role. For starters, he's a starter, and Kenny Atkinson leans on him on both sides of the floor.
Statistics are a great place to start; they'll lay the foundation of Booker's importance.
After 16 games, Book's averaging 10.2 points and 8.2 rebounds, both of which are career-highs. He's also one of 24 players to average at least ten points and eight boards a night. He's up there with LeBron James, Russell Westbrook and Kevin Durant, just to name a few.
Undeniably, Booker's biggest impact comes on defense, and he's picked off 32 passes to start the year. That places him at eighth in the league. It also secures his spot in a very exclusive club. Draymond Green is the only other player who averages two steals a night, along with the ten points and eight rebounds, according to Basketball-Reference.
Who would've thought a Nets player would belong to such an elite club?
Excluding the steal numbers, he's Brooklyn's best defender.
I know that doesn't say much, but Booker has the lowest defensive efficiency on the Nets with 105 points per 100 possessions. Second is Jeremy Lin at 110. Considering how many of the NBA's teams love to run, 105 is quite impressive for a team who's defense is entirely laughable.
Booker's also full of energy and deceptively athletic.
Be honest, how many 6-8 guys not named LeBron James are making that play?
Here's a better question: how many players do you think would've given up? Bojan Bogdanovic was there to impede Kentavious Caldwell-Pope's progress, so what's the point?
The time and score also dictated that attempt, but I digress.
Brooklyn's also been witness to Booker's offensive versatility. He cleans up the glass and can make shots around the basket, but he also has a rather reliable jump shot at times that's been hidden from most of the NBA.
Another prominent feature is Booker's comfort with the ball in his hands, and he's a big who can grab a rebound and push the ball downcourt without fumbling it.
Kevin O'Conner from the Ringer had an interesting take on Booker, and it's the best comparison that's been made to a Nets player in quite some time:
"Booker is a muscular-yet-nimble 6-foot-8 forward who wears a headband and likes to go coast-to-coast, so if you squint your eyes from the Barclays Center nosebleed seats, you might trick yourself into thinking you're watching LeBron James."
Although it's not accurate from any perspective outside of physical, it's somewhat jaw-dropping to hear Trevor Booker put in the same sentence as LeBron James.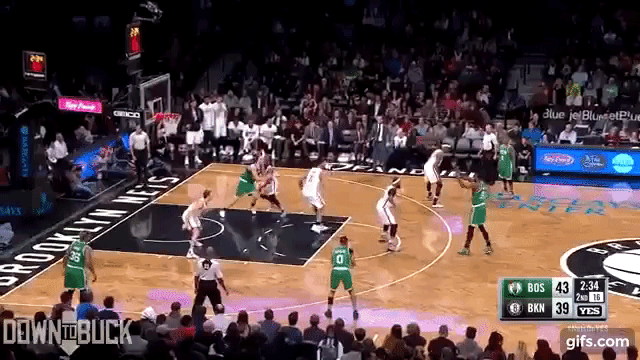 I see your point, Kevin.
With the way the Nets point guard situation is looking, Booker could wind up playing some point forward in the future. It wouldn't be anything major, just something to throw the defense off balance.
Aside from occasionally going coast-to-coast, Booker makes a play in the halfcourt that grabs your attention. It's not that he's incapable of doing eye-opening things, it just doesn't happen too often.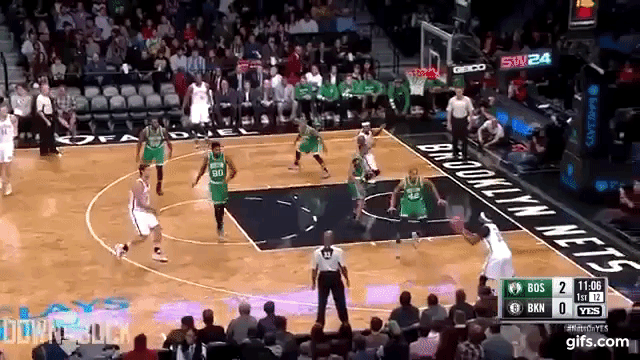 This is a solid play no matter how you cut it. Al Horford isn't a slouch defensively, and Booker was able to blow right by him off of two jab steps.
As the season progresses, whether it's going good or bad, the Nets must extract as much from Trevor Booker as they can. Not only is he productive, but watching the aggressiveness and energy that he plays with is so enjoyable.