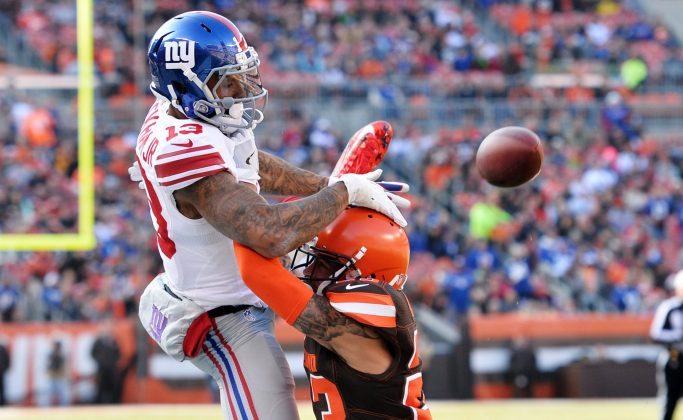 New York Giants superstar receiver Odell Beckham Jr. caught another touchdown from Eli Manning against the Cleveland Browns Sunday.
You cannot stop Odell Beckham Jr. You can only hope to contain him.
Dan Patrick's famous SportsCenter phrase specifically describes just how electric this New York Giants playmaker is. And as per usual, OBJ did it again in his team's latest matchup.
Facing the Cleveland Browns on the road, Ben McAdoo's squad finds itself in a struggle. Hugh Jackson's winless team — as they usually do — is fighting tough.
Only leading by a count of 7-3, Eli Manning found his favorite target immediately after Cleveland kicked a field goal:
WATCH: Odell Beckham Jr. with the 32-yard TD catch in the first half! https://t.co/te340wEEs1

— New York Giants (@Giants) November 27, 2016
A simple shallow cross was taken to the house thanks to pure speed.
And this happened after OBJ left the game with a thumb injury.
INJURY UPDATE: WR Odell Beckham Jr. (thumb) is questionable to return. #CLEvsNYG

— New York Giants (@Giants) November 27, 2016
With the two teams resting at halftime, New York holds an uncomfortable 14-6 lead.
H/T Twitter, @Giants