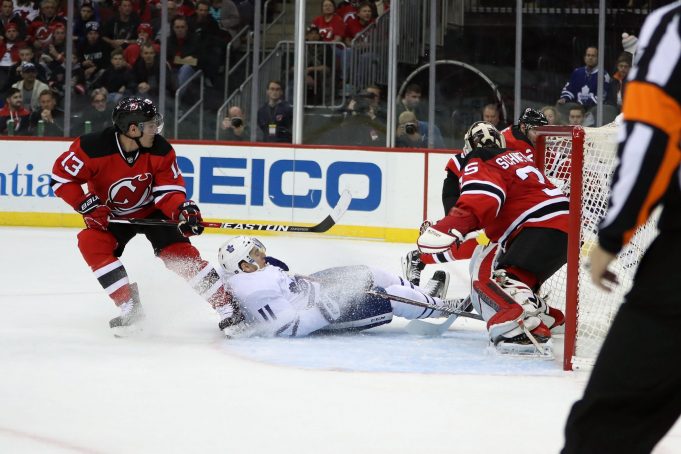 After falling 3-0 to the Toronto Maple Leafs at The Rock, Mike Cammalleri and the New Jersey Devils came all the way back in a thriller.
New Jersey Devils 5 (10-6-3, 23 pts)
Toronto Maple Leafs 4 (8-8-4, 20 pts)
NHL, Final, Shootout, Box Score
Prudential Center, Newark, New Jersey
How about these New Jersey Devils?
After falling behind 3-0 in the first period to the Toronto Maple Leafs, Mike Cammalleri and company responded in a major way.
Cammalleri scored and collected three assists which helped force overtime and eventually a shootout that allowed Jacob Josefson to roof the game-winner to give the Devils the 5-4 win:
How about those #NJDevils? Still unbeaten on home ice after a three-goal comeback. pic.twitter.com/lA5ADLUX2V

— Elite Sports NY (@EliteSportsNY) November 24, 2016
Beau Bennett, Travis Zajac, and Yohann Auvitu were the other goal-scorers for New Jersey. Rookie sensation Auston Matthews broke out of a slump in a major way by netting two goals and an assist.
With the win, the Devils snap a three-game losing streak and are still the only team in the NHL who has yet to suffer a regulation home loss.
Next up for New Jersey will be the Detroit Red Wings in Newark on Friday night.
The #NJDevils improve to 7-0-1 at home and remain undefeated in regulation at The Rock! #TORvsNJD pic.twitter.com/OKAJZ5zkEp

— New Jersey Devils (@NJDevils) November 24, 2016
Tonight's #NJD3Stars of the Game:

⭐️: Mike Cammalleri (1g-3a)
⭐️⭐️: Travis Zajac (1g-2a)#TORvsNJD pic.twitter.com/b5gr7RY2Lv

— New Jersey Devils (@NJDevils) November 24, 2016
#NJDEVILS WIN! Mike Cammalleri (1g-3a) leads the Devils to victory over the Toronto Maple Leafs at The Rock! #TORvsNJD pic.twitter.com/Y5cxFPLbmr

— New Jersey Devils (@NJDevils) November 24, 2016
Yohann making an impact in his return to the ice! #TORvsNJD pic.twitter.com/9kSJEE6G9j

— New Jersey Devils (@NJDevils) November 24, 2016
GOAL! Nick Lappin cleans up in front and the #NJDevils tie the game 4-4! #TORvsNJD pic.twitter.com/rw9IRHKdQn

— New Jersey Devils (@NJDevils) November 24, 2016
With 1g-2a tonight, Cammy is back! #TORvsNJD pic.twitter.com/GRS77uHwnq

— New Jersey Devils (@NJDevils) November 24, 2016
Beau breaks through with his first goal as a Devil! #TORvsNJD pic.twitter.com/K4r87OjbAy

— New Jersey Devils (@NJDevils) November 24, 2016
Tic-Tac-Travis. #TORvsNJD pic.twitter.com/W1hTBmfAvv

— New Jersey Devils (@NJDevils) November 24, 2016
Matt Martin gets the Leafs the 4-3 lead! #TMLtalk pic.twitter.com/9BbKhehHAE

— Toronto Maple Leafs (@MapleLeafs) November 24, 2016
Matthews scores…Part 2!#TMLtalk #StandWitness pic.twitter.com/njPtcqcXPV

— Toronto Maple Leafs (@MapleLeafs) November 24, 2016
Matthews scores…Part 2!#TMLtalk #StandWitness pic.twitter.com/njPtcqcXPV

— Toronto Maple Leafs (@MapleLeafs) November 24, 2016
Kadri made it 2-0 Leafs! #TMLtalk pic.twitter.com/QNrvQ0elSR

— Toronto Maple Leafs (@MapleLeafs) November 24, 2016