Fans have heard it before: "He gives us the best chance to win." But what does Ryan Fitzpatrick starting show about the New York Jets' future?
New York Jets head coach Todd Bowles has named Ryan Fitzpatrick the team's starting quarterback for their Week 12 matchup against Tom Brady and the New England Patriots. This comes just a week after Bryce Petty took over for Fitz against the Los Angeles Rams in 9-6 losing effort.
Bowles: QB Ryan Fitzpatrick will start Sunday. #NEvsNYJ pic.twitter.com/MIoFI5OK9J

— New York Jets (@nyjets) November 21, 2016
Fitzpatrick was paired at practice today with current starting center Wesley Johnson, as Nick Mangold still remains out due to an ankle injury. This also confirms that Fitzpatrick's sprained MCL has appeared to heal up well over the bye – the main reason Petty got the start last week.
According ESPN's Rich Cimini, Bowles explained to reporters that he won't have starting jobs be given away, and that they have to be earned. He then proceeded to say that Fitzpatrick gives the Jets the best chance to win.
So what's the rationale behind starting "Fitzmagic"?
Well, Bowles is right. Fitzpatrick is their best quarterback, or at least their most experienced. He does have a complete knowledge of offensive coordinator Chan Gailey's west coast playbook – much more than either Petty or 2016 second-round pick Christian Hackenberg can claim.
He also did set the a Jets franchise record for touchdown passes last season with 31 and has incredible rapport with star receiver Brandon Marshall.
But none of that should matter. Why? Because the Jets are 3-7 and are, not mathematically, but logically eliminated from playoff contention.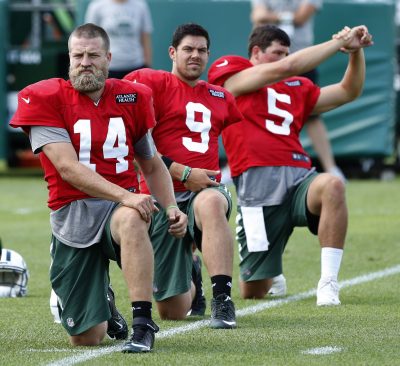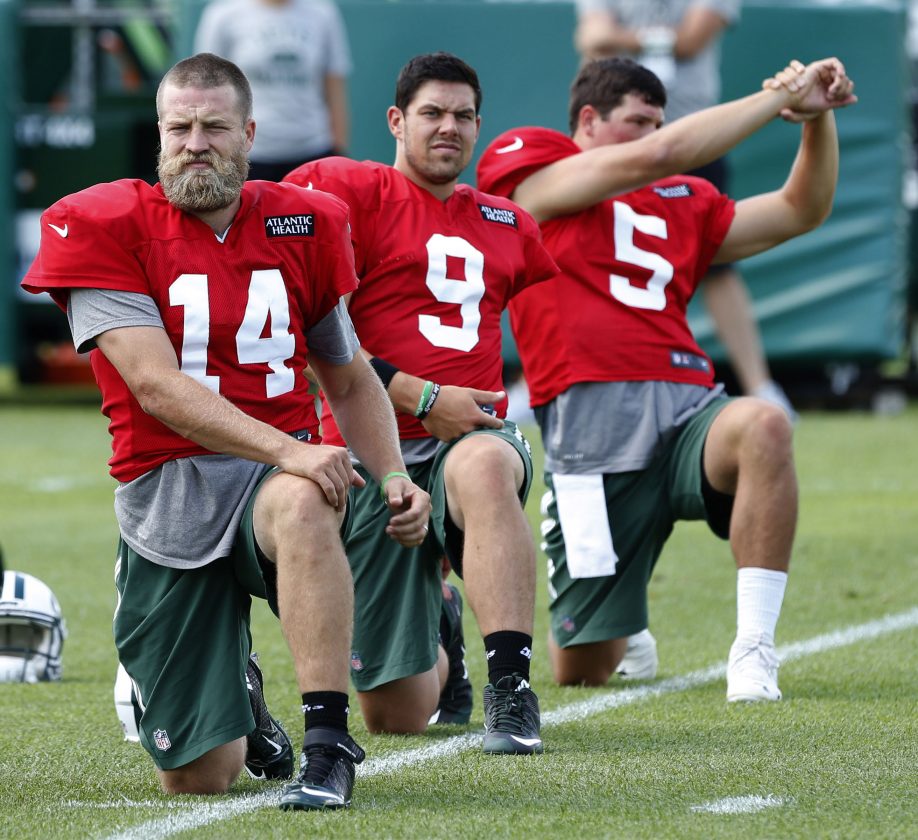 And yet, Bowles is still choosing to start a 33-year-old quarterback who leads the NFL in interceptions with 13, who is on a lame duck one-year deal and, for all intents and purposes, has virtually no chance of being on the roster in 2018.
Makes sense.
But in defense of Bowles' choice, this is the National Football League and these guys are professionals. They aren't going to give up on a season just because the general manager and fans want a better draft pick come next April.
The Jets' second-year head coach also locked himself in a bit of a box before the Rams game, making it very clear to reporters that Fitz was, is and will be his starter, and would only be out due to his knee injury.
This monumental decision perhaps gives Jets fans a look into what direction their team may be heading this offseason. Being that Bowles is ultimately looking to keep winning games in a lost season, it could very well be that he's coaching for his future with the organization.
Teams in similar situations as the Jets, such as the Rams and Browns, have both left their "better" and older quarterbacks on the bench in favor of seeing what they have in their young talent for the future. Rams head coach Jeff Fisher sat Case Keenum for Jared Goff and Browns head coach Hue Jackson did the same with Josh McCown, replacing him with Cody Kessler.
It isn't necessarily a matter of giving up on the season. These coaches just want their young guns to get some NFL experience and go from there.
But Bowles seems to be forgoing that reality with Petty, a fourth-round pick. As a result, he isn't getting the opportunity he needs to be playing in a meaningful game in order to really know if he's an option for next year's inevitable QB race.
If he doesn't get to go up against real, regular season competition again this year, one of two things can happen. Either they blindly give him the job next season – a huge risk for the Jets to take without having seen him play more – or they go with a quarterback in the draft or free agency, essentially admitting they wasted a pick on Petty.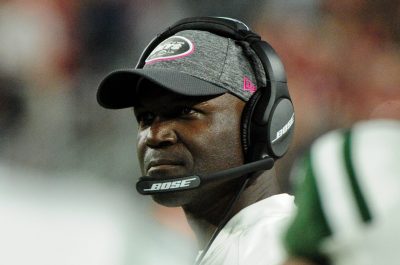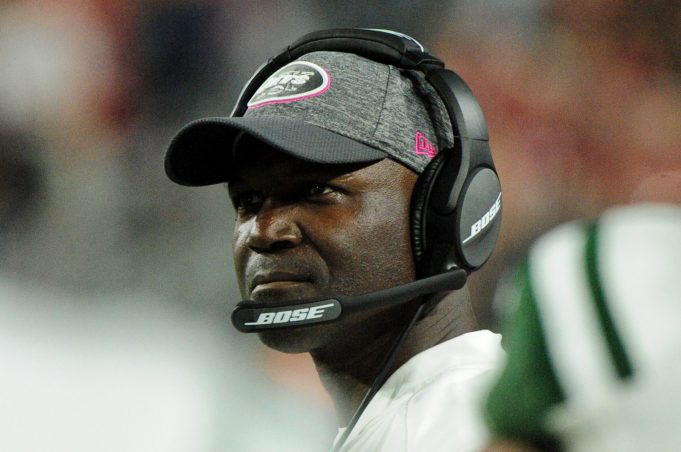 So those outside the franchise have to now be wondering if Bowles feels his job is safe beyond this season.
Now, it's true, Petty didn't blow anyone away last week against the Rams. He forced a throw late, leading to a game-sealing interception, killing a possible game-winning drive. He did complete 59 percent of his passes and throw a touchdown, although it was a bit of a fluke score on a gimmicky hook-and-lateral play from Marshall to running back Bilal Powell.
That lack of excitement with last week's offense wasn't the fault of Petty, though, but rather due to the drab play-calling of Gailey. With the exception of two deep passes – one resulting in a 52-yard completion to wide receiver Robby Anderson, and the other a total overthrow to Anderson on a would-be walk-in touchdown – Petty only had underneath routes to throw to, including an overdose of screens, slants and drags.
If Petty would have been given more opportunities to make NFL throws, maybe Bowles' decision today is a different one. But thus far, the coaching staff has shown much more propensity to allow Fitzpatrick to take those chances and run the offense, whereas Petty's situation hasn't been opened up, at least not yet.
"His time will come," Bowles told ESPN about Petty. "He has to be patient."