Steve Spagnuolo's New York Giants defense is performing so well right now that their true value can only be measured beyond stats.
W
hen Ben McAdoo said, "
Stats are for losers
" two weeks ago, the collective mind of the New York Giants' fan base immediately started freaking out.
After all, this was a team who spent hundreds of millions of dollars in new contracts this season to put up stats, and they simply haven't. The Giants rank 30th in the league in sacks, and 30th in turnover differential, the worst mark of any team with a winning record.
However, at 6-3, with the Bears and Browns on the docket over the next two weeks, it's hard for Giants fans to complain about much of anything over the past few weeks, especially when it's the defense sealing games for them.
Consider Monday night's win over Cincinnati. With the Giants looking to do everything in their power to give the game away, with turnovers and offensive incompetency defining their second half performance, their defense came up huge on multiple key drives from the Bengals.
In the fourth quarter of that game, the Giants forced two three and outs and a turnover. The Bengals, who have averaged 29 points per game in their two prior contests since Tyler Eifert returned from injury, were completely bottled up, as they tried to mount a fourth quarter comeback.
This, of course, comes in a game where the Giants lost the turnover battle and recorded just three sacks. So how exactly does their defense continue to win games?
Realistically, the answer lies in the fact that the play of a defense lies beyond their ability to sack the quarterback and force turnovers. In fact, if McAdoo was asked about those stats, he probably wouldn't think they're for losers because his defense looks so good.
Currently, the Giants rank 10th in the NFL in hurries with 59, just four hurries behind the three-way tie for seventh between New England, Los Angeles, and Tennessee. Additionally, both Jason Pierre-Paul and Olivier Vernon have 18 apiece, which trails just Von Miller, Aaron Donald, Brandon Graham, and Melvin Ingram for fifth in the NFL.
Certainly, hurries are not as good as sacks, but those numbers make it a bit clearer that the Giants are getting penetration and making quarterbacks uncomfortable. It's especially evident when you look at their numbers against the run.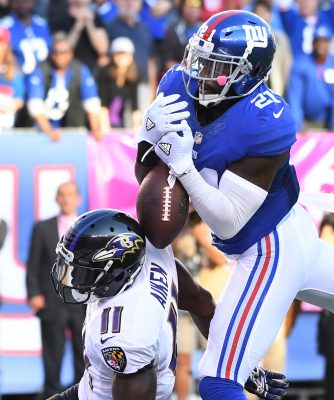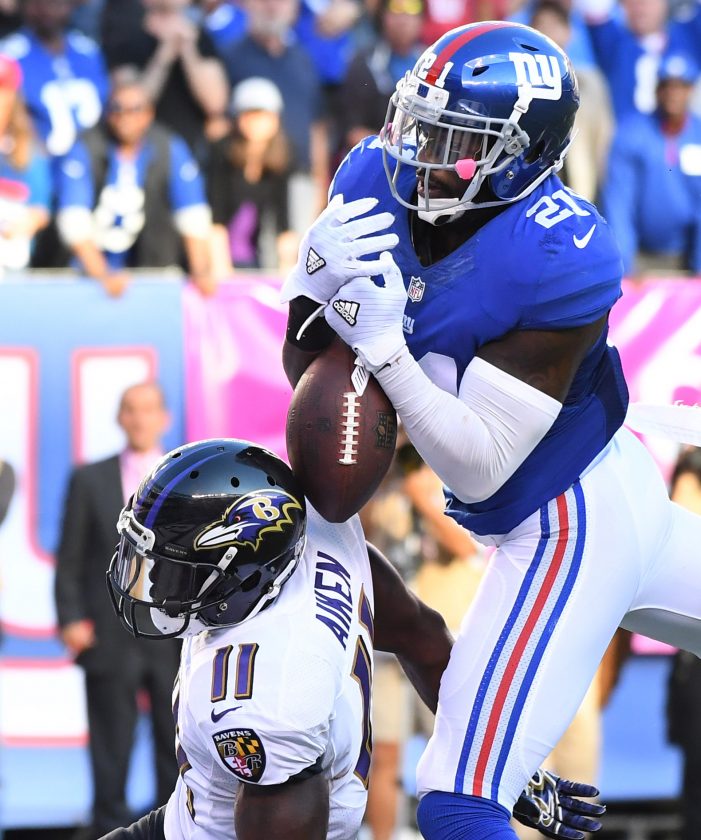 Over nine games this season, the Giants have allowed 92.1 yards per game on the ground, good for seventh in the league. A huge part of that has been the play of Vernon who has been, perhaps, the best run stopping defensive lineman in the league. While it doesn't show up on the stat sheet, it's obvious to anyone watching the games that Vernon is earning his massive paycheck.
In fact, all of the Giants' defensive players are earning that paycheck by putting the team in a position to win every week. Other than the Redskins and Ravens, no team has exceeded their per game scoring average against the Giants, and if not for an egregious pass interference call against Dominique Rodgers-Cromartie at the end of the Baltimore game, Washington would be alone in that category.
So, why isn't this considered an elite defense?
Part of it has to do with the traditional stats looking ugly, and part of it has to do with the quality of opposition they have played. Five of the Giants' opponents have above average scoring offenses, the most any team has faced this season. However, with some much easier opponents, with less
However, with some much easier opponents, with less high-powered offenses at their disposal, perhaps the Giants' defense will finally start to get the respect they deserve.