On the surface, Bryce Petty's New York Jets debut appeared to be underwhelming. As they say, however: things aren't always what they seem.
O
n the surface, Bryce Petty's debut could appear to be underwhelming. Taking one glance at the scoreboard definitely doesn't do him any favors, as the New York Jets fell 9-6 to the Los Angeles Rams on Sunday.
Maybe take a look at the stats? Again, the raw numbers don't look all that impressive.
As the famous saying goes: things aren't always what they seem.
A deeper look into the first start of Bryce Petty showed a player who appeared ready to take over a team hungry for a consistent play from the quarterback. There is no way to judge a career based on a single start, but insights were aplenty in this one.
Chan Gailey appeared to have the training wheels on for Bryce in his first NFL start. Though there was an added feature to this Jets team has been missing for some time: the deep ball. Petty connected with Robby Anderson for 52 yards in the air. The throw was a touch behind but was put where Anderson could easily grab it for the big gain.
.@b_petty14: 9-for-13, 1 TD, 98 yds…

…including this beauty to @youngamazing9. #LAvsNYJ https://t.co/bwS1UweP4Y

— New York Jets (@nyjets) November 13, 2016
The drive that featured Anderson's 9-route was an impressive one for Petty, ultimately resulting in his first NFL touchdown pass thanks to a little trickery by the offense. Petty went 3-4 on the 99-yard drive.
.@b_petty14 ? @BMarshall ? @bilalpowell29 = 6. #LAvsNYJ https://t.co/JUvpjJWrqr

— New York Jets (@nyjets) November 13, 2016
For the day, Petty completed 59.4 % of his passes. Although this number isn't eye-popping, it isn't horrible for a careful game plan that eventually became predictable for the Rams defense.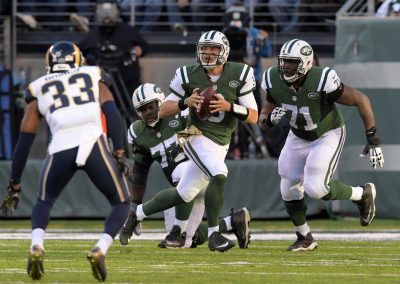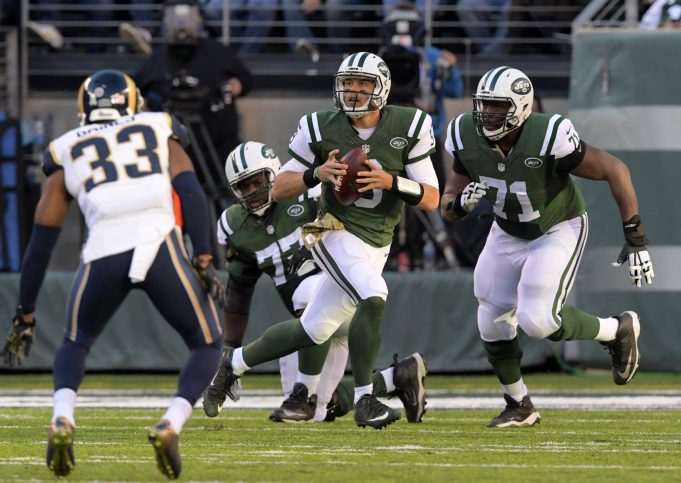 Looking past the stat sheet is where the success of Petty's day lies. Bryce had a nice quick release of the football, something that is essential in today's NFL. Tying into his quick release, Petty's pocket presence was pretty impressive. Against a Rams defensive line that is one of the better units in the league, Petty took just one sack and was hit another time causing an errant pass.
Thanks to his Baylor days, tucking the ball away and running was part of Bryce's resume. That wasn't part of his game plan this week.
Petty did a great job of standing tall in the pocket searching for the open receiver. For the better part of the day, Petty threw spirals that were accurate. When no receiver was open, he had no issues checking the ball down to the running back rather than trying to force the ball and cause a turnover. Apparently, watching Ryan Fitzpatrick this year was paying off for him.
It wasn't all sunshine and rainbows, however. Bryce did suffer through a few overthrows, including a slight overthrow to Anderson that was a surefire touchdown in the second quarter. Petty's last throw of the first half was a huge head scratcher, and towards the end of the game, Petty attempted a shovel pass that he threw right into the defenders facemask. All in all, these were minor first-time starter issues that can be corrected through repetition and practice.
With the Jets facing a deficit late in the fourth quarter, Petty didn't look rattled at all. He wasn't able to lead a comeback charge, but he didn't become erratic or confused in a high-pressure situation. A huge positive for a long-term outlook.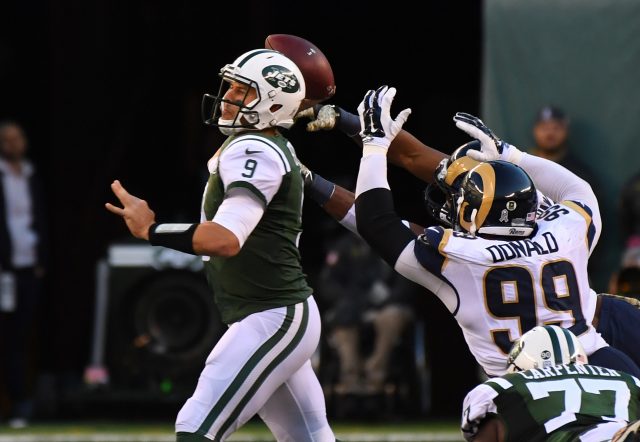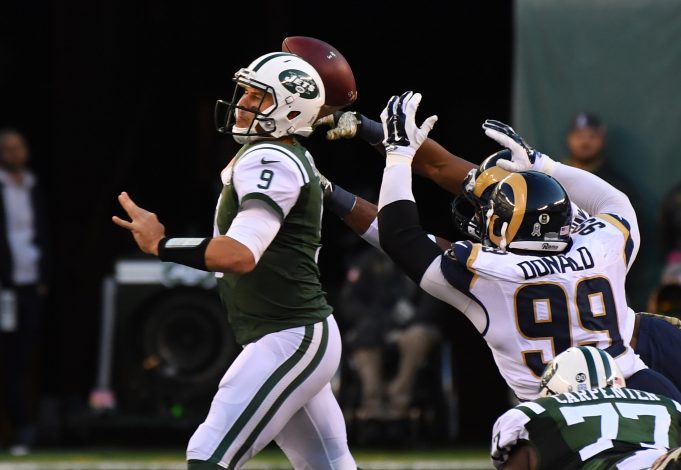 Finally, we come to Petty's last play of the afternoon, the interception.
On the stat sheet, the interception belongs to Petty, but in real time, maybe not so much. Petty threw to Quincy Enunwa who appeared to make the catch until Alec Ogletree grabbed the ball right out of his hands to seal the Jets fate. Although not completely without blame, as he did throw the ball, the interception appeared to be the result of Enunwa getting outmuscled and not coming back towards the ball.
Was Bryce Petty's debut for the New York Jets a fairy tale? By no means, as there is plenty of work for Petty to become the quarterback of the future. But the foundation was laid for what could be the beginning of a beautiful relationship.
Grade: B-