Regardless of who lines up behind center for the New York Jets, they will, indeed, play host to Jeff Fisher's Los Angeles Rams on Sunday.
New York Jets (3-6)
Los Angeles Rams (3-5)
NFL, Week 10, Sunday, Nov. 13, FOX
MetLife Stadium, East Rutherford, New Jersey
Once the Los Angeles Rams began the season an extremely surprising 3-1, all of those notorious Jeff Fisher doubters were suddenly eating humble pie. The mediocre coach — as he's been known to be tagged as — finally had his team on the verge of special things.
Not so fast.
The Rams have taken ownership of a four-game losing streak and the Fisher haters are back in full boisterous voice.
Enter another struggling squad, the New York Jets, a team who doesn't even know who's going to be touching the soft behind of center Wesley Johnson on Sunday.
Injury Report
Jets: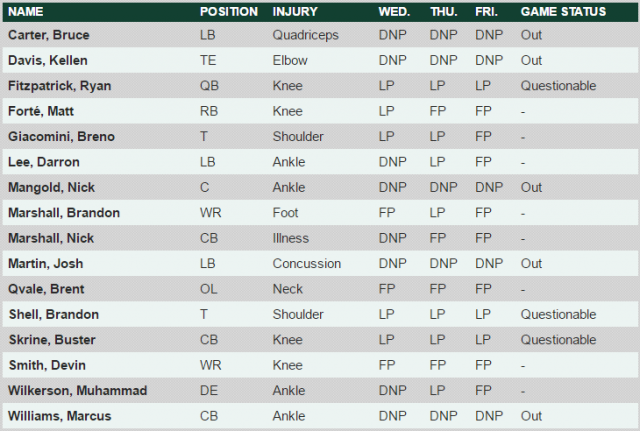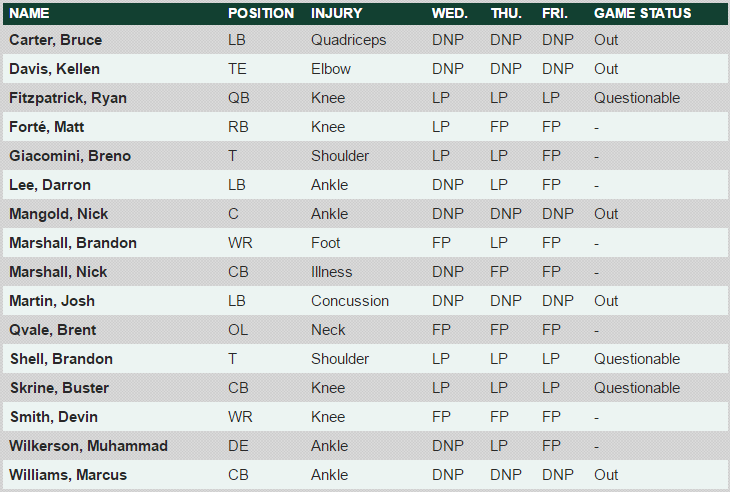 It's alarming to see how many Jets are actually on the injury report. Nick Mangold will miss his third straight game while Ryan Fitzpatrick, amazingly, will be a game-time decision.
Instead of using the fantastic excuse of the Fitz injury and naming young Bryce Petty the starter early in the week, Todd Bowles and company have messed it up. Now, 24 hours away from kickoff, the Jets still don't know who the QB will be.
Rams:


For the Rams, things are little clearer. Superstar back Todd Gurley is listed as questionable, but it seems as though he'll play should he not incur a last moment setback. He returned to practice on Friday.
Keys for the Jets
Keep the Offensive Line Spirited:
This is a serious issue for New York at the moment. With Ryan Clady now off to IR and Mangold missing the contest, this offensive line is in dire straits. Ben Ijalana will man the fort at the left tackle position. Honestly, though, what in the world will either QB do behind this rag-tag group? 
Chan Gailey is going to be put to the ultimate test on Sunday. Everything will have to be mapped out with a shaky offensive line at the forefront of logical thinking.
Usually, the top-ranked Jets rush defense doesn't have to worry about stopping the opposing running back. In this case, however, stopping Todd Gurley means everything.
The Rams passing offense is beyond pathetic. Case Keenum scares nobody.
On the other side, Aaron Donald is, literally, a one man wrecking crew. We havne't seen a 4-3 defensive tackle with his type of talent in quite a long time. Johnson, Brian Winters, and James Carpenter will have their hands full.
Prediction
Honestly, who knows. We'll go with the Jets for this one realistic reason: just when you think they'll lose, they shock everybody and win. And in classic Jets fashion, when every fan wants them to lose out in an effort to gain a better draft slot, they'll compete.
I can see both Muhammad Wilkerson and Sheldon Richardson coming equipped with nasty attitudes thanks to the constant criticism all week surrounding each's team meeting tardiness.
New York Jets 23, Los Angeles Rams 13