The Brooklyn Nets are rail-thin at the point guard position, and Kendall Marshall is someone who can make an immediate impact. 
I
n a league where the point guard position is seeing a renaissance, the Brooklyn Nets currently don't have one on their active roster.
This isn't by choice, of course. Jeremy Lin is sidelined with a strained hamstring, and Greivis Vasquez is dealing with ongoing ankle ailments. Lin is out for roughly two weeks while Vasquez's injury is without a timetable
Isaiah Whitehead was the next guy up, but the unproven rookie spent just one of his two collegiate seasons as Seton Hall's floor general — and it wasn't the best. Sean Kilpatrick is the "backup point guard," but he's a scorer through-and-through.
During a time when point guards are becoming more and more versatile, why doesn't a scoring two-guard cut it?
The "floor general" term is given to point guards because they control everything; they are the decision-makers for their teams. If a shooting guard is acting as your floor general, he can score, but that doesn't mean he's making the right decisions.
If said guard attacks the basket and a weakside defender comes over from the corner, he might try and score over two instead of passing to the open man.
Lurking in the free agent pool is Kendall Marshall, a journeyman with four years of NBA experience who fits the floor general criteria.
Why he isn't in the league is an anomaly because he's a talented guard. Not so much with scoring, but he's a tremendous passer and playmaker.
Back in 2013, a 22-year-old Marshall spent 54 games with the Los Angeles Lakers and racked up 477 assists — the tenth most in the league.
He has a versatility that's invaluable, and Marshall can create no matter what the offense is. With Brooklyn, the offense is very balanced. Transition is mixed in with pick-and-roll, and the half-court motion offense is the sprinkles on top of the proverbial sundae.
The clip below features a four-two pin down screen from the extended elbow, a set that could easily get worked into the Nets playbook: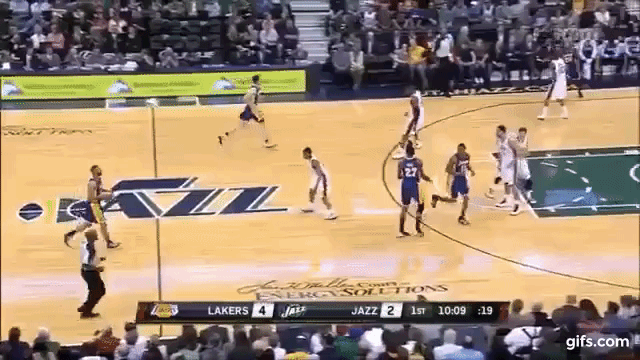 It's noteworthy that Marshall is a more than willing — and patient — passer, and plays like this will allow Kilpatrick, Bojan Bogdanovic, and Joe Harris to get involved early in the clock.
Brooklyn is undeniably at their best when running pick-and-rolls. Lin's impressive start got built on that, and Marshall can facilitate a screen-and-roll effectively despite not being a threat to score.
Nothing fancy is done here, just a solid screen that allowed dribble penetration deep enough for Jordan Hill to be left open — just imagine if that was Brook Lopez or Trevor Booker. Plus, the floor has more open space than the Barclays Center last year.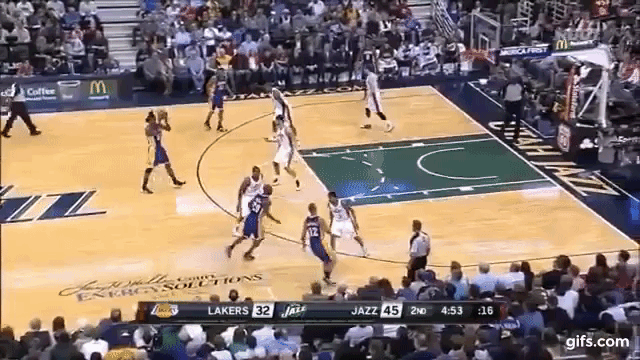 Marshall can push the ball in transition, too, and is always looking for the outlet pass.
I mentioned earlier that he isn't a great scorer, but he can knock down open shots, and his range extends beyond the three-point line; during his two best seasons, Marshall was near 40 percent from downtown.
The best part about all of this is that it could turn into reality. Financially, the Nets are more than capable of adding Marshall and could sweeten the deal by offering more than the league's minimum.
It would be for the good of the team, too. Lin doesn't get hurt often, but Vasquez's uncertainty is troubling. Marshall would be an excellent backup and could seamlessly transition into the starting role if something crazy happens.
This addition would also allow Kilpatrick to focus on what he does best: score. For Whitehead, it would hinder his development a bit because he'd be playing for shorter stretches. With that said, if he strings a couple of good plays together without messing up, his confidence would stay high throughout his time on the bench.