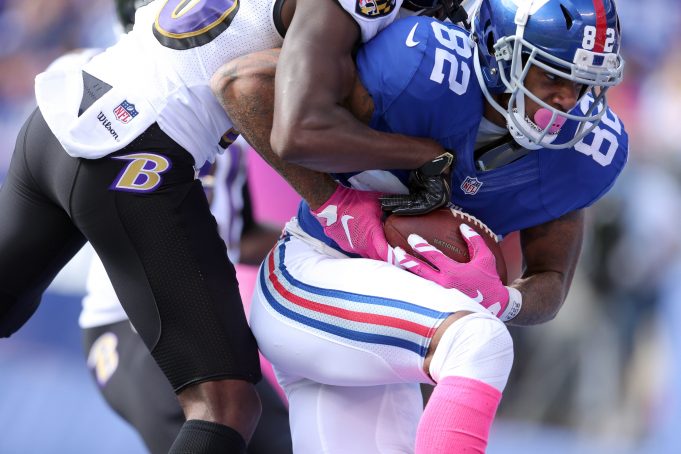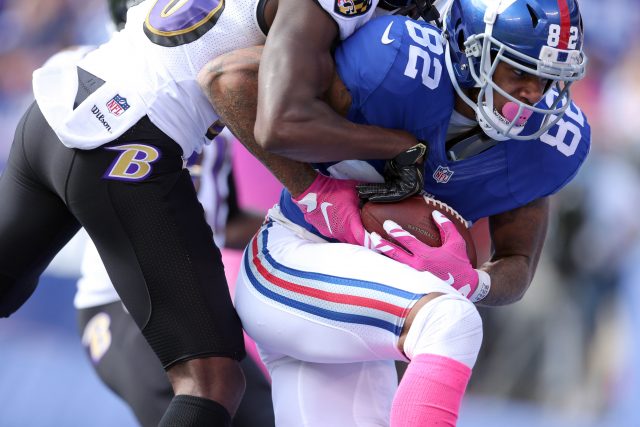 Another rookie undrafted free agent, Roger Lewis Jr. surprised many this season by becoming New York's default fourth wide reciever over veterans Dwayne Harris and Tavares King.
Though his three total catches this year don't seem like much, they've largely come when the Giants' needed them most. Two of those three grabs went for long touchdowns, the first a 24-yard snag against the Baltimore Ravens, and the second a wide open 30-yard catch versus the Eagles.
To see more playing time Lewis will need to improve his consistency as a pass catcher. Despite his big score in the game, Lewis dropped two easy third-down passes against the Eagles that both would have given the Giants' a first down. On the first drop, a third and ten from the Giants' 21-yard line, Lewis got behind his defender and had space to run had he not allowed the football to bounce off his fingertips.
It's not a new issue for Lewis, whose CBSSport.com Draft profile described him as being afflicted by "too many 'concentration' drops."
The Giants are desperate for Lewis to step up and become the team's undisputed fourth wideout. Harris and King have to catch a football all season and having Odell Beckham Jr., Sterling Shepard, and Victor Cruz as the only true threats at the position is not going to cut it.
In New York's two most recent Super Bowl runs, their offense succeeded in large part due to a trio of talented receivers. During the 2007 campaign, it was Amani Toomer, Plaxico Burress, and Steve Smith, while 2011's run was lead by Hakeem Knicks, Victor Cruz, and Mario Manningham.
However, in both instances, the team had a stable of contributing pass catchers behind the starting three. 2007 saw Sinorice Moss, David Tyree, and Anthony Mix all chip in, while 2011 had Ramses Barden, Domenik Hixon, and Devin Thomas haul in a few passes. None of these six players put up gaudy stat lines by any means, but they at least produced something. With Harris and King both catch less through the season's first nine weeks, Lewis has a prime opportunity to be a contributor for a squad with serious playoff aspirations.