With the season slipping away, it's time for the New York Jets to see what they have in young gun Bryce Petty.
B
oth New York Jets fans and personnel went into 2016 with visions of postseason play but following the Week 9 loss to the Miami Dolphins, those visions have become pipe dreams. With
Ryan Fitzpatrick
a main culprit in this season's disappointment, it is time for the Jets to see what they have in the future.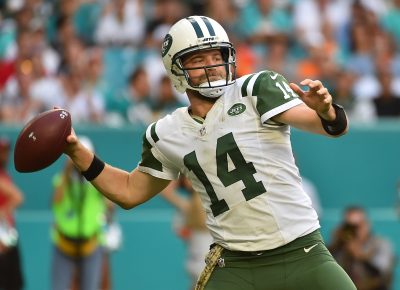 Ryan Fitzpatrick leads the league in interceptions thrown. Although all interceptions are harmful to the bottom line, his have been especially painful. Fitz has thrown more interceptions in the red zone (5) this season than any other quarterback in team history, and there are still seven games to play.
With the 103rd pick in the 2015 NFL Draft, the Jets drafted quarterback Bryce Petty. Knowing full well he was going to need some polishing coming from a spread offense, the team wanted to develop Petty and not rush him onto the field.
The success of the 2015 Jets allowed Petty time to learn from behind the scenes. Petty was able to watch Ryan Fitzpatrick from the sidelines during the midst of a career year. This season has been much different, though, and rather than try and teach Petty what not to do on the field, it's time for him to make his first NFL start.
Handing the reins over to Bryce Petty will result in one of two outcomes.
The positive outcome involves Petty taking over and finding success. The Jets still sport talent at the wide receiver position, and if Petty is ready to take over, his supporting cast will be an asset, not a liability. Knowing that Petty has the ability to lead the team, with potential to be the next franchise quarterback, will allow the Jets to enter the 2017 NFL draft with the ability to improve the defense or build up their offensive line.
The negative outcome would be Bryce Petty stepping into the starting role for the rest of this season and stinking up the joint. With the extremely bleak hopes of a playoff run this season, the team has nothing to lose. At least with this scenario, the Jets front office gets a better idea of what they have on their roster and can use the draft to find the future of the quarterback position.
Either way, if there is one thing to be learned from the New York Jets 3-6 start, it's that a change is needed.