The snippet of that small slice of New York Jets history both Ryan Fitzpatrick and Brandon Marshall carved out will be defined as "almost."
I
t's a certainty that it has happened. Competitive genes aside, leaders of the
New York Jets
have each mourned the 2016 season to some degree.
A few have to take it a step further. They've mourned their very existence with the organization. Only a complete lack of self-awareness could avoid this inevitability.
Ryan Fitzpatrick and Brandon Marshall are two NFL vets who, unfortunately, fall into this category.
At some point between Kenyan Drake's 96-yard kickoff return touchdown — which effectively ended the season for Gang Green — and the piles of Monday morning QB material to sift through, both veterans sat alone, coming to the cruel realization of the situation at hand.. At 3-6, each won't give up. But at 3-6, each is too smart to not understand reality.
As quickly as Fitz and B-Marsh flew into our Jets TV sets and our fluttering 2015 hearts, is as rapidly as they'll be gone.
It's just the way this business works.
Fitzpatrick is all but gone. Signing a 1-year, $12 million contract this past July, the uneasy feelings behind his camp and Mike Maccagnan won't help matters moving forward. At 33-years of age and owning the tag as NFL interception leader (13), Fitz is just two INTs away from his entire 2015 output of 15. With the state of the Jets personnel in complete flux, somewhere between developing youth and floundering age, New York is all but certain to move on.
The plan was to allow Fitz to hold to hold the bag for one season — to, essentially, hold down the QB fort until a legitimate franchise option arrived.
He failed.
Marshall, 32, has a year remaining on his deal. But the cool $7.5 million owed to him in 2017 is backed up with no penalty on the Jets side. All of his guaranteed money is out of the way and the Jets can ship him or cut him without two blinks of an eye.
Perhaps this is destiny.
Both veterans arrived the same time the new regime was beginning to put its imprints on the franchise. B-Marsh was stolen from the Chicago Bears for a mid-round draft pick nobody with green in their hearts has thought twice over. Fitz came via free agency, just another stop in his journeyman-like NFL career.
They had never played together. Interestingly enough, B-Marsh's first impression of the bearded one was one of shock, via Connor Hughes of NJ.com.
"He was terrible," Marshall said, lovingly. "He really was."
During OTAs and minicamp in 2015, Marshall couldn't believe how terrible Fitzpatrick looked. He, along with much of the offense, thought if Geno Smith went down, New York's chances were doomed.
When IK Enemkpali altered the course of Jets history in August of 2015, those thoughts were realized.
"I was scared," Marshall said. "It was over. Season was over. We were done. Done. It's the truth… He was terrible. I don't know what he was doing."
Then something strange happened. The Jets surprised everybody.
Aided by one of the easiest schedules in NFL history — playing both the NFC East and AFC South — New York ripped off 10 wins prior to a January date with the Buffalo Bills up in Orchard Park. Fitzpatrick had turned his mediocre career into FitzMagic with 31 touchdown passes and nearly 3,000 yards while taking a team who was projected to do next to nothing on the brink of the NFL Playoffs.
For Fitz and B-Marsh, this wasn't just any season. This was the season they could both point to and say "finally, we have qualified for the tournament."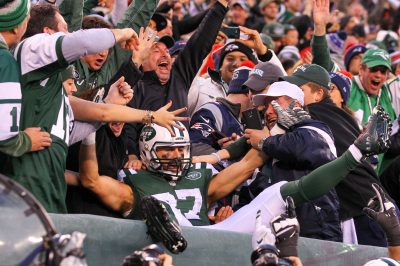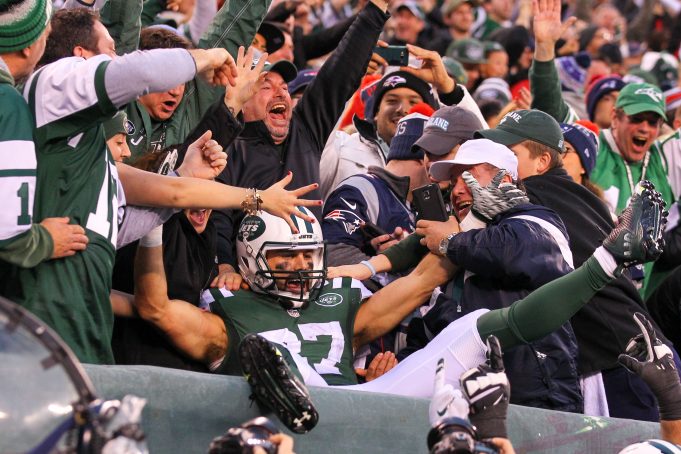 Many factors can be pointed out when referring to non-playoff NFL careers. In Marshall and Fitzpatrick's case, they have played on some terrible teams. Marshall shot himself in the foot early in his career thanks to immaturity issues. Fitzpatrick simply never had the talent to take an average or solid team to the promised land.
So there they were, facing Rex Ryan in upstate New York with a chance to alter the back of their football cards.
We all know what happened. Worse yet, the week before — a thrilling overtime win against New England — would, as we now know, be the high point for the duo in a Jets uniform.
Maybe it's supposed to be this way.
When each guy was brought in, expectations weren't high. Sure, we all knew Marshall could still play at a studly level, but we didn't think last year's ridiculous 109 catch, 1,502 yard, 14 touchdown performance would go down. We certainly didn't think anything of that journeyman guy.
At least for one year, they proved us wrong. They took us on a wild ride that featured many highs, rough lows, and wacky, outlandish celebratory-like behavior when things were flowing. A play would be made and the Harvard grad would transform into Bluto Blutarsky. It worked. It was exciting. It fed energy into the team and allowed his No. 1 receiver to fall in love with his QB.
Now, it's over.
They came oh-so-close to finally reaching the tournament, a place each has never been. Whether it was Ryan Fitzpatrick's three interceptions or Brandon Marshall's couple drops in Week 17 in Orchard Park, each has nobody to blame but themselves.
Each "almost" got it done, and Jets fans are appreciative, especially because we didn't think much of each a summer ago.
Thanks for the season fellas, but now it's time to move on. The future lies ahead.
21 seasons and 10 teams later, both Ryan Fitzpatrick and Brandon Marshall will have to look elsewhere to finally feel what playoff football is all about.