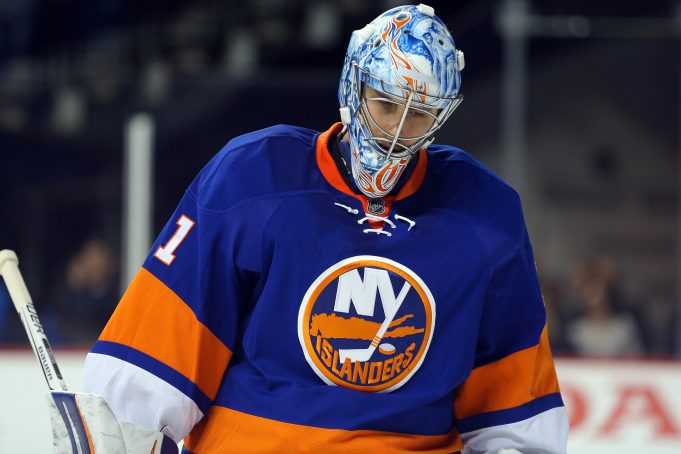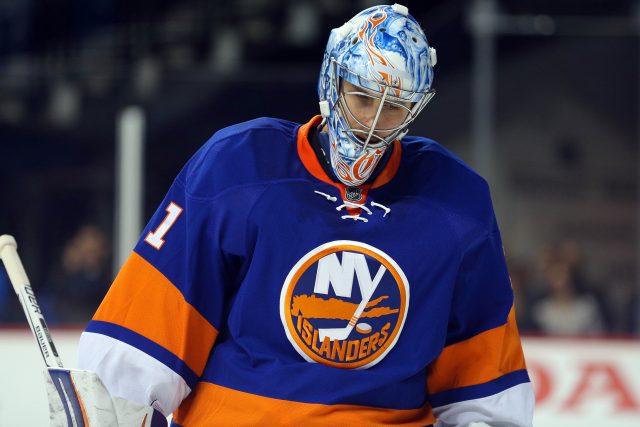 Option 2, Trade Greiss
This is, by far, the easiest option to exercise and the one that makes by far the most sense. There are a plethora of teams in the NHL looking for a reliable 1A option in net and Thomas Greiss is the crème de la crème in terms of available backup goaltenders.
After helping Tavares carry the Islanders out of the first round last season and after setting career numbers and showing no signs of slowing down, Greiss would be a sought after commodity.
Los Angeles Kings
As if this wasn't an obvious enough first choice, the Kings are depleted in terms of goaltenders after Jonathan Quick was sidelined for the next three or so months. To make matters worse, backup Jeff Zatkoff was lost to injury as well. The Kings have nowhere to turn but to the trade market.
Yes, they signed Anders Lindback to a tryout, but Lindback also earned the nickname "The Giant who can't stop a beachball." He's rocking a stellar .904 save percentage and a 2.87 GAA to boot, not to mention his career numbers are under 500. Oh, and he's never won a playoff game. You might remember him as the guy who got the Tampa Bay Lightning swept the year before they went to the finals.
Essentially, the Kings are desperate and primed to overpay for a reliable option in net while their starter rehabs. Best of all, the Kings have a little over $1.5 million in cap space and Greiss' contract is right at $1.5 million. Someone would likely come back to the Islanders and if Snow plays his hand right, he could land a winger for Tavares.
To Kings:
Thomas Greiss
To Islanders:
Tyler Toffoli
San Jose Sharks
A reunion with his original team could be in the cards for Thomas Greiss. San Jose is seeking a second consecutive trip to the Stanley Cup Final this year. If they want to get there, they're going to need not one but two reliable goaltenders. Their starter, Martin Jones, is coming off a phenomenal first season in net but the question lies in the backup for San Jose.
Rookie Aaron Dell is untested and unreliable, despite his one career win over the Islanders. San Jose would undoubtedly feel much better taking on a proven backup and sending Dell back down to the minors.
But when it comes to acquiring a backup in San Jose it would mean that salary needs to go back to the Islanders, since the Sharks have under $1 million in space.
Here's where the Islanders can get crafty. Brent Burns is a free agent at the conclusion of this season. While he would like to stay in San Jose, it's not a guarantee and Burns is giving negotiations time so he can listen to the open market.
If the Islanders feel like searching for a Tavares' winger by means of, say, Tomas Hertl, they could offer a proven defenseman in return to help soften the potential blow of Burns' departure to SJ.
To Sharks:
Thomas Greiss, Calvin deHaan, 1st Round Pick
To Islanders:
Tomas Hertl
Toronto Maple Leafs
The Toronto Maple Leafs are in year two of the official start of yet another rebuild. But there is reason to be optimistic in Toronto. With Mike Babcock at the helm, as well as Lou Lamoriello as GM, the Leafs will be in good hands in the foreseeable future. In the meantime, the rookies need to grow into their roles, including veteran goaltender Frederik Anderson.
The Leafs believe that there is an overwhelming amount of pressure. He walked out of a situation in Anaheim that had him questioning his role with the organization to being the undisputed No. 1 goaltender for Toronto for the next five years. In a Canadian market, especially that of Toronto, that's a big burden to bear.
To help him alleviate this stress, or rather to get accustomed to his role, the Leafs are reportedly seeking a veteran 1A they can turn to when Anderson needs the night off. Toronto feels that they do not have this need and are turning to the market.
Toronto's tied up in terms of salary cap. Salary would have to come back to the Isles but it's hard to imagine that anything of value would be tossed in the isles direction. The Leafs do not want to part with any of their young prospects, and for good reason. They're doing the rebuild the right way, giving their players time to flesh out and building through the draft and free agency.
Toronto would only take Greiss and, similar to the Grabner trade, probably toss back several mid to low end prospects.
To Leafs:
Thomas Greiss
To Islanders:
2nd Round Pick
OR
Two mid-range prospects
Two low-end prospects