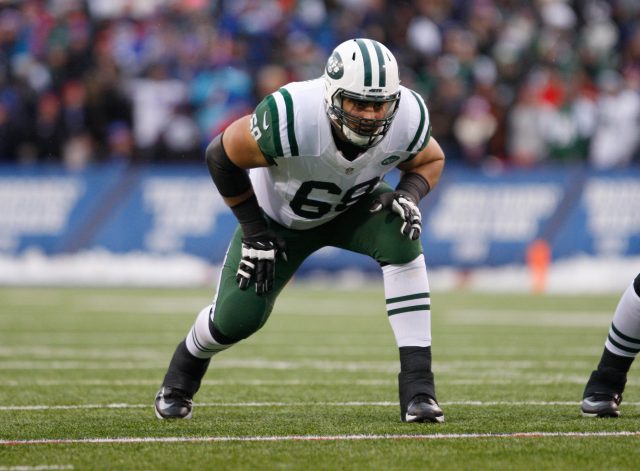 2. Not Rebuilding The O-Line
There's only one NFL team who boasts a terrific offensive line. This is the main reason the Dallas Cowboys are sitting pretty in the NFC.
Interestingly and disturbingly enough, the rest of the NFL is floundering along the offensive line.
There is no consistency here. Quarterbacks are getting pounded and teams are struggling to keep their big heavies healthy and in sync. Perhaps it's the patty cake training camps that we see these days, as opposed to the brutal, more football-like ones of yesteryear. Perhaps it's teams looking to allocate salary in a more efficient way up and down the depth chart. 
Whatever the reason, offensive line play is horrid in the league. The New York Jets are no exception.
Everywhere you look, there's an older veteran player plugging up an impact position for New York. In this case, it's Nick Mangold (32). Nobody will argue Mangold is a bum. The guy's simply moving forward as one of the stronger centers in the league. Around him, though, is where the problem lies.
Ryan Clady has been below average at the left tackle spot. James Carpenter — perhaps Mike Maccagnan's best offseason signing in 2015 — has remained solid. Brian Winters, Breno Giacomini, Ben Ijalana, and Brent Qvale have all been porous.
To make matters worse, Mike Mac's only serious o-line addition heading into the 2016 season, Brandon Shell, has been a complete no-show. He even traded up into the fifth-round to snag Shell.
Going into each game with a compromised offensive line has hurt this Jets offensive significantly. Of course, Ryan Fitzpatrick has been brutal this season. Nobody can ever argue otherwise. But he's also received zero help.
This team was supposed to be a strong defensive squad who can run the ball at will, allowing the QB to blend in and become a secondary aspect to the attack. Because of the terrible o-line, Fitz is relied upon to be the man. That'll never work.