In only their second year of existence, New York City FC has qualified for the MLS Playoffs. The opponent will be Toronto FC.
T
oronto FC won their first ever playoff game on Wednesday, defeating the Philadelphia Union 3-1 to advance to the Conference Semifinals. With a victory in either leg, New York City Football Club will have the ability to say the same.
Patrick Viera's men will play their first ever postseason game (albeit in their second season) on Sunday when they travel to Toronto for the first leg of their playoff tie with Toronto. While all four MLS Cup quarterfinal ties are perhaps equally intriguing, this one has just a bit more pizazz.
European pedigree, American talent, explosive offenses, and two teams looking to take on sky-high expectations and advance to the Eastern Conference Finals.
How did the Regular Season go?
As expected for Toronto, maybe not as much for NYCFC. With last year's MLS Most Valuable Player, Sebastian Giovinco, and a pair of US National Team veterans, Jozy Altidore and Michael Bradley, Toronto FC was expected to make the postseason, and that they did, racking up 53 points, good for third in the East.
NYCFC, however, had lower expectations, after a poor inaugural season saw them finish in the second bottom in the East. However, with a new head coach (Arsenal FC legend Patrick Viera) and a full season of the designated player trio of David Villa, Frank Lampard, and Andrea Pirlo, along with several strong contributions from various role players, NYCFC shook off a slow start and finished with 54 points, good for second in the East.
In terms of head to head, the teams met twice in the regular season, drawing 2-2 at Yankee Stadium and 1-1 at BMO Field. In the first matchup, NYCFC jumped out to a 2-2 lead, courtesy of David Villa, before Toronto scored right at the end of the first half, and late in the second to salvage a point. In the second matchup, NYCFC once again took the lead, this time courtesy of former Blue Kwadwo Poku, before being pegged back by Will Johnson's equalizer.
Key Players
David Villa, NYCFC, and Sebastian Giovinco, Toronto FC: Let's get the stars out of the way first. David Villa and Sebastian Giovinco are both frontrunners to take home the MLS MVP award. Giovinco followed his record-breaking 2015 campaign with a very strong tally of 17 goals and 15 assists. The former Italian national team regular's nickname is the 'Atomic Ant,' because of his short frame yet explosive ability. His pace allows him to weave through opposing defenses, and his shot power is enough to beat keepers from outside the box. He is, in all likelihood, the best pound-for-pound player in the league.
But Villa is no slouch either– his career accolades are astounding. He was joint top scorer at the 2010 FIFA World Cup, a competition which saw his Spanish national team emerge victorious. He also scored the decisive third goal in the 2011 UEFA Champions League Final, which saw FC Barcelona defeat Manchester United, 3-1, to win Europe's most prestigious club competition. He has translated this success to the MLS, scoring 23 goals this season, second-most in the league (And only one behind top scorer Bradley Wright-Phillips).
Will Johnson and Michael Bradley, Toronto FC, Andrea Pirlo and Frank Lampard, NYCFC
The esteemed midfield duos will go head to head in this tie. Toronto are led by Will Johnson, who can act as a deep-lying playmaker and a defensive midfielder, and Michael Bradley, who will look to dictate the game from a deep-lying position. Bradley has the ability to ping passes around the field but also has the mobility to act as a box to box midfielder.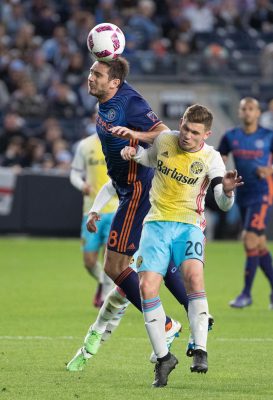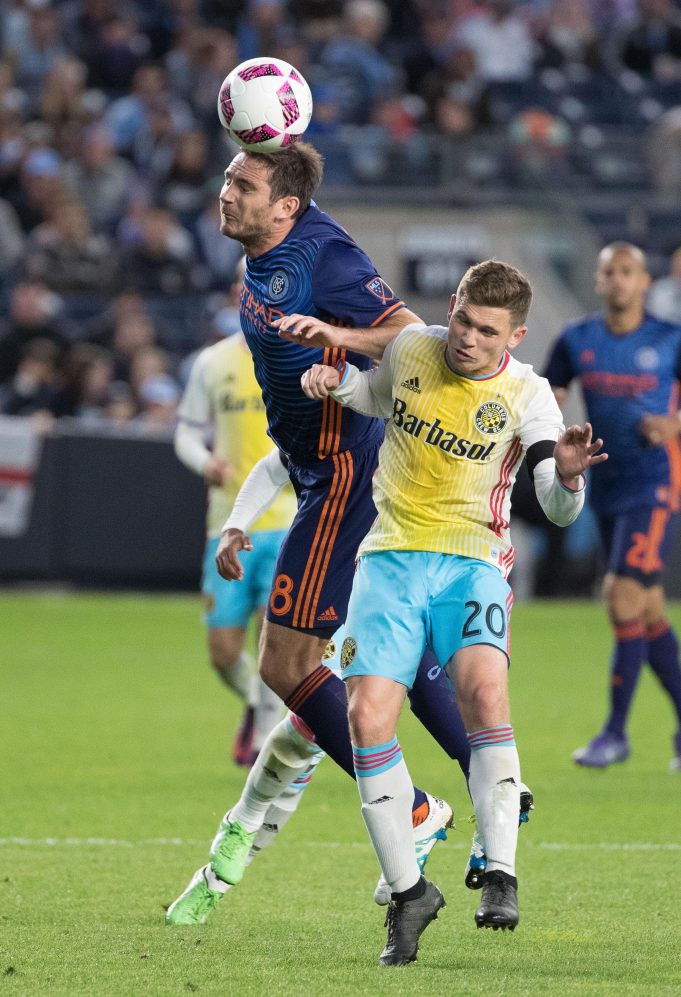 Once again, NYCFC, have pedigree on their side. Lampard and Pirlo are both UEFA Champions League winners, with Chelsea and AC Milan respectively. Lampard is one of the most prolific goalscoring midfielders in Premier League history and has translated his eye for goal with some huge scores this season for NYCFC. His ability to be at the right place at the right time in the box will keep Toronto defenders on their heels. As for Pirlo, he practically invented the deep lying playmaker position that Bradley and Johnson play so well. While it is difficult for Pirlo to play this position at home, due to the narrowness of the pitch, in Toronto, the extra space will give him a chance to pick out dangerous passes from deep.
What one side has in versatility and athleticism, the other side can counter with pedigree and experience. Whoever wins the midfield, and supplies their star strikers best could determine the fate of this tie.
Jozy Altidore, Toronto FC, and Jack Harrison, NYCFC
Altidore is Toronto's #9, their main goalscorer, their out and out striker. His power and pace allow him to run at defenses, as well as get in behind and latch onto long balls. Altidore has been in fine form this season, and his knack for goal could propel his side into the next round.
Jack Harrison, on the other hand, is new to this whole playoff idea. However, the frontrunner for Rookie of the Year and this past draft's top overall pick, has been nothing short of outstanding on the right-hand side, cutting in and scoring clutch goal after clutch goal. He gives the NYCFC attack the width it needs to stretch the Toronto defense, which in turn gives Villa more space centrally. Harrison's ability to create and attack space will play a large role in the tie.
Logistics
Leg 1: Sunday, October 30, @ BMO Field in Toronto (7 p.m ET)
Leg 2: Sunday, November 6, @ Yankee Stadium in New York (Time TBD)
Why Toronto FC will Win
They have momentum, first and foremost, from their victory over Philadelphia in their knockout round. They have a much-improved defense, which can help keep the NYCFC attack at bay, and their offensive attack is equally prolific to their opponents. Giovinco, Altidore, Bradley, and Johnson can make a dodgy NYCFC defense, which allowed 57 goals this season (comfortably the most out of any side that qualified for the postseason) suffer.
Why NYCFC will Win
Villa, Lampard, Pirlo, and Patrick Viera are used to performing on the biggest stage. Cup Finals, key league games, title deciders, international spectacles, the quartet have done the lot. If they can stand up to the pressure of a new challenge, and use their vast skill sets to out-do a dangerous Toronto team, then they should be able to squeeze out a result. Having the all-important second leg at Yankee Stadium helps, as well.
Oh, it also helps to know that NYCFC scored 62 times in the regular season, more than any other MLS team.
Prediction
Toronto FC, despite being the lower seed, are heavy favorites, large in part because of their tremendous attack and NYCFC's leaky defense. They will need to set the tone at home, which I believe they will do, before holding NYCFC at bay in the second leg and advancing to the Eastern Conference Finals.
Leg One: Toronto wins 2-1
Leg Two: Draw, 1-1
Toronto advances, 3-2 on aggregate