Brook Lopez's 25 points paced the Brooklyn Nets at Barclays Center on Friday night as they picked up their first win of the new season.
Brooklyn Nets 103 (1-1)
Indiana Pacers 94 (1-1)
NBA, Final, Box Score
Barclays Center, Brooklyn, New York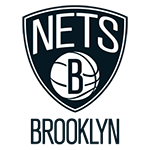 It didn't take long for the Brooklyn Nets to pick up their first win of the 2016-17 NBA season and for Kenny Atkinson to taste that head coach winning feeling in the league. Both happened with the Nets knocked off the Indiana Pacers by the final of 103-94 on Friday night at the Barclays Center.
Brook Lopez led the way with 25 points on a very efficient 10-of-18 from the floor. Jeremy Lin finished just one rebound and assist shy of a triple-double (21 points, nine rebounds, and nine assists).
Perhaps the biggest jolt of energy came from Sean Kilpatrick who nailed consecutive three-pointers in the fourth quarter, one that saw Brooklyn outscore Indiana 31-15.
For the Pacers, Paul George led the way with 22 points.
Brooklyn will have a quick turnaround as it'll travel to Milwaukee tonight in anticipation of facing Jason Kidd's Bucks on Saturday night.
The Hamilton block leads to a Brook Lopez bucket, the DAGGER. #Nets closing in on their first win. #BrooklynGrit pic.twitter.com/JclgxX0O86

— Elite Sports NY (@EliteSportsNY) October 29, 2016
Nets Win Highlights? Nets Win Highlights. @YESnetwork with the call! pic.twitter.com/NwVEiSQXRo

— Brooklyn Nets (@BrooklynNets) October 29, 2016
Kilpatrick: "We come into @barclayscenter and play an emotional game. This is a competitive league. Everything that we're doing is together" pic.twitter.com/gfwEXmhlHY

— Brooklyn Nets (@BrooklynNets) October 29, 2016
Lin: "It's been a long journey. For us to be here together and do this is special. Unselfish mindset and talented players." #Nets pic.twitter.com/ZzARRJAqBW

— Brooklyn Nets (@BrooklynNets) October 29, 2016
Coach Atkinson: "I'm happy for our guys. We defended a lot better. Nice to see your work pay off. Showed a lot of character & fight." #Nets pic.twitter.com/gO0qVPoZav

— Brooklyn Nets (@BrooklynNets) October 29, 2016
Let's hear from one of those players of the game, shall we? @sarahkustok breaks it down with Kilpatrick. #NETSonYES pic.twitter.com/Dkx4NNCcqG

— YES Network (@YESNetwork) October 29, 2016
OUTPACED! #Nets win 103-94 over the #Pacers in the Brooklyn home opener. #BrooklynGrit pic.twitter.com/BaFegPBkgi

— Brooklyn Nets (@BrooklynNets) October 29, 2016
??? @35_Fitz https://t.co/Jc0Rz62Fd0

— Brooklyn Nets (@BrooklynNets) October 29, 2016
ICYMI: Just before tip-off, Brook-Lin welcomed Brooklyn to the new season. #NETSonYES #BrooklynGrit pic.twitter.com/br5OyyExz6

— YES Network (@YESNetwork) October 29, 2016