Bryce Petty will and should not be the starting quarterback. The New York Jets aren't yet dead as far as the 2016 NFL season is concerned.
W
hether you're driving on the Van Wyck or walking the streets of Manhattan on your lunch break, you're bound to hear it.
The continuous sound that is the New York Jets fan calling for somebody, anybody other than Ryan Fitzpatrick will, eventually, hit those properly functioning ears of yours.
You may hear this conversation among a small circle of individuals. You may hear it on the airwaves of WFAN. You may even hear it in your own mind. One thing's for sure, you will hear it.
It's what happens when the starting quarterback throws an incredible 11 interceptions over the first six games of the season. It doesn't matter how brutal a schedule it was. It matters because expectations were high.
Don't allow the conversation to hypnotize you, as it's only noise.
The backup quarterback — in the Jets case, all three backup QBs — is always the most popular player on the football team when things aren't playing out swimmingly. It's a simple matter of nature. The starter fails, and, thus, change feels necessary. It's always up to the franchise to make sure change isn't happening simply for change sake.
Therefore, there's no reason to play young Bryce Petty. Not yet, anyway.
New York currently sits at 2-5. It's a bleak diagnosis for any NFL team with tournament aspirations. It is, however, a little nicer on the eyes than a 1-5 record.
This is what one week, one win can do for a franchise.
The 24-16 victory against the Baltimore Ravens on Sunday was a start. But when seasons get turned around, a start is the only thing that's needed. Fates happen quickly in the NFL. One week can change everything.
Take the Jets next three opponents, for instance. New York travels to winless Cleveland in Week 8, takes the Dolphins head on in Miami and then returns home to face the free-falling Los Angeles Rams. With a snap of a finger, the Jets can be 5-5 and right back into the playoff mix.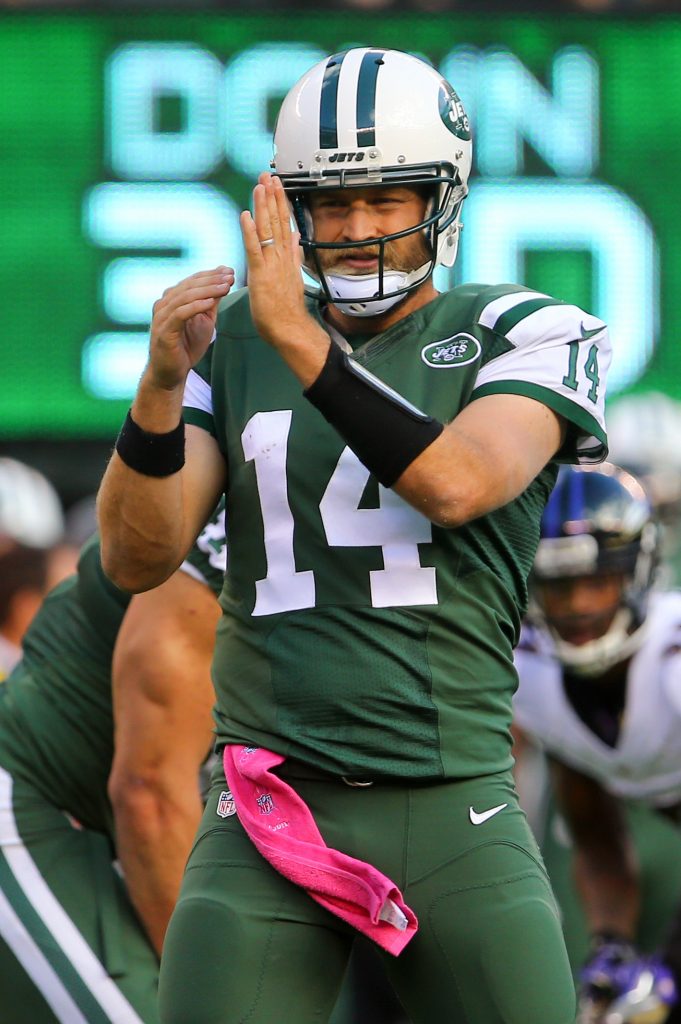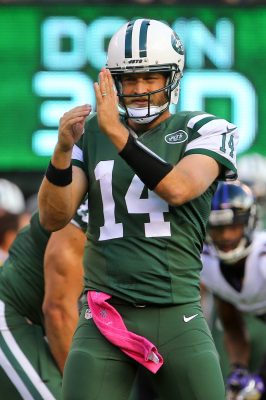 With those stakes on the line, never should an organization turn to a guy that was too raw to even take one meaningful snap during a rookie campaign.
To further the point, look no further than the 11-5 Kansas City Chiefs from a season ago. Andy Reid's bunch started 1-5 and ended winning 10 straight en route to a playoff berth. Moreover, the Jets play five of their last seven games at MetLife.
This is why Ryan Fitzpatrick needs to remain the man under center. Despite many believing the Geno Smith promotion was ownership/front office pressure put on Todd Bowles, an argument can be made that Geno's resume and body of work is just as solid as Fitzpatrick's.
Going to Geno wasn't an "end the season" move.
Now that he's out for the season, Fitz is the last remaining survivor.
Forget Christian Hackenberg. He's a red-shirt freshman in this league. And while Petty has a shot to sparkle upon his insertion, he can't be trusted until the season is long gone. When, and only when the Jets get to their seventh loss, is when Fitz leaves the field and Petty enters.
Mike Maccagnan's plan for 2016 was Ryan Fitzpatrick. That plan needs to firmly stay entrenched until the season is officially lost.
At 2-5, the season hasn't been lost. Not by a long shot.
Don't worry Fitzpatrick haters: Bryce Petty's time will eventually come. Just not yet.
Geno Smith's career with the New York Jets is most likely over. His life in the NFL, however, will be up to him.#JetUp #NYJ pic.twitter.com/sOnvyFe0NY

— Elite Sports NY (@EliteSportsNY) October 24, 2016