I
n a dark and disturbing world featuring a wealth of strangeness, rumors surrounding the
New York Jets
have remained particularly standard.
Now that Ryan Fitzpatrick has been sent to the ride pine after disappointingly piling up 11 interceptions to just five touchdowns, the normal chaos that you'd expect has commenced. Geno Smith is now the man and veteran names are being bandied about for the 2017 season.
Chaos in theory, yes, but standard for a franchise that's experienced a disturbing level of quarterbacks since Joe Namath.
Therefore, the rumors rage on and the likes of Tony Romo and Philip Rivers are the two hot button options for the moment.
The problem is, save for the household names, there's nothing that makes sense about either veteran quarterback joining the Jets in 2017.
Romo, 36, and Rivers, 34, are two veterans who've enjoyed their fair share of success at the big boy level. Each has multiple Pro Bowls under their belt and each, through no fault of their own, have yet to taste Vince Lombardi Trophy success.
This isn't why this brand of QB makes zero sense for the Jets.
The usually recent angle for why either veteran guy should be brought towards the bright lights of New York comes by way of the Jets fielding a veteran team themselves. Not only are the Jets ranked 21st in the NFL in average age, but nearly half of their 22 starters are aged 30 years or older. (If Eric Decker, 29, is thrown into the fire, 11 of the 22 starters are at that magical 30 number.)
For further explanation, here are the names and ages listed in bullet form fashion:
Ryan Fitzpatrick, 33
Brandon Marshall, 32
Nick Mangold, 32
David Harris, 32
Darrelle Revis, 31
Kellen Davis, 31
Matt Forte, 30
Ryan Clady, 30
Eric Henderson, 30
Steve McLendon, 30
Eric Decker, 29
This is why many outlets are jumping on the idea of a veteran QB to the Jets in 2017. 247Sports decided to hop on the Jets acquiring Rivers bandwagon, even though the report is complete garbage.
James Parks writes:
"In the Jets' never-ending quest to procure a quarterback, a number of interesting names have turned up – up to and including Tony Romo. But Bleacher Report emerged with a new report on Wednesday that included another name: Philip Rivers."
Let's take a look at what Mike Freeman of Bleacher Report said about the matter:
"A handful of teams are in desperate need at quarterback—the Jets, Browns, Bears and 49ers among them. Several team officials told me they believe both Romo and Rivers could be traded."
This means 247Sports — and a handful of other outlets — are starting to link Rivers' name to the Jets, despite a real connection not existing. Freeman simply stated several team officials told him Romo and Rivers could be traded. He only mentioned the Jets because, as everybody knows, they have serious issues at QB.
Like previously mentioned, this standard chaos surrounding the position in New York marches on.
Truth be told: the only reason these names are linked to certain QB desperate teams is because it sells. It forces you, the reader, to click on the article because a big name is suddenly tied together with your team.
The same can be said for radio voices, too:
Tony Romo would solve the Jets quarterback woes. pic.twitter.com/Qf8kuzWcie

— Herd w/Colin Cowherd (@TheHerd) October 20, 2016
But don't believe the hype. Neither Romo nor Rivers makes sense for the Jets.
While they are an old team, if this disastrous 1-5 season continues down this predictable dark and dangerous path, Mike Maccagnan will make sure the Jets won't be so veteran-laced in 2017.
Remember, Mikey Mac has maintained that he quickly instituted an "aggressive rebuild." Instead of taking a Cleveland Brown-like approach with youth and patience, Maccagnan went right after the big boys of free agency — Darrelle Revis, Antonio Cromartie, etc. The important part to hold onto is that this aggressive rebuild allows for cap flexibility moving forward.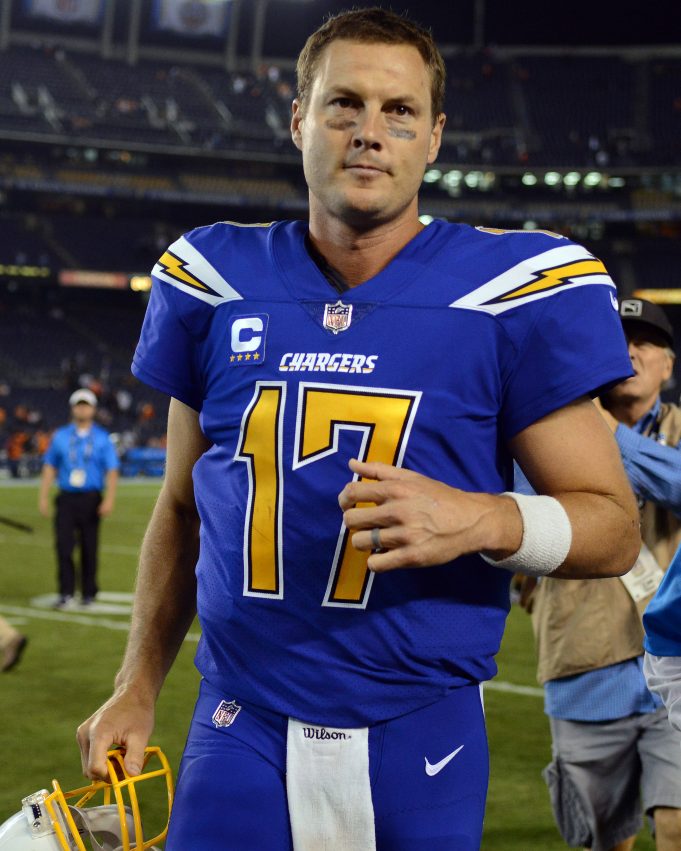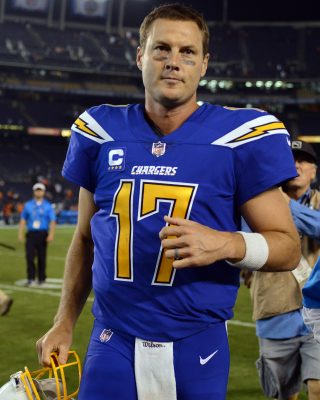 While the level of flexibility can be argued, Mikey Mac can — and most likely will — get younger for 2017 and with a close eye towards 2018. It would be the first step in a serious and necessary roster makeover.
An old, tired QB wouldn't make sense for the Jets in this situation. Can you, the fan, actually sell a story that the Jets won't shake up the veteran nature of this roster if 2016 continues down this dark path?
I don't think you can.
The list above with Jets names accompanied by old ages won't all return in 2017. Many will be sent packing in one form or another.
Let's also not forget that Romo's a guy who simply can't stay healthy. He crumples at the first sign of physicality and has to have at least a few closed ones encouraging him to retire. In knowing that, taking on such a risk with a salary that'd take up a serious pie of the cap would be chancing season suicide.
If you didn't like Fitzpatrick's arm strength, you're going to despise Rivers' flimsy arm. He gets by in San Diego with pinpoint precision and an offense that's specifically designed for where he can throw the ball.
While, of course, both Romo and Rivers are far better QBs than anything the Jets have on the current roster, it makes zero sense to bring either guy in for the 2017 season.
These Jets aren't one quarterback away from a Super Bowl Championship. They may not even ben one quarterback away from the tournament.
If a Rivers or Romo comes to Florham Park, NJ, we may just witness an even worse unbalanced situation than what we see with Andrew Luck and the Indianapolis Colts — a franchise who doesn't have any top notch talent around their legendary talent at QB.
Mike Maccagnan needs to find the next Luck, or even Dak Prescott. He doesn't need to bring in a Tony Romo or Philip Rivers when his roster isn't ready for it.
The mini-rebuild is coming and Rivers or Romo shouldn't be considered.