Panini America has unveiled a limited edition trading card to commemorate Odell Beckham Jr.'s career-high 222-yard game.
F
ollowing his 222-yard game against the Baltimore Ravens,
Panini America
has rolled out a limited trading card to honor Odell Beckham Jr.'s career day. The New York Giants' receiver
produced an absolute gem of a game
, adding two touchdowns on his stat line en route to leading his team to a victory.
"Going up against the Baltimore Ravens, Beckham Jr. looked like he was having fun again," said a Panini America spokesperson. "The receiver hauled in a career-high 222 yards receiving to go with two touchdowns. With Beckham's historical performance, the Giants were able to even their record at 3-3 with a 27-23 win over Baltimore. This special trading card is part of the Panini Instant collection, which exists to commemorate milestones and achievements in real-time so fans don't have to wait months (or even seasons) to capture their favorite moments."
.@RobGronkowski, @OBJ_3, @brandincooks, @Cantguardmike & #Mariota arrive on #PaniniInstant. 24 hours to get them! https://t.co/1ecJeEmJPb pic.twitter.com/QYsJXWWNmZ

— Panini America (@PaniniAmerica) October 19, 2016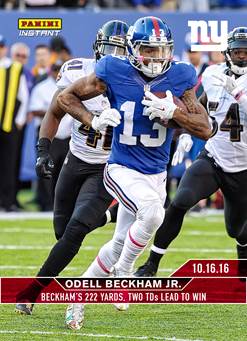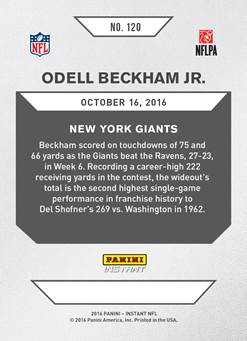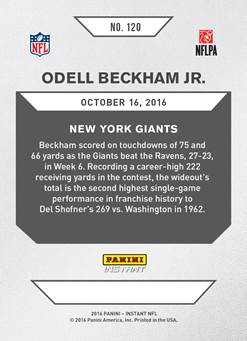 The card was unveiled on October 19th at 3:00 pm EST. It will be available for 24 hours following its release. Giants fans can few the comparative collectible here.