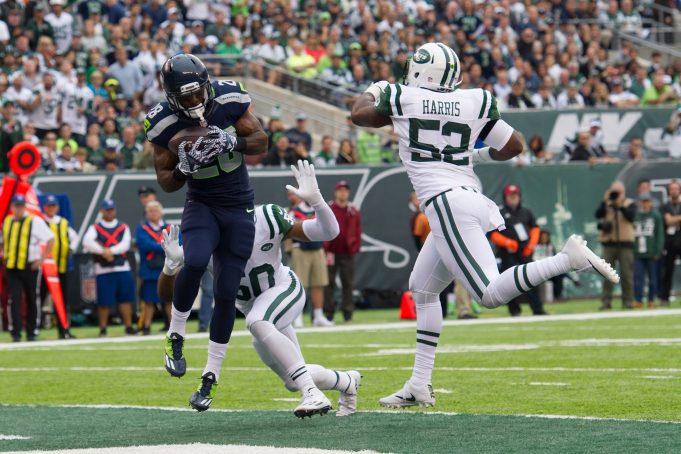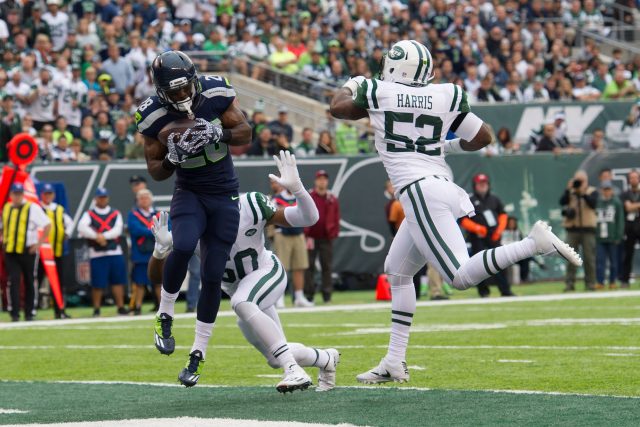 1. The Pass Coverage
As bad as Ryan Fitzpatrick and the passing game has been, it's not focal point No. 1. The New York Jets pass coverage is, by far, the worst issue on the team right now.
Calvin Pryor and David Harris are being eaten alive by opposing quarterbacks. Look no further than the first touchdown of the game.
On a simple angle route from C.J. Spiller, both Harris and Darron Lee couldn't come close to handling things:
There were two linebackers against the one running back. Harris showed himself way too hard on Spiller's entry and had no chance to recover. Lee, who's still learning about the pro game, couldn't get over in time.
On this next play, Seattle's second TD of the game, the Jets were in a basic Cover 3. Because of the play action, Darrelle Revis didn't get depth and the receiver leaked in behind him. The biggest culprit on the play, however, was Calvin Pryor who was completely turned around in center field:
The other item of note is Sheldon Richardson's play on the edge. While he gained a step on the tackle, he's just not nimble enough to squeeze it down any further, leaving Wilson with too much space.
One alarming trend that continued on from Kansas City was the idea of Bowles leaving nickel (two linebackers) personnel in against a 3 WR, 1 TE, 1 RB set. Instead of treating Travis Kelce, or in this case, Jimmy Graham, like a receiver, he continued to treat him like a classic tight end who couldn't move.
This action puts Pryor in a bad position of looking to guard Graham one-on-one. Graham or any of the new age TEs in this league will win this matchup every time. It also puts rookie Lee on Graham, and while he did a good job on this play, it's not something you'd like to see:
Todd Bowles is continuing the madness that is matching up in an old-school type fashion that takes care of the run first. This can't be done in today's game. Instead, he needs to get an extra safety out there, like an Antonio Allen, and take out a David Harris.
Go dime when the opposition has a 3 WR, 1 TE, 1 RB personnel (when the TE runs and plays like a receiver). Dare the opposition to run the ball.
The frustrating part about this is that the Jets do, indeed, have the personnel to cover the opposition. But Harris is no longer an everydown backer and Pryor cannot be put in center field or in one-on-one coverage.
We, as fans, basically just witnessed a carbon copy defensive scheme that we saw in Week 3 at Arrowhead.