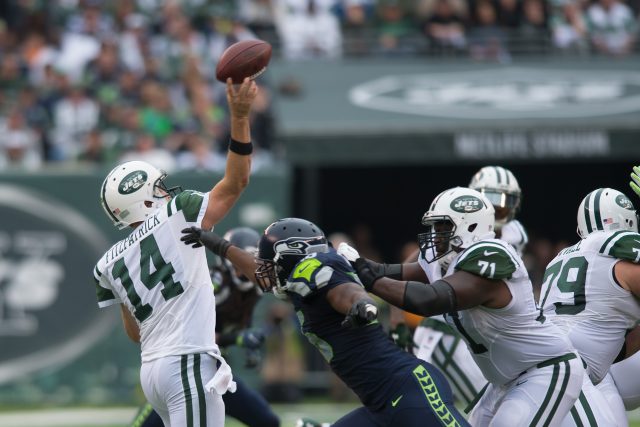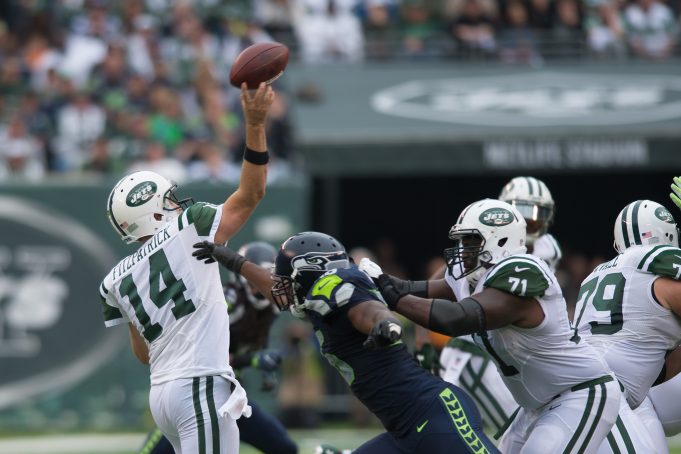 2. Ryan Fitzpatrick
The popular culprit of the season comes in at No. 2. Even if he wasn't playing horrible, the quarterback, and especially a journeyman like Ryan Fitzpatrick, would be blamed if the team isn't winning games.
In this case, the blame is well deserved.
The guy who almost threw for 400 yards in Buffalo two weeks ago, is no longer here. He threw six interceptions in Kansas City and another three in Jersey against another terrific defense.
Make no mistake about it, Fitz may have just played the top two secondaries in the NFL. Still, it cannot be an excuse for his failures.
Fitz, Chan Gailey, and the entire offense is extremely simple and predictable.
On the Jets second drive of the game, they were pushed into a 3rd-and-13 situation near mid-field. Gailey dialed up one of his familiar and very recognizable middle screens:
It's obvious why Gailey called the play. On a 3rd-and-13, the Jets understand Fitzpatrick's limitations. They also understand how tough the Seattle secondary is. It's a safe play to pick up yardage underneath in hopes to break it for 13.
The problem is New York runs these middle screens far too often.
In the 3rd-quarter on a 2nd-and-8, the offense's predictability came into play. Fitzpatrick predetermined where he was going to go with the ball in a one-on-one with Brandon Marshall. Earl Thomas, the best free safety in football, read it brilliantly:
Fitzpatrick's pre-snap reads are being snuffed out, unlike what we saw in 2015.