Now that Todd Bowles and the New York Jets know what they are on defense, rookie linebacker Darron Lee is going to go bananas.
Whoa, wait. Quiet.
Do you hear that? I pray that you do. If you don't, you may just miss a breakout of epic proportions.
That sound is the organization of the New York Jets finally allowing The Manimal out of its cage. Rookie Darron Lee is foaming at the mouth in anticipation to explode over the next few weeks. New York simply can't hold him back any longer.
The reason for this soon-to-be-happening bust out is quite simple: Lee now fits the Jets defensive scheme.
Lee's stature and abilities fit a pro 4-3 defense. He's a prototypical WILL outside backer who, when allowed the freedom to roam, tears up the field with speed and ferocity.
He simply cannot fit the inside role of a 3-4. That spot is reserved for the much bigger bruising middle linebacker who can shed blocks and still maintain sideline-to-sideline space.
With Sheldon Richardson's return to action in Week 2 in Orchard Park, defensive architect Todd Bowles finally budged on the four-man base look:
This IS what the #NYJ are now…a 4-3 defense thanks to personnel. Mauldin will take McLednon out in Sub. #NYJvsBUF pic.twitter.com/6YX4DS2orL

— Elite Sports NY (@EliteSportsNY) September 16, 2016
It's a look that features not two physical interior lineman, but an incredible four. Both Muhammad Wilkerson and Sheldon Richardson are lined up on the edge in the base look. This means those two beasts coupled with Leonard Williams and Steve McLendon on the inside make up for one giant wall of humanity.
Usually, in a 4-3, the two defensive tackles are tasked with eating up blockers and allowing their middle linebacker to be clean shooting through the appropriate gap. In the Jets case, there are four of these guys.
Therefore, not only is Erin Henderson free through the middle but David Harris at SAM and either Mike Catapano or Darron Lee all experience a cleaner experience on the second-level.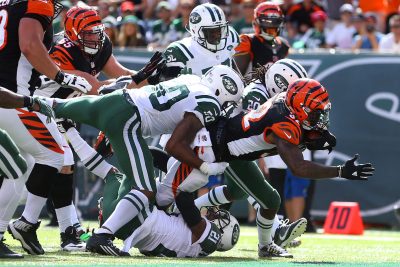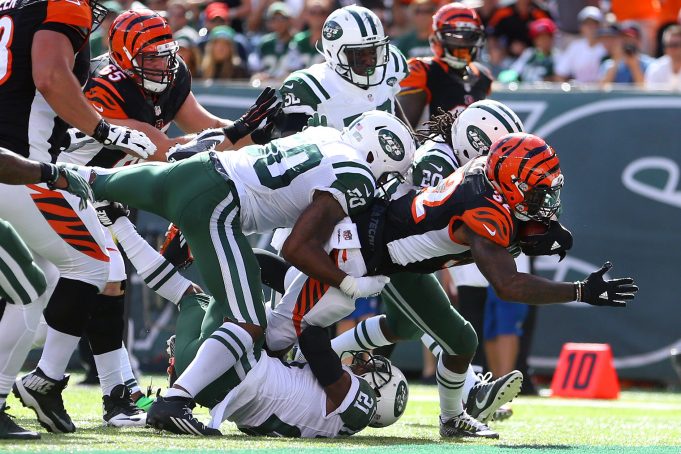 While the issue of whether or not two big guys can handle both edge spots remains critical, the positives are evident.
When Mike Maccagnan pegged Lee as the No. 20 pick in this past NFL Draft, it was wondered aloud whether the 232 lbs. backer could handle the physicality of NFL football. First of all, everybody would be surprised if he actually weighed in at 232 lbs. He is, more realistically, a strong safety at this level.
His choice made it blatantly obvious that Bowles was looking for a nickel and dime backer who can get depth and kick the poor coverage backer (Harris) off the field. He was brought in, mainly, as a sub-package backer. This notion was especially evident when he couldn't beat out Henderson for that second inside spot in the base this past summer.
Now that the 4-3 is here and Bowles is playing more to his personnel, all bets are off. Lee will have plenty of opportunities to lay his ferocity all over the field. Moreover, the fact that the secondary has been torched the first two weeks lends to the notion that Bowles will play more two-deep safety, and, in turn, insert Lee to roam coverage underneath.
Bowles recently spoke about how well Lee has taken to the pro game, via Randy Lange of New York Jets:
"He's a good athlete. He's going to run to the ball. That's one thing we try to do is run to the football," Bowles said. "He's still learning some things, thinking a little bit instead of pulling the trigger. But the times he's pulled the trigger, he's played good."
Get ready folks. The Manimal, who's been foaming at the mouth since he shook Roger Goodell's hand on April 28 in Chicago, is about to officially bust out over the next few weeks.
Will there be rookie mistakes? Of course. But in this case, the positives far outweight the negatives with Lee's aggressive nature.
He's coming.