The summer of 2016 has been about more than just basketball for Carmelo Anthony.  It has been about activism, leadership, and breaking Olympic records for Team USA.    
T
he summer of 2016 got off to an onerous start for Carmelo Anthony.
On a private flight with his Men's Basketball teammates, the squad, lead by Jimmy Butler, engaged in a spirited rendition of Vanessa Carlton's "A Thousand Miles."
The team seemed to embrace the moment.
But like McKayla Maroney in the London Olympics, Melo was not impressed.
National media tried to make a story of it.  Vanessa Carlton understood why Anthony did not care for the song; Melo issued an apology.
All told, the moment demonstrated fraternity and camaraderie within the squad, tenets and trademarks of a Team USA club that is pretty much everywhere cheering on American athletes in other events when they themselves are not competing.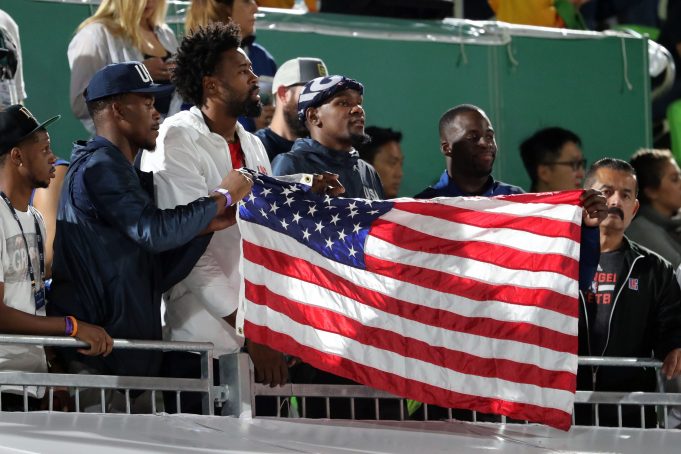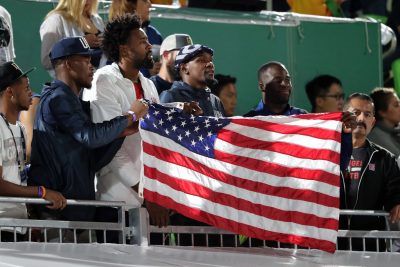 Come to think of it, Carmelo Anthony evidently had his sights on broader horizons, one that is much bigger than team-building.
Weeks before the "Thousand Miles" incident, if we can even call it that, Melo, along with LeBron James, Chris Paul, and Dwyane Wade, spoke out at the ESPY Awards about police brutality and racial injustice, especially as these behaviors afflict the African-American male community.  As MSG personality and Knicks' analyst Alan Hahn noted, this was Melo's opportunity to use his stardom in very much the same fashion that Muhammad Ali did:  in the name of awareness and activism, Melo, who organized the opening segment of the ESPYs, called upon a live audience and those watching at a home to question and monitor the state of affairs amongst members of the police force and young black males, all of whom need to unite for the betterment of America and the race issues that have plagued this great nation for centuries.
https://www.youtube.com/watch?v=PKE14DJWV98
https://www.youtube.com/watch?v=Dg629-UV7WA
Melo, the first NBA star to represent his country in four different Olympic Games, was also interviewed by ESPN's Hannah Storm in a segment that aired on August 8, 2016 on the network, which centered on an Instagram post that resonated with the masses, a post that, weeks later, lead to a "town hall" forum in Los Angeles, lead by Anthony, where Melo rallied LA youth and members of the LAPD to discuss issues that reached a breaking point earlier this summer.
For Anthony, this was more than just making an All-Star team, winning a scoring title, entering the MVP discussion, re-signing with the Knicks as a mark of loyalty, or leading New York to its first NBA title since 1973.
This was about Carmelo Anthony becoming bigger than basketball in ways that none of his peers, not even LeBron James, have chosen to endure.
But first, we cannot fail to recognize Carmelo Anthony for the star basketball sensation he is.
With 31 points in a 98-88 win over Australia, Anthony moved past LeBron James (273 points scored) to become the all-time leading scorer for Team USA, with three games yet to play, beginning with Wednesday's quarterfinals matchup with Argentina.  Melo, one of the most prolific international players the game has ever seen, America and beyond, has already medaled in three previous Olympics, winning bronze in 2004, and two golds in 2008 and 2012.  A gold medal in these Olympics in Rio would provide Anthony an accomplishment no American basketball player before him had previously achieved:  winning three gold medals.
When prompted to comment on the prolificacy of the achievement, Melo responded, much to the chagrin of the New York Knickerbocker fanbase, by saying, "I can look back on it when my career is over — if I don't have an NBA championship ring — and say I had a great career," regarding the potential to win a third gold medal.
While this comment deflects from the title talk that has surrounded Carmelo Anthony from the moment he arrived in New York in 2010, it does rub many Knick fans the wrong way.
Shouldn't a player who thrives in the spotlight of the World's Most Famous Arena want more than another early postseason exit?
Shouldn't a player of Melo's stature, one of the greatest pure scorers from inside and out that the game has ever witnessed, want to reach the heights of New York sports immortality?
Shouldn't a player like Melo desire a Larry O'Brien trophy to quiet his biggest detractors, critics who have followed him around since his Syracuse days?
Quite frankly, Anthony's innocent remark does far more to take the pressure off him and his Knick teammates than anything he could have possibly said.
Heading into the third year of his five year pact with the Knicks, Melo must understand now that the team's reins are slipping from his grip ever so slightly.   The team's offense, under newly appointed head coach Jeff Hornacek, will now be run primarily through Latvian sensation Kristaps Porzingis, a hard-working player on the rise heading into his sophomore season.
Unlike fellow contemporary Kobe Bryant, who refused to relinquish his role as the alpha dog on the Los Angeles Lakers, long beyond the point when his body was beginning to fail him, Melo, more of a leader now than he ever was before, would be better off yielding the club to Porzingis's abilities and deferring to new signees Joakim Noah, Derrick Rose, and Courtney Lee in pursuit of that elusive NBA championship, a title that still runs through Cleveland, now matter how well the newly formed Knicks gel and perform as a unit.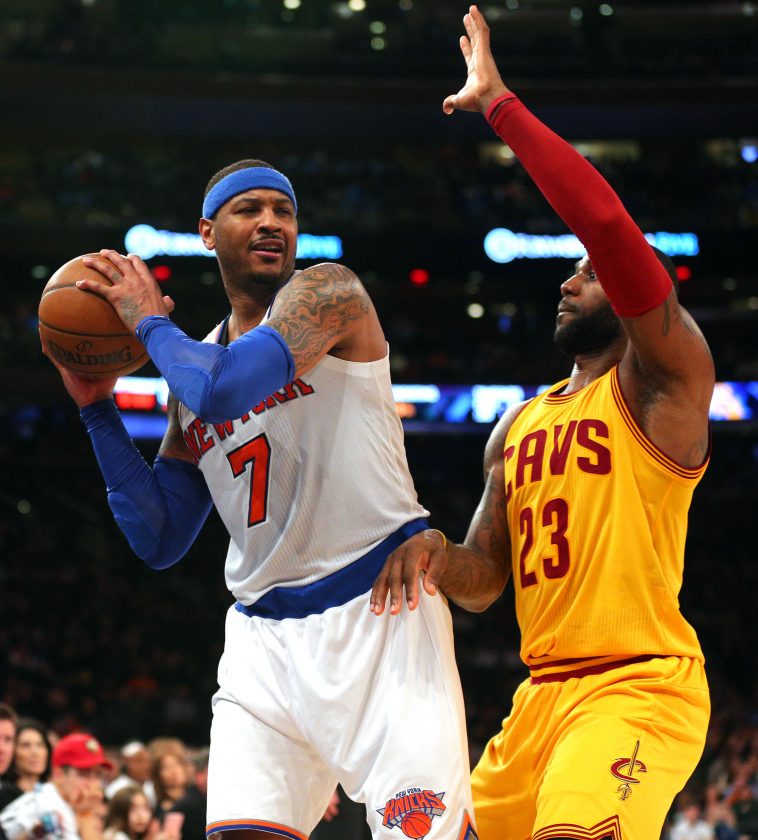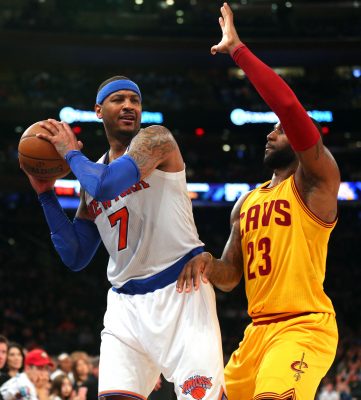 While he has been a number one option or close to one for much of Coach K's tenure as the head coach of Team USA, Carmelo Anthony has become the most wrongfully hated athlete in New York despite being the best player the Knickerbockers have had since Patrick Ewing's departure.  He is what a healthy Bernard King would have looked like heading into the twilight of his prime.  And he still has three years to deliver a few deep postseason runs.
Alas, the haters have had much to say about Melo for some time now.
He is a prima donna who purposely irked Nuggets' head coach George Karl and held Denver at gun point in order to get a trade out of the Mile High City.
He decimated the Knicks' roster by demanding a trade rather than wait to sign with New York in free agency.
He is not a "winner" because of his many first and second round exits.
He refuses to be a two-way player, despite playing far better defense than a one-dimensional scorer like James Harden.
The only reason the Knicks won an Atlantic Division title, the Knicks' first in over ten years, was because of J.R. Smith serving as his sixth man and Tyson Chandler, recipient of the Defensive Player of the Year award, bailing him out on defense.
He is a ball hog and de-facto poster child of iso/"hero ball" style of play in the NBA, despite Kyrie Irving playing himself into a gargantuan contract and an NBA title by playing much the same way.  Telling, though, that Kyrie's teammates include LeBron and Kevin Love, while Melo's best second option is likely Porzingis, who only just came aboard in 2015, Carmelo's seventh year in New York.
He wanted Jeremy Lin out of town and sabotaged any contract negotiations with him in free agency, so as not to be a second act to the Linsanity craze that gripped the city.
He put off required knee surgery so he could start for the Eastern Conference in an All-Star Game held at the newly renovated Madison Square Garden.
He only re-signed with New York for bigger money so that he would not have to be a second or third option to Rose and Jimmy Butler if he signed with Chicago.
He is a score first, pass second player who would rather win scoring titles than league titles.
He will never be MVP in this league, let alone be thought of as a top ten player in the NBA.
To this vehement criticism, Carmelo Anthony has soldiered on.  And he does not appear to be done living a life bigger than basketball either.
On Monday, Melo utilized his free time in Rio to visit some of the downtrodden favelas of the outlying areas of the city, posting a picture on Instagram to prove it, an act no different from his taking part in protests in Baltimore in light of the Freddie Gray tragedy.
Camelo Anthony is a man about basketball, about culture, about social causes more so than we have ever witnessed at any point in Melo's career.
He is a humbled man.  He has grown up.
He appears ready to lead, not only Team USA to gold, but he further aims to push the Knicks higher, urge his teammates further, knowing he still has a great deal to prove in blue and orange.  For once, he is not taking for granted his status as a star athlete in the greatest city in the world.
Whether this amounts to a title or two remains to be seen, but even the man's greatest detractors cannot fault the man for trying to establish a legacy that goes beyond basketball.  Title or not, Knick fans are bearing witness to one of the greatest players the franchise has ever seen lace them up.
In the end, perhaps the Summer of Carmelo Anthony is but the precipice to grander moments the Knick fanbase has yet to realize.
*Featured Image: Jason Getz / USATSI