As Aaron Judge and Gary Sanchez are currently proving, the New York Yankees have a bright future. But can the same be said of their eventual pitching rotation?
I
n just his third major league game, outfielder Aaron Judge, one of the crown jewels of the New York Yankee farm system, struck an RBI double that proved to be the difference in a 1-0 victory on Monday night over the AL East-leading Toronto Blue Jays, supplemented by a superb outing from
Chad Green
, who posted eleven strikeouts over six scoreless innings, this, despite his implosion in the third game of the Subway Series two weeks ago.
The double was Judge's third extra-base hit in as many days. His first major league at-bat on Saturday, in an 8-4 win over the Tampa Bay Rays, resulted in his first home run in the big leagues, a mammoth, 446-foot blast to center, fresh off the heels of Tyler Austin's own homer in his first big league at-bat. The back-to-back homers by Judge and Austin in their first major league plate appearances was the first such occurrence in MLB history.
Despite a 12-3 loss on Sunday to the Rays, Judge would homer again, an extension of the feats he mastered with the Scranton/Wilkes-Barre RailRiders, with whom Judge hit 19 dingers in 352 at-bats, mustering 65 RBI.  His home run and RBI totals top the Yankees' AAA affiliate, leaders of the North Division of the International League, who now see themselves rather depleted after recent events.
Savior or not, Aaron Judge gives Yankee fans hope, although those same supporters cannot forget what became of Mel Hall, Shane Spencer, and Roberto Kelly, red hot, cannot miss outfield prospects who all missed the mark in one way or another in their short stints in pinstripes.
https://www.youtube.com/watch?v=U11WHdA-9Io
In light of various moves, which saw the end of Alex Rodriguez's career and Carlos Beltran's departure to the Texas Rangers, general manager Brian Cashman was urged to promote Judge and Austin, and in light of catcher Brian McCann's relative depreciation, Gary Sanchez has enjoyed his fair share of time in the Bronx, to the tune of a .340 batting average and an 1.027 OPS, including four homers and 11 RBI in 12 games, six of them at the catcher position, through which he has boasted an electric arm that crosstown counterpart Travis d'Arnaud must certainly envy.
https://www.youtube.com/watch?v=nawT-jaRu-c
While first base prospect Greg Bird, who proved himself MLB-ready last year, is out for the season after tearing the labrum in his shoulder, he is one of several pieces, including outfielder Clint Frazier and shortstops Gleyber Torres and Jorge Mateo, who define what may very well be the next Yankee dynasty in the making.
Alas, the future does not bode so well in what remains an uncertain outlook for the New York Yankee rotation.
Last year, Luis Severino was an integral piece in the Yankees' reaching the postseason for the first time in three seasons.  His numbers were promising, including a 2.89 ERA and a 140 ERA+ over 11 starts, in which Severino won five games.
So great was Severino's potential that the youngster, a native of the Dominican Republic, was projected to be a number two starter behind ace Masahiro Tanaka, despite being only 22 years old, in 2016.
Luis Severino has been bad, but the #Yankees are better off letting him work it out in the big leagues https://t.co/nKzizmUOWl

— Pinstripe Alley (@pinstripealley) August 15, 2016
Unfortunately, in nine starts and three relief appearances this year, Severino has been dreadful, pitching to a 7.19 ERA and a 1.54 WHIP, all between several demotions and call-ups to Scranton/Wilkes-Barre. While he appeared to right himself through 63 2/3 innings of relatively sterling baseball in AAA and four-plus innings of relief in bailing out a miffed Chad Green in the aforementioned third game of the Subway Series, Severino has proven himself unworthy of filling the vacancies left by Ivan Nova, shipped to Pittsburgh via trade, and Nathan Eovaldi, who recently received news that he will miss the remainder of 2016 and all of 2017 with a torn ligament in his elbow, an ailment that leaves Eovaldi out of any talk of featuring in next season's already shoddy rotation.
Unfortunately, Sunday's poor start resulted in yet another demotion for Severino, a move detrimental to the kid's confidence for the remainder of 2016, if not beyond.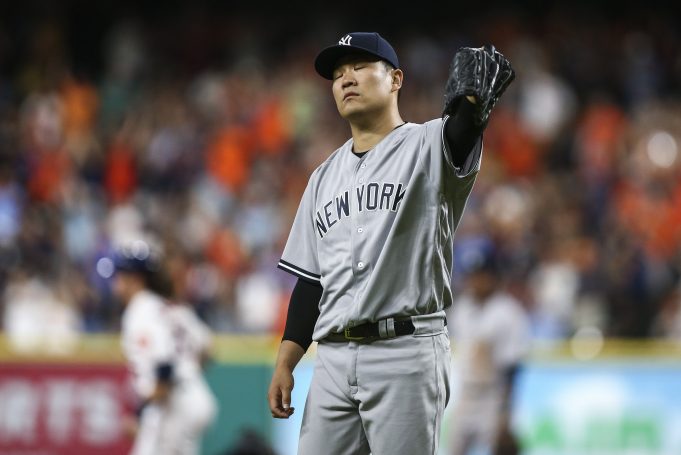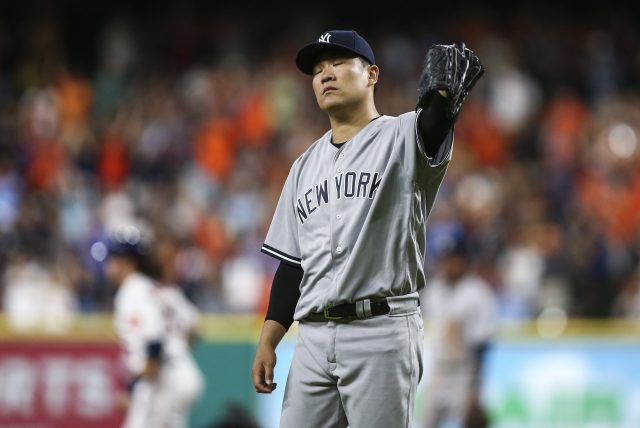 Despite a 0.98 WHIP and 20 strikeouts in 19 1/3 innings in three August starts, two of them Yankee wins, Tanaka has yielded a 5.12 ERA, and with every shaky start and outburst on the mound, the Yankee ace's right elbow ligament remains a rubber band stretched too tight, waiting anytime now to snap. Because of the plethora of innings pitched in Japan and the immense strain put on his elbow, Tanaka could find himself a candidate for Tommy John surgery, which would set the Yankees back for a season or more.
Consequently, the remainder of the Yankee rotation, filled out incapably by Michael Pineda, CC Sabathia, and relative placeholders, has not demonstrated any capacity to whittle away a surmountable 4.5 game deficit in the wild card standings.
Clearly, 2016 is not the issue.  Yankee management raised the proverbial white flag on this campaign by shipping away closers Aroldis Chapman and Andrew Miller, and coercing A-Rod into a premature departure, effective last Friday.
Should the Yankees somehow manage a second consecutive postseason berth, especially if Judge, Sanchez, and Austin factor towards it, Brian Cashman will look all the more brilliant, more so given the notion that 2016, after a sweep in Tampa in the weekend prior to the August 1 trade deadline, was, for the most part, deemed a wash.
In 2017, the Yankees will truly see what the farm system is comprised of, with Judge, Bird, and Sanchez already worthy of remaining in the majors, and Frazier, now rated the best prospect in the organization, and Austin likely ready for further auditions.
The franchise can only hope Severino reverts to the promise of 2015 and Tanaka pushes onward as the Yankee ace.  Outside of those two, the Yankees provide little encouragement in the rotation, with 2018 and 2019 more likely to see the development and promotions of the likes of Justus Sheffield, the 89th best prospect in the majors, acquired in the Miller trade with Cleveland, Domingo Acevedo and James Kaprielian, rated the ninth and tenth best prospects respectively in the organization, and Dillon Tate, the number four overall pick in 2015, acquired in the Beltran trade with Texas. Green, despite the promise of Monday's start against the Blue Jays, is only the 21st-ranked prospect in the Yankee farm system, and projects, at best, as a number four starter.
As the Yankees have learned with Phil Hughes and Manny Banuelos, the franchise and its fanbase cannot vest too much hope in the potential of pitching prospects.  Furthermore, the Yankees have fathomed relatively tepid results in the free agent and trade markets, with fine returns on pitchers like Mike Mussina and Roger Clemens (his first time around), mixed results with CC Sabathia and Hiroki Kuroda, and downright dreadful turns with Kevin Brown, Carl Pavano, Kei Igawa, Jose Contreras, Javier Vazquez, Hideki Irabu, Jaret Wright, Chan Ho Park, and A.J. Burnett.
Clearly, the Yankees have seen far worse returns on pitchers acquired via trade and free agency.  In fact, the yields have been deplorable, if not horrifying.
Bryce Harper was on base 5 times in last night's #CurlyW. (Cc: @BookerT5x) pic.twitter.com/RbbKenK4lg

— Washington Nationals (@Nationals) August 16, 2016
The 2018 free agency field provides immense promise, if not superstardom, featuring the likes of Bryce Harper, Manny Machado, and Andrew McCutchen, and Cy Young potential with Jose Fernandez, pitching brilliantly with the Miami Marlins, and Dallas Keuchel, the Houston Astros ace who is in the midst of a middling campaign despite being one year removed from an electrifying Cy Young season. Even Clayton Kershaw and David Price could be available through opt-out clauses in their contracts with the Dodgers and Red Sox, respectively.
Quite frankly, the Yankees are better off hoping for the rapid growth and ascension of pitchers from their farm system rather than relying on long-term pitcher contracts that will provide tremendous promise in the front end, but poor results in their final years (see Sabathia, the ace of the 2009 World Series champion Yankee rotation who has not seen much success since 2012). Signing Jose Fernandez long-term may ultimately be worth it, but Cashman and the Yankees have to approach negotiations with the right-hander with caution, especially with knowledge of the Marlins' ace's history with Tommy John surgery.
Thanks to what is now the second-best farm system in Major League Baseball, the New York Yankees can rely on the development of players, payroll flexibility, and a bevy of potential assets available to trade away should the opportunities present themselves next year and beyond.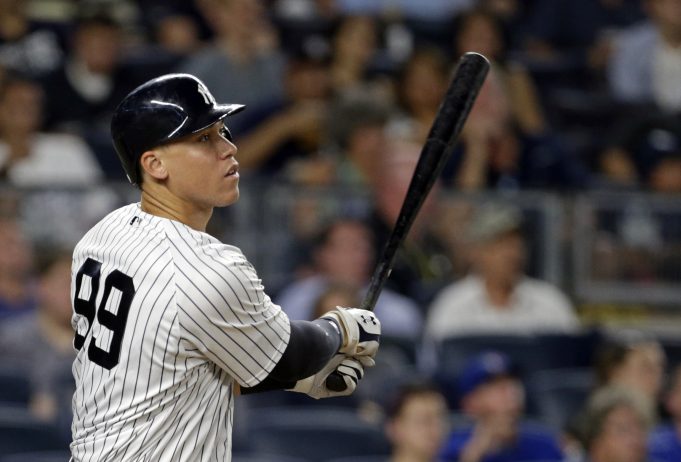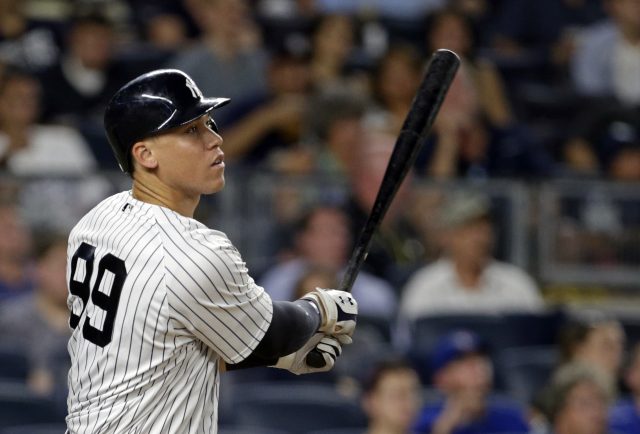 For now, Yankee management and the fanbase must remain patient and know that growing pains are in store for the amount of young talent being infused into the lineup and rotation over the course of the next two seasons.  Certainly, Judge and Sanchez cannot muster their torrid paces, and Tyler Austin will be sharing time with Mark Teixeira, who will retire at season's end, just as Sanchez will be, too, with Brian McCann, who may or may not be traded to Atlanta by the end of August, flipping back and forth between the DH and catcher positions.
But unless Severino retrogresses to his 2015 self and the aforementioned pitching prospects avoid the fate of Brien Taylor, the one-time first overall pick in 1991 for the Yankees who was labeled the best prospect in the major leagues in 1992, New York will find themselves capable of mashing the ball without any rotation hands around to buttress the efforts of what projects to be a stellar offense in 2018 and beyond.
*Featured image courtesy of Bill Streicher, USATSI*