Over the past couple years, the New York Rangers have given up a lot of prospects to try to win a Stanley Cup. It's a good thing they hung on to Brady Skjei, because he could very well be a star sometime soon.
When the New York Rangers were disposed of in five games to the eventual Stanley Cup Champion Pittsburgh Penguins last year, fans lost confidence in almost everyone.
Henrik Lundqvist put up a pathetic performance, being yanked in three of the five games in for Antti Raanta. Defensively, they didn't give the King much of a chance either. Sidney Crosby and company constantly picked apart the Blueshirt's back two, generating one odd man rush after another.
No wonder Pittsburgh scored 11 goals in the final two games of the series.
The forwards? They were also an atrocity. Besides Rick Nash's shorthanded snipe, the Rangers were nonexistent offensively at Madison Square Garden, going scoreless for over four periods straight.
It was a series where Alain Vigneault's team did pretty much nothing right.
Fans were able to find at least one positive from this series and it's something to look forward to next year and for a long time (hopefully).
The positive? That would be Brady Skjei.
The Rangers drafted Skjei with the 28th overall pick back in 2012 out of the University of Minnesota. He made his debut this year after playing three years at Minnesota, where he recorded 27 points.
Skjei didn't do much in the regular season.He didn't record a point in 7 games with the team, while averaging 17:44 of ice time per game. In the playoffs however, he was arguably the Rangers best defenseman. His numbers certainly weren't mind blowing (He only posted two assists in five games of action) but that didn't show how good he really was. Skjei was able to establish himself physically early in the series, leading all Rangers defensemen with five hits in Game one. At 6-foot-3 and 205 pounds, physical play is something he should have no problem with going forward in the future.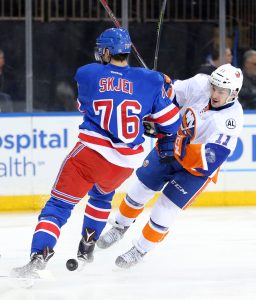 His passing skills were something that definitely surprised a lot of people. Throughout the series, Skjei was able to move the puck up and down the ice with good pace and accuracy. Whether it was long outlet passes or just short quick touch passes, Skjei was always able to give his teammates the puck in an area where they would have a chance to make a play.
Skjei is also a very good decision maker. The 22-year-old has an incredible hockey sense that will only continue to develop as he matures as a player. This ability will help him to limit turnovers in his own zone which is extremely valuable for an NHL defensemen. It's something you really can't teach and that's why it's a skill of such great value.
Skjei also shows great speed for his size. He's able to get up and down the ice with ease, allowing him to be a solid player on both ends of the rink.
If Skjei seems like a player we have seen before, it's because it's true. The Minnesota native has drawn many comparisons to Blueshirts captain Ryan McDonagh. McDonagh, who was also a first-round pick, is a big puck-moving defenseman who is physical, quick, and plays at both ends of the ice. Skjei is a solid two-way defenseman who is good in his own zone, a great passer, and is big and fast. If Skjei can develop his offensive side of the game quicker than McDonagh has, Skjei will be a star in this league, especially considering the defensive side of his game is already there.
Skjei has already shown signs of developing offensively. He was the second leading scorer among defensemen for the Hartford Wolf Pack and even saw time on the power play in the playoffs last year for the Blueshirts.
Skjei should be an everyday player this year, especially considering that the Rangers are looking to get younger. Vigneault could look to even put him on the second defensive pairing this year. If Skjei does breakout this year, it will certainly be something fun to watch for Blueshirt's fans. Watch out for this kid, because he certainly has the potential to be a star someday.