The Brooklyn Nets made one of their finest front office decisions in recent memory when they signed D-Leaguer Sean Kilpatrick, to a 10-day contract.
By Chip Murphy


Sean Kilpatrick's journey to NBA relevancy with the Brooklyn Nets is culminating where it all began, the city of New York.
Kilpatrick, 26, was a high school star in his hometown of Yonkers, before spending a post-graduate year at the famous Notre Dame Preparatory School in Massachusetts.
He played his college ball at the University of Cincinnati, where he had an illustrious career that included becoming the school's second all-time leading scorer.
Despite his collegiate success, Kilpatrick went undrafted in 2014 and struggled to find time in the NBA before the Nets called his number.
Brooklyn general manager Sean Marks was on the job for just 10 days when he made Kilpatrick his first official signing. Whether it's blind luck or not, Marks couldn't look better in the running of his first NBA team.
That's just the kind of effect that Kilpatrick has had on the organization. He's energized the team on the court with his play, and off the court with his attitude.
According to interim head coach Tony Brown, Kilpatrick's effort is something for his team to look up to, via Ryan Lazzo of the NY Post.
"He came in here and made the most of an opportunity," Brown said. "He got himself a new contract based on his play, and if they can't see that, something's wrong with them."
It may seem crazy for a coach to question his team's effort, and in the same breath tell them to strive to be like a career D-Leaguer, but if you look at what Kilpatrick's accomplished in just 12 games with the Nets it all makes sense.
After 8 mediocre games with the Denver Nuggets, it looked like Kilpatrick's 2015-16 NBA hopes were sunk. Instead, he's emerged as a legitimate three-point shooter on a team that rarely relied on that option before he came along.
During his time in Brooklyn, Kilpatrick is averaging 13.1 points in 20.2 minutes on a slash line of .509/.468/.926. On a per-36 minute basis, he's averaging 23.3 points, 2.7 rebounds, and 1.0 assists.
According to NBA Savant, Kilpatrick is an absurd 8-of-12 (66.6%) on corner threes and 14-of-29 (48.3% on top of the key three's. He's even made most of his mid-range attempts, 11-of-19 (57.9%) from that distance.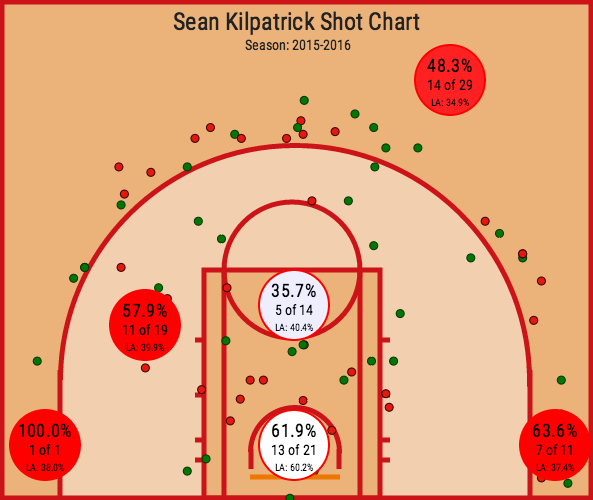 Kilpatrick's hot shooting made it's greatest mark when he scored a career-high 25 points (9-of-12, 4-of-5 from three) against an elite Charlotte Hornets defense. Despite the loss, it was a rare highlight for the Nets in a season that has been forgotten for quite some time.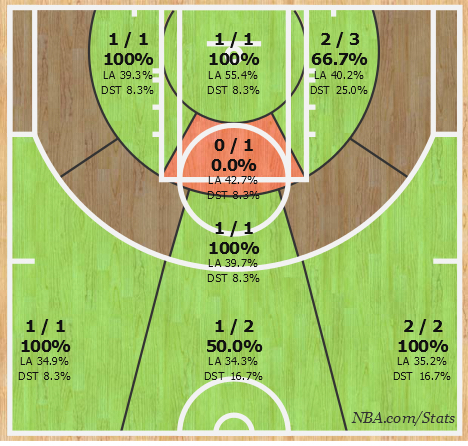 There's plenty to rave about when it comes to Kilpatrick's tenure.
According to NBA Stats, Kilpatrick is shooting 50 percent on catch and shoots and 46.4 percent on pull up jump shots. He's been impressive when tightly guarded, shooting 59.1 percent on shots greater than 10 ft. when a defender is within 2-4 ft. of him.
Most importantly, Kilpatrick is sticking his open shots when he gets them. The sharpshooter is 42.9 percent on open 3's (defender within 4-6 ft.) and 44.4 percent on wide open 3's (defender within 6+ ft.). All of these numbers add up to an excellent 12 game shooting stretch.
The best thing that Kilpatrick has going for him right now is how good the Nets are when he's on the floor. In the 243 minutes he's been out there, Brooklyn has an offensive rating of 110.3, a true shooting percentage of 56.5%, and an effective field goal percentage of 52.1%.
Kilpatrick achieved what every D-League call-up hopes for when he signed a guaranteed contract for the rest of the season, and 2016-17, with the potential for 2017-18. Kilpatrick told ESPN.com's Mike Mazzeo how important it was for him to finally achieve this NBA success and find a permanent home.
"For the past two years, I've been living out of a suitcase and I've been on edge about everything — not being able to sleep because I didn't know where I'd be playing each week"
The NBA's D-League was once a punch-line among basketball people and fans, but with the improvement of players like Hassan Whiteside, Gerald Green, and Kilpatrick don't be surprised if this doesn't become a more common career path.
Kilpatrick is a great story, that's fun to talk about, but the real fun will begin next season when we see what he can do in a full season in a Brooklyn Nets' uniform.