With the trade deadline fast approaching, it's time to get nuts. The Yankees are probably going to be buyers, while the Mets aren't ready to sell just yet. But could both New York baseball teams help each other with a trade before August 1st?
I mean, it could happen. After all, Steve Cohen and Hal Steinbrenner aren't enemies, and Billy Eppler used to work for Brian Cashman. But still, there's an awfully slim chance of a midseason trade (or a trade at any time, really) happening between the Mets and Yankees.
That doesn't mean we can't imagine and talk about it, though.
That's what happened on SNY during an episode of Sportsnite Monday evening. Host Niki Lattarulo was joined by Elise Menaker and John Jastremski. Menaker and JJ were tasked with proposing a hypothetical trade between the Mets and Yankees.
While he acknowledged how rare of an occasion this is and how unlikely it is to happen, JJ played along and gave us a decent trade. He proposed a deal where the Bombers send Ron Marinaccio to Queens to bolster the bullpen, while the Mets sent Tommy Pham to help a beleaguered outfield in the Bronx.
Menaker's proposed deal was pretty outrageous. Here's a screenshot: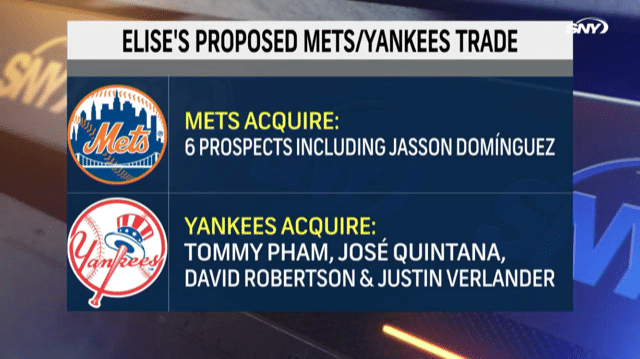 Here's the full clip so you can hear some of the reasoning (and astonishment from JJ):
Ahead of the Subway Series resuming tomorrow, what hypothetical trades could the Mets and Yankees make with each other?@john_jastremski & @EliseMenaker give their proposals to @NikiLattarulo on @Honda SportsNite https://t.co/49uj7f9nni pic.twitter.com/icTgBOJxNa

— SNY (@SNYtv) July 25, 2023
I'm sorry…what?! I mean, Menaker understood the assignment. She put together a bold trade proposal that would definitely never happen, but it's a fun conversation to have. There are no specifics on the Yankee prospects outside of Jasson Dominguez, other than the fact that they're all pitchers under the age of 25.
For real, though — I'm not sure which part of that proposed trade is the most ridiculous: what the Yankees would give up or what the Mets would send back their way. Nobody says yes to something like this in a normal scenario. That's especially the case when talking about the Mets and Yankees.
Let this be a warning to everyone. We're a week out from the August 1st trade deadline. We're only going to get more of these proposed trades that will never happen, plus heaps upon heaps of unconfirmed trade rumors/reports. Hold onto your butts, folks.
You can reach Matt Musico at [email protected]. You can follow him on Twitter: @mmusico8.