Catcher Francisco Alvarez has been a bright spot in the Mets' minor-league system since he signed in 2018. And while it was touch-and-go for a little bit, the future is officially now for him in the big leagues.
Upon getting called up prior to the Mets' home opener, it was hard for him to get consistent playing time. But, lo and behold, he's now been getting penciled in most days and the production has been coming. His comfort level as a big leaguer is evident and the 21-year-old has all but entrenched himself as the primary catcher for manager Buck Showalter's club moving forward.
The past month of play from Francisco Alvarez has especially been eye-opening:
Francisco Álvarez has been arguably the best catcher in baseball over the last 30 days:

1st 1.05 WPA
1st 178 wRC+
1st 428 wOBA
T/1st 1.1 fWAR
3rd .323 ISO
7th 0.58 BB-K

— Mike Mayer (@mikemayer22) May 26, 2023
We've been hoping that Alvarez would be the long-term answer at catcher for the Mets. Based on what we've seen from him so far in 2023, that looks to be the case. And thank goodness because it's been a black hole in Queens for a while now.
The Mets have had just two single-season performances greater than 2.0 fWAR from a catcher over the past 13 years. Both were from Travis d'Arnaud (2.8 in 2014, 3.4 in 2015). Through 30 games played, Alvarez has produced 1.0 fWAR. That's already tied for the seventh-highest total in Mets history at his position dating back to 2010 (all screenshots via FanGraphs).

Alvy has an even 100 plate appearances this season entering Friday's series opener against the Colorado Rockies. Despite a slow start, he's slashing .261/.320/.511 with six home runs, 13 RBI, and 12 runs scored. His 130 wRC+ is currently tied with d'Arnaud's 2015 campaign for the best Mets catcher performance over the past 13 years.

Alvarez's .831 OPS is currently the best among Mets catchers during this period. The only other backstop with an OPS better than .800 since 2010 was once again that 2015 performance from d'Arnaud (.825).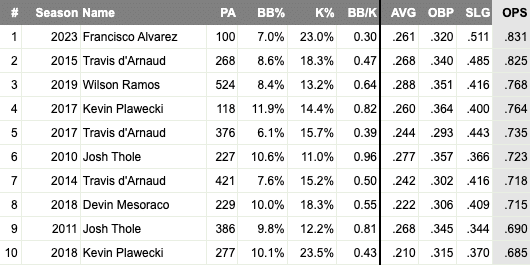 The bar for Mets catcher performances was pretty low, especially when looking at the past couple of years. But even as a 21-year-old rookie, Alvarez has surpassed those benchmarks.
Nobody should expect him to be the next coming of Mike Piazza because that's just an unfair thing to do. But after way too long, the Mets may finally have a long-term answer at a position that's been a revolving door in recent seasons.
You can reach Matt Musico at [email protected]. You can follow him on Twitter: @mmusico8.