One of my favorite movie quotes of all time is from Van Wilder. You know the one, when Van's dad says, "Sometimes in life, you have to realize a poor investment and cut your losses. Write that down." The Yankees have either never watched that movie, or they haven't seen it in a long time.
Why, you ask? Well, Brian Cashman and Co. have done the complete opposite regarding soon-to-be super-utility man, Isiah Kiner-Falefa.
Instead of going big for a new shortstop two winters ago, Cashman traded for Josh Donaldson and IKF. Donaldson has had his own issues, but with a luxury tax salary of $25 million for 2023, we knew he probably wasn't going anywhere. But with Kiner-Falefa, the Yankees had another decision to make this past offseason.
IKF didn't have a bad year in the Bronx. However, it wasn't good enough for him to keep Oswald Peraza and Oswaldo Cabrera from taking starts away from him down the stretch and in the postseason. New York has also been open about clearing a path for the kids to play in the big leagues.
Peraza has more Triple-A seasoning, but Anthony Volpe is gaining plenty of steam toward potentially being the Opening Day shortstop. Who will be manning that spot next week at Yankee Stadium is still undetermined, but it won't be IKF. It's been more than two weeks since he's appeared in a game at shortstop. He's also been seen donning catcher's equipment and taking reps in the outfield.
Kiner-Falefa should've been a non-tender candidate last fall. He and the Yankees instead agreed to a $6 million contract in his final season before hitting free agency. Could it have been because they wanted a backup plan in case one of the young shortstops couldn't grab the job? Maybe, but it's weird to sign a player only to immediately make him available in the trade market.
And now that Opening Day is right around the corner, Yankee fans are Reddit are (rightfully) annoyed.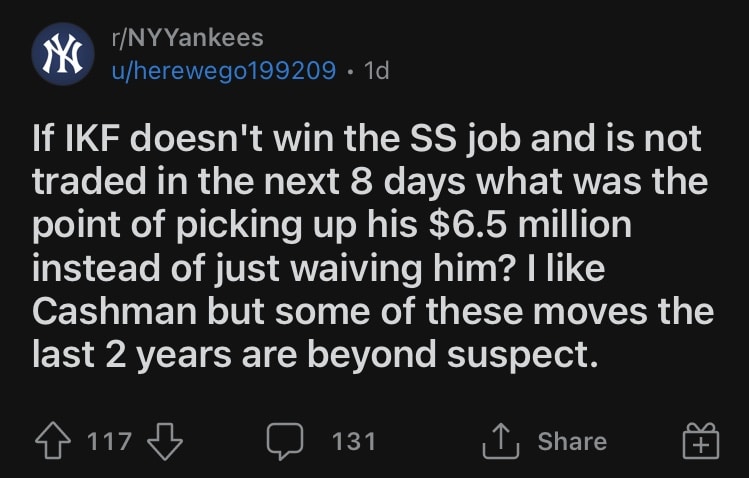 Yes, he could be a potentially valuable utility guy for the Yankees, but was that really a necessary conclusion? Cabrera could've taken on that role, and at a much cheaper cost. If New York didn't tender IKF a contract, maybe they would've been more serious in their pursuit of Jurickson Profar. After all, he just signed with the Colorado Rockies for one year and $7.75 million.
I don't know about you, but this reeks of the Yankees front office not wanting to admit this was a flop. So, they kept him on the roster and have been unsuccessful in finding a trade partner. And that's despite recent middle infield injuries in Colorado and Houston. He has constantly looked like the fallback option if Peraza or Volpe didn't work out. Again, instead of just cutting their losses, they're trying to make him into something else to prove that last spring's trade wasn't a complete bust.
There are plenty of Yankee fans who would've been happy if New York had non-tendered IKF last fall. Instead, it looks like he'll be in the Bronx on Opening Day, and it might just be because the front office is too stubborn to realize a poor investment and cut their losses. Write that down.
MORE ON ESNY:
• This is exactly why Mets aren't rushing to replace Edwin Diaz in bullpen
• Jets' Mekhi Becton appears ready to protect Aaron Rodgers
• Giants are clearly all-in on Darren Waller staying healthy
• Mets' Darin Ruf having a great spring … it's just that nobody has seen it
• MLB to bat boys and bat girls: Move fast or get the hell out
You can reach Matt Musico at [email protected]. You can follow him on Twitter: @mmusico8.