New York Knicks vs. Los Angeles Lakers is the marquee game on the NBA schedule for Tuesday night.
The Knicks enter with a 27-24 overall record and sit at 7th place in the Eastern Conference standings, 1 game behind 6th place Miami.
The Lakers come to Madison Square Garden with a record of 23-28, out of the Western Conference playoff picture at 13th in the conference.
Tuesday night's game tips off at 7:30 p.m. Eastern time and can be seen on TNT.
Over at Underdog, there are ways to get in on the action by making fantasy picks for the Giants-Vikings game's player over/under stats.
What is Underdog and why should NBA fans care?
Underdog Fantasy is a new daily fantasy platform backed by investors such as Mark Cuban, Kevin Durant and Adam Schefter.
This isn't what you might think about fantasy sports though. Through Underdog's "Pick'em" contests, you can bundle a few selections of player prop picks similar to what you find at sportsbooks, and yes, you can put real money against these picks.
Underdog Fantasy is available in 41 states, so a lot of those states where sports betting is not yet legal? You can do Underdog Fantasy picks for real money, as we're outlining here. It's really fun.
Underdog Fantasy is not available in the following states: CT, DE, HI, ID, IA, LA, MI, MT, NV.
Underdog is available in these states, but Pick'em contests as we outline here are not available: AZ, CO, MD, MO, NH, NJ, OH, PA, TN, WA, WV.
If you want to get started, Underdog will match your first deposit up to $100 by clicking here or using promo code ESNY.
My picks for Knicks vs. Lakers
I'm all-in on a trio of former Kentucky Wildcats on Tuesday night. Let's start with the Lakers' side of the equation.
Anthony Davis recently returned from an injury. He played in the overtime loss to the Boston Celtics on Saturday night and then, like LeBron James, had Monday night off against the Brooklyn Nets.
I think he's ready to get back to his dominant self. He's got his feet under him a little bit more now and has had 2 full days of rest. I like the "higher" option for Davis's 33.5 points+rebounds+assists total.
For the Knicks, ex-Wildcat Julius Randle has a ton of motivation for this game. He started his NBA career with the Lakers, for one. For another, he will be going head-to-head with Davis. Randle has been hot lately, so I like the "higher" option for Randle's 42.5 points+rebounds+assists total.
Finally, let's discuss Immanuel Quickley, the spark plug for the Knicks' second unit. His points+rebounds+assists over/under is set at 20.5 for Tuesday night's game. He's gone over that total in each of his last 3 games and in 4 of his last 5 games. I like Quickley to once again go "higher" than 20.5 points+rebounds+assists against a suspect second unit for the Lakers.
How many picks should you make?
The more picks you string together, the higher the "multiplier" or payout. Of course, the more you string together, the less likely you are to win because all of the picks have to hit in order for you to win.
A 3-way parlay of the picks I listed above would pay out $60 on a $10 bet: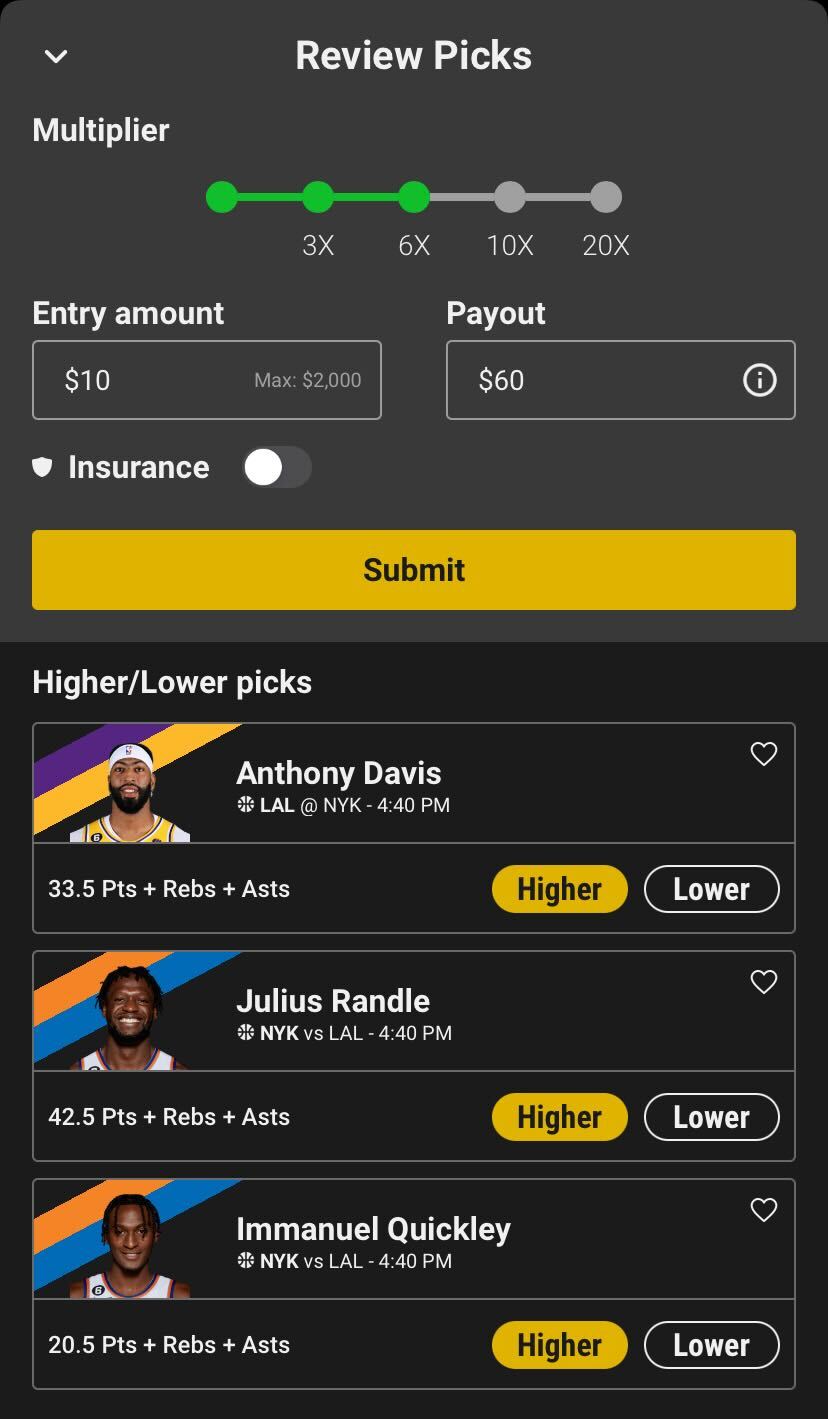 If you want to play it safer and go for a 2-way parlay to pay out 3X money, I suggest leaving Quickley out of the above bet and just going with the head-to-head matchup between the ex-Kentucky big men.
Get started on Underdog by clicking here and make your picks for Knicks-Lakers action or other CFB, CBB, NFL and NBA games. Using this link means Underdog will match your deposit up to $100. If you deposit $25, you'll get an extra $25 to start playing right away.