The Mets losing Carlos Correa won't stop them from pursuing another star infielder next offseason.
A quick recap: First, it was Correa for 12 years, $315 million. A flagged medical report later, it was only six years and $157.5 million with incentives and options. Correa eventually returned to Minnesota for six years and $200 million, plus $70 million across four vesting options.
The Mets look strong headed into 2023, but we all know owner Steve Cohen at this point. Much like John Hammond and his ill-fated park, he'll spare no expense to make champions of the Mets.
Enter Manny Machado, six-time All-Star infielder and Padres fan favorite. He's also expected to opt-out of his 10-year, $300 million contract and co-headline next winter's free agency class with Angels two-way star Shohei Ohtani. Even with Brett Baty entrenched at third base, we have to assume Cohen will try and ink Machado.
Why? Well, for one, as I write this, the Mets' depth chart on ESPN still lists Correa as their starting third baseman: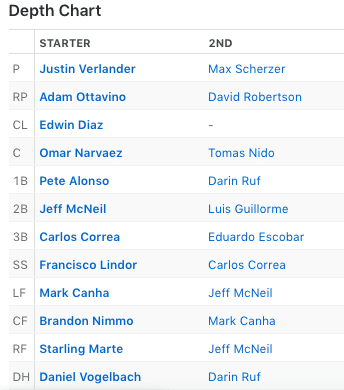 Clearly, the Mets might also think Baty is outfield bound because they were (at least at one point) ready to commit hundreds of millions of dollars to Correa.
Why not invest that same money (and perhaps more) in Machado? His 7.4 fWAR led the National League in 2022 and he's a consistent threat to hit at least 30 home runs. Machado is also an elite glove at third base. His career defensive runs saved (DRS) at the hot corner is a robust +97. Machado can play shortstop in an emergency too and has never missed significant time with an injury.
So should Mets fans prepare for Machado to sign that same 12-year, $315 million contract?
Let's slow our roll. First, Machado turns 31 in July. He's unlikely to get a deal for over 10 years even if he has a career year in 2023. He's not so larger than life like Aaron Judge either that he'll soon earn $40 million a year, though he will certainly command it.
This still won't intimidate Cohen. Anyone who knows baseball knows Machado is a legitimate superstar. He's practically perfect for New York. Moreover, signing with the Mets and winning a World Series with them would be the ultimate revenge against the Yankees for not making him an offer in his first free agency in 2018.
A 12-year contract isn't happening. Not when Machado's already past 30 years old.
Yet, perhaps a strong nine-year, $345 million offer will get the job done. The Mets get the elite corner infielder they need, and Machado plays out the rest of his career in baseball's biggest media market.
Follow ESNY on Twitter @elitesportsny