Jesse Puljujarvi would make a perfect buy-low candidate for a New York Rangers team still looking for young NHL talent.
The New York Rangers are still rebuilding, but they've moved to phase two. They have acquired a lot of young players either in or entering their primes, meaning that the next step is to develop those players so they can maximize their talents.
With Kaapo Kakko, Artemi Panarin, Mika Zibanejad, Lias Andersson, Filip Chytil, Vitali Kravtsov, Pavel Buchnevich, Adam Fox, Jacob Trouba, K'Andre Miller and Igor Shesterkin all in the system (playing in various locations), the team has plenty of young talent that can make up a great core.
But that doesn't mean that they should stop acquiring more young talent if the opportunity presents itself. Jesse Puljujarvi fits the bill as a young player with a lot of talent and Rangers should push to acquire him while he's cheap.
Puljujarvi is currently playing with Karpat of the SM-Liiga in Finland, as he did not re-sign with the Edmonton Oilers after his entry-level contract expired. The former fourth overall pick is hoping to be traded by the Oilers to a different NHL franchise after three disappointing seasons.
Puljujarvi has certainly struggled at the NHL level, producing only 37 points in his first 139 games with the Oilers. He split time between the NHL and AHL over his three seasons before returning to Finland.
So why should the Rangers be interested in Pujlujarvi given those struggles? Several reasons, one of which has been his resurgence in Finland. He has 20 points in his first 18 games of the Liiga season, showing that he is still an incredibly skilled player who can produce points at professional levels when given opportunities.
His pedigree speaks for itself, as he was the fourth overall pick in 2016, however, he was considered a top-three prospect, and it was a surprise when Pierre-Luc Dubois was selected third overall instead of Puljujarvi.
Auston Matthews was a lock to go first overall, but there was a large debate about whether the Winnipeg Jets should use the second pick on Pujlujarvi or Patrik Laine. Nobody would argue that Winnipeg made the wrong choice, but it's also unfair to declare Pujlujarvi a bust three years after being a top prospect.
Additionally, the Oilers don't have an incredible track record with developing their high picks. Connor McDavid has become everything he was expected to, but outside of him, the team hasn't quite had the same level of success with developing highly drafted players.
Twenty-twelve first overall pick Nail Yakupov was a bust, never topping 33 points in a season, and is playing in the KHL after a failed six-year run in the NHL.
Twenty-ten first overall pick Taylor Hall was relatively productive with the Oilers, but really shined after being traded to the New Jersey Devils, averaging over a point per game in each of his first two seasons after doing that only once in Edmonton. He also won a Hart Trophy after leaving Edmonton.
Former sixth overall pick Sam Gagner was productive enough, putting up 447 points in 809 games, but that isn't the production a team is hoping for from the sixth overall pick. He only reached 50 points once and that was with the Columbus Blue Jackets. Ryan Strome has been far more productive since being traded from the Oilers to the Rangers.
The point here is that the Oilers have not been particularly good at maximizing their young talents. It's short-sighted to describe Puljujarvi as a bust after three years, to begin with, but it's even more so when the team he's played for is considered.
Finally, the acquisition cost should be way lower. The Devils only had to give up a second-round pick for KHL star Nikita Gusev from the Vegas Golden Knights. That would be the absolute maximum that the Rangers would need to give up, and it will probably be even less when the fact that Puljujarvi appears to be fine with waiting out the Oilers in Europe.
A third-round pick, perhaps with an additional conditional pick, or a condition that could turn it into a second), could be enough to get it done if Ken Holland is desperate to wash his hands of the mess he inherited.
The Oilers have also been a surprisingly good team and could look to add an NHL ready player. That could be filled by someone with Brett Howden or Andersson (although it's unlikely that Jeff Gorton would agree to trade him for a player the Oilers have soured on).
Ryan Strome could also potentially be sent back to the Oilers for the sake of chaos, as it's unlikely that the team will re-sign the pending free agent.
Pujlujarvi isn't a sure thing, but he would represent a talented young player that the Rangers should be able to add on the cheap. The Rangers should look at him as a player that the supplement their young core for their next Cup run.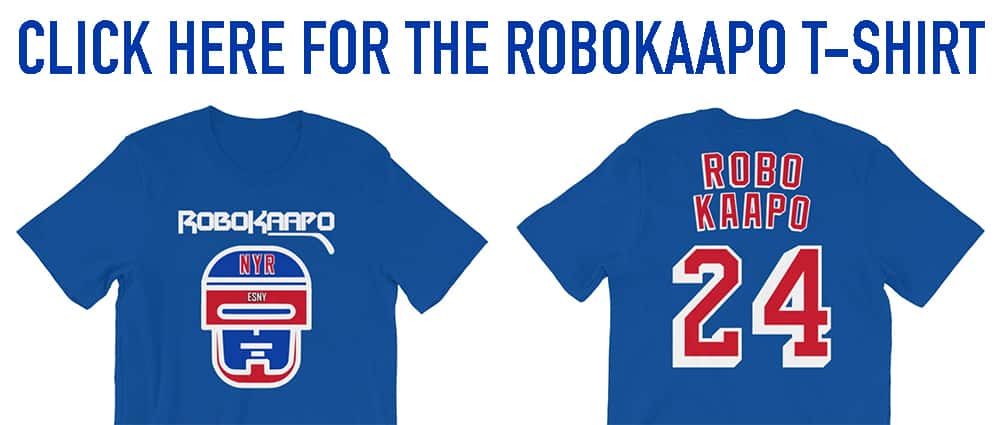 Follow Billy on TWITTER