The New York Rangers have a glut of goalies, but who might be interested in Alexandar Georgiev should he become available?
The New York Rangers have a glut of goalies in their system right now. Henrik Lundqvist is the team's 1A, with Alexandar Georgiev serving as the 1B, with each proving effective in their roles. They also have Igor Shesterkin, who won the AHL goalie of the month in October, waiting in the wings.
Additionally, the team has Adam Huska and Olof Lindbom (Sweden) waiting in the wings. That leads to an interesting situation, as the team is going to need to get Shesterkin up to the NHL to continue his development.
With Lundqvist's no-trade clause that the team won't (and shouldn't) pressure him to waive, it makes Georgiev a possible trade target. The team has had this decision looming, and it now looms larger.
However, who might be interested in him? Let's take a look at the best fits for him in a trade.
Honorable mention: Edmonton Oilers
Right now, the Edmonton Oilers probably aren't interested in Georgiev, as Mike Smith is playing out of his mind. He currently has a .926 save percentage, putting him towards the top of the league. However, his career number is .912 and he is coming off a season where he struggled to a .898 percentage.
With the likelihood that the 37-year-old will fall back to earth, it's possible that an Oilers team that hopes to make the playoffs around Connor McDavid could be interested in Georgiev. If Smith's play drops off, Edmonton could be a team to watch.
4: Arizona Coyotes
This is a fit that will only work if health becomes an issue, as Antti Raanta and Darcy Kuemper have been a fine pair. However, neither has played more than 55 games in a season, and Raanta has seen each of his two seasons end prematurely due to injury since being traded from the Rangers.
Could Arizona be interested in another Rangers goalie? If one of Kuemper or Ranta goes down with an injury, it would make sense. They were the final team to miss the playoffs in the Western Conference and are looking to return to the playoffs after adding Phil Kessel. Injuries could bump them up the list but right now their interest is probably low.
3: Carolina Hurricanes
The Carolina Hurricanes made the Eastern Conference final last season despite getting merely league-average goalie play from Petr Mrazek and Curtis McElhinney (.916 and .914 save percentage respectively).
Mrazek has returned to the Hurricanes this year, putting up a .904 save percentage so far. Pair that with James Reimer's .907 save percentage and they could be interested in upgrading the position. Georgiev would give them a young goalie who has had success despite a poor defensive unit.
While trading a young goalie to a division rival is a risk, the Rangers have enough high-quality youngsters in the pipeline to make it a risk worth taking. If they can get value for him while opening a spot for Shesterkin, that would be worth trading within the Metropolitan Division.
2: Calgary Flames
Another team with a former Rangers goalie that could be in for an upgrade. Cam Talbot is in the middle of his second straight season with a save percentage under .900 (.899). It's also his third straight season with a save percentage under .910 (remember when people wanted to trade Lundqvist and keep Talbot?).
David Rittich has been fine with a .915 save percentage, but he has never posted a save percentage above .910 and has never been trusted as the number one option in net. It's fine to ride the hot hand for now but it's possible that Rittich doesn't continue to play at the level he has been.
In that case, the Flames could be interested in adding Georgiev. He could pair with Rittich to lead the team to the playoffs with the team likely waiving Talbot. Such is life in a difficult division.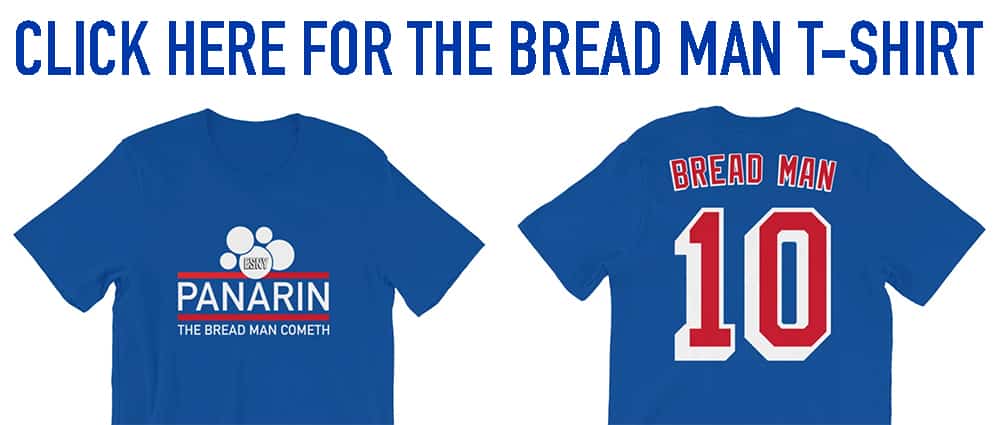 1: San Jose Sharks
This is far and away the best fit for Georgiev. This is a team firmly in win-now mode, as they don't have their first-round pick this season and a lot of money tied up to players who are in the latter half of their primes.
They want to win and yet their goaltending tandem has been atrocious. Martin Jones has a .883 save percentage a year after a .896 rate. Aaron Dell sits at .878 after doing a similarly poor job last season (.886).
Georgiev's $792K cap hit would be very valuable to a team that is sitting with little cap space ($143K). The Sharks will need to clear space but the Rangers could take Aaron Dell (final year of his contract, $1.9M cap hit) to create the needed cap space for the Sharks.
How valuable Georgiev is to the Sharks depends on how desperate they are to upgrade from their current goalie tandem. It is becoming more and more clear that if they want to make the playoffs they will need to get an upgrade, which Georgiev would certainly be.
Follow Billy on TWITTER