With the Winnipeg Jets in town for the opener, the 2019-20 NHL season has arrived. With it, ESNY presents the New York Rangers statistical preview. 
Lineup and Projections
Offense
The 1st Line
Artemi Panarin
Projection: 30 G, 55A, 85P
Artemi Panarin will make his presence felt throughout his inaugural season on Broadway. The dynamic winger is a virtual lock for at least 80 points as long as he plays a full season. I'm expecting big things from the Blueshirts' $11.6-million man.
Mika Zibanejad
Projection: 34 G, 43A, 77P
I expect Mika Zibanejad to take another step forward in his quest toward joining the NHL's group of elite centers. After his breakout 2018-2019 campaign, he'll continue to progress this year as long as he can stay healthy. Zibanejad and Panarin will prove to be a lethal duo for years to come.
Pavel Buchnevich
Projection: 26G, 35A, 61P
It's now or never for New York's Russian enigma. Playing on the top line with his fellow countryman, this is Pavel Buchnevich's final chance to prove that he can be a consistent and productive top-six forward. I think he'll take advantage of this golden opportunity. Playing alongside such skilled players, the offensive opportunities are bound to come in bunches for Buchnevich. However, the key for the 24-year-old will be his play in his own zone and his compete level.
The 2nd Line
Kaapo Kakko
Projection: 22G, 29A, 51P
Expectations are high for the second-overall pick, but he should have no issue living up to Rangerstown's lofty hopes. At the age of 18, Kaapo Kakko already looks like a force to be reckoned with below the dots. He should have no trouble finding immediate success.
Ryan Strome
Projection: 17G, 22A, 39P
Although Ryan Strome performed admirably during his stint with the Rangers last season, his offensive output may not be sustainable when considering the fact that he was the beneficiary of an absurdly high 22% shooting percentage. The former fifth-overall pick had an impressive camp in which he beat out Filip Chytil for the second-line center spot, but Strome will need to hover around the 40-point mark in order to have a successful season. He should have no problem doing so.
Chris Kreider
Projection: 27G, 25A, 52P
There are plenty of question marks surrounding Chris Kreider as we enter the 2019-2020 campaign. What else is new? Kreider is coming off of a solid year, but he's in need of a new contract next summer, and it may not make sense to give the 28-year-old the money and term that he'll desire given New York's somewhat problematic salary cap situation. Kreider needs to take the long-awaited "next step" and elevate his game to the next level. If so, he might just force Jeff Gorton to keep him around for the long term.
The 3rd Line
Vladislav Namestnikov
Projection: 14G, 21A, 35P
Vlad Namestnikov should have a similar season to last year. He's not the most noticeable guy on the ice, and he's not going to wow you with any aspect of his game. At the same time, he's in store for another average season.
Brett Howden
Projection: 12G, 17A, 29P
After getting off to a hot start a season ago, Brett Howden was snakebitten the rest of the year. There's no doubt that he struggled through the second half of the season, but I'm still very optimistic about his future. I'm a big fan of Howden's game, and I think that he'll turn things around this year. He won't light up the score-sheet, but I expect him to be the catalyst of what should be a relatively productive third line.
Jesper Fast
Projection: 9G, 18A, 27P
It may be a new year, but don't expect anything new from Jesper Fast. He's been one of New York's most consistent and reliable forwards on any given night for the last number of years. I expect yet another solid season from the Rangers' alternate captain.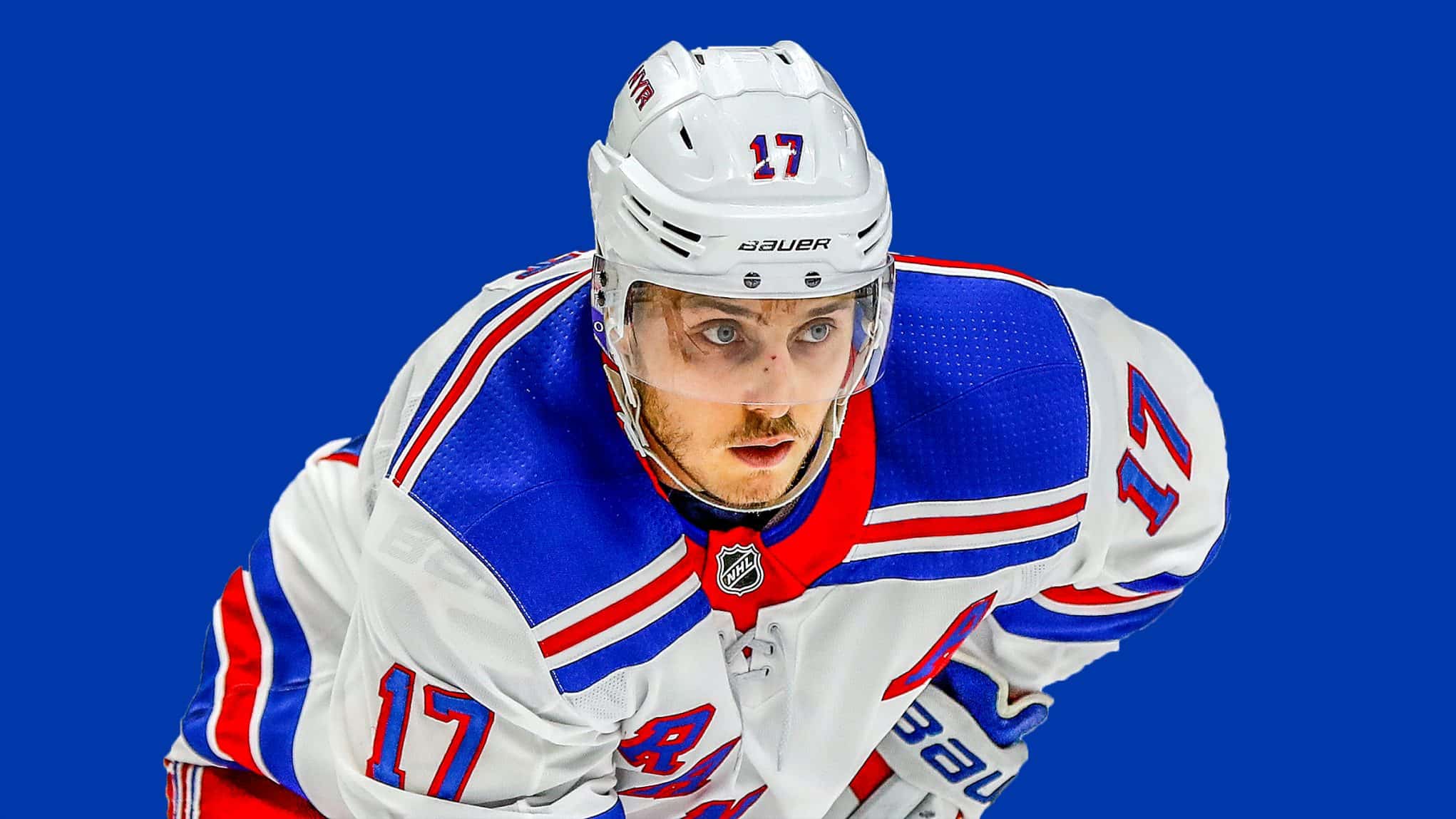 The 4th Line
Brendan Lemieux
Projection: 12G, 11A, 23P
I love what Brendan Lemieux brings to the table. The stats don't tell the story for him. The energy, heart, and grit that he brings to this very skilled lineup is invaluable.
Lias Andersson
Projection: 7G, 9A, 16P
The same thing goes for Lias Andersson. He'll have much a better season than this stat-line indicates. I think he'll take major strides this year, but they won't come in the scoring department. I'm expecting big things from Andersson in regards to his play in the defensive zone. He should be a key cog in New York's penalty-kill.
Brendan Smith
Projection: 4G, 8A, 12P
To be completely honest, I'm not exactly sure why Brendan Smith is occupying this spot. I understand that David Quinn wants to utilize him on the penalty-kill, but it seems dumb to take away a spot from a true forward just so that Smith can play the penalty-kill. I'm not sure how long the inconsistent defenseman will keep this role.
Defense
The 1st Pair 
Brady Skjei
Projection: 6G, 25A, 31P
This will finally be the year that Brady Skjei reverts back to his rookie-year self. With a steady partner in Jacob Trouba, Skjei won't feel nearly as much pressure as he has felt over the last two seasons. I'm expecting a bounce-back year from number 76.
Jacob Trouba
Projection: 7G, 32A, 39P
The addition of Jacob Trouba should certainly help stabilize New York's defense. He's not gonna fix all of the Rangers' problems, but the defense-core should be less of a trainwreck than the abomination that it has been the last two years. Trouba will play a major role in this.
The 2nd Pair
Adam Fox
Projection: 6G, 23A, 29P
The Adam Fox preseason hype is no fluke. The Jericho native has looked great all summer, and he has passed every test thus far. I'm expecting Fox to be a contributor from the get-go.
Libor Hajek
Projection: 4G, 10A, 14P
Libor Hajek showed plenty of flashes of potential during his time with the Blueshirts last season. I expect him to pick up right where he left off. Much of New York's defensive success is dependent on the effectiveness of Hajek. If he can be a steady presence on the back-end, the Rangers' defense has a chance to turn things around.
The 3rd Pair
Marc Staal
Projection: 2G, 7A, 9P
Not much is new with Marc Staal. He'll probably continue to play the penalty-kill, but hopefully not much else. I'd like to see Ryan Lindgren get a chance in Staal's spot, but it doesn't seem likely that David Quinn will remove the trusty veteran from New York's starting lineup.
Tony DeAngelo
Projection: 6G, 21A, 27P
I'm excited to see what Tony DeAngelo can do in a full season. He has lost his role as the quarterback of the Blueshirts' top power-play unit, but he'll still be an effective point-producer. I have high hopes for DeAngelo's future.
---
Accolades
Most Valuable Player: Artemi Panarin
There's no need to overthink this one. Panarin is the most talented player on this team. He'll be the team MVP.
Breakout Player: Pavel Buchnevich
He's got a golden opportunity playing on the top-line alongside two studs. Buchnevich will finally live up to the hype.
Biggest Disappointment: Jacob Trouba
This isn't to say that Trouba will be some sort of total bust by any means. However, expectations are sky-high, and I don't think he'll live up to them. I'm not expecting another 50-point campaign from Trouba, and he can't single-handedly turn around the Rangers' defense.
Surprise Player: Libor Hajek
Nobody is expecting much from New York's young defenseman. He'll prove why the Rangers gave up Ryan McDonagh in exchange for him.
Rookie of the year: Kaapo Kakko
There's not much competition here. It's Kaapo Kakko or bust.
Trade Deadline Departure: Chris Kreider
The Rangers simply don't have the salary-cap space to keep Kreider around. Some moves would have to be made in order to find the money to hold on to Kreider. It just doesn't make sense with the current state of this team.
The X-Factor: Ryan Strome
If Strome performs well, the Rangers could boast a dynamic offense this season. Outside of the second-line center spot which Strome occupies, New York's top-six is very strong. If Strome takes his game to another level, the Blueshirts could score in bunches.
---
Final Prediction
New York Rangers Record: 39-35-8 (86 PTS)
Final Thoughts:
The Rangers will miss out on the 2019-2020 playoffs. This season will be a step in the right direction for the Blueshirts, but their offseason additions won't be quite enough to get them over the hump. David Quinn and his squad are still at least another year away from serious contention.
Follow Brian Paget on TWITTER