With the starting five set, the New York Knicks and Brooklyn Nets still have the talent and depth to create a deadly second-unit.

Part two of this three-part roster construction series focuses on the second unit. The New York Knicks and Brooklyn Nets both have youth and a veteran presence sprinkled on their benches. This, of course, follows Part 1 of the Knicks-Nets mixed roster series.
Of the players that were prominently featured on the Knicks bench, only Damyean Dotson, Mitchell Robinson and Allonzo Trier remain. Frank Ntilikina, the Knicks longest-tenured player, will also return for his third NBA season, and after an impressive showing during the FIBA World Cup, one must wonder whether head coach David Fizdale will give the Frenchman more playing time this year.
Now if you're a fan of low-risk investment, you may also be a fan of the Knicks offseason. Signing players like Elfrid Payton, Wayne Ellington, Marcus Morris, Bobby Portis, and Taj Gibson to short-term deals allows the Knicks to maintain financial flexibility while creating competition for minutes with their young prospects. Most, if not all of these players will see some time in both, the starting lineup and bench units.
According to Hoop Stats, the Nets finished the 2018-19 season with the second most bench points in the NBA. Led by players like Spencer Dinwiddie, Shabazz Napier and Ed Davis, this scrappy and skilled bunch helped guide the Nets to a sixth seed in the Eastern Conference playoffs.
And despite adding mega-stars like Kevin Durant and Kyrie Irving to the mix, Sean Marks and co. actually did a sneaky bit of good business by adding veteran leadership and role players such as Garrett Temple, Taurean Prince, and David Nwaba. The Nets' roster one through 15 showcases a bit of everything from three-point shooting and rebounding to play-making.
If the Nets-Knicks starting five reads like a red-carpet list at the ESPYs, the second unit is more like that underground jazz club with a speakeasy in the basement. A place where the bruisers and socialites coalesce. If you don't come correct, they'll throw you out in a minute, but play your cards right, and you're in for a show.
Let's take a look at the Nets-Knicks mixed roster's second unit.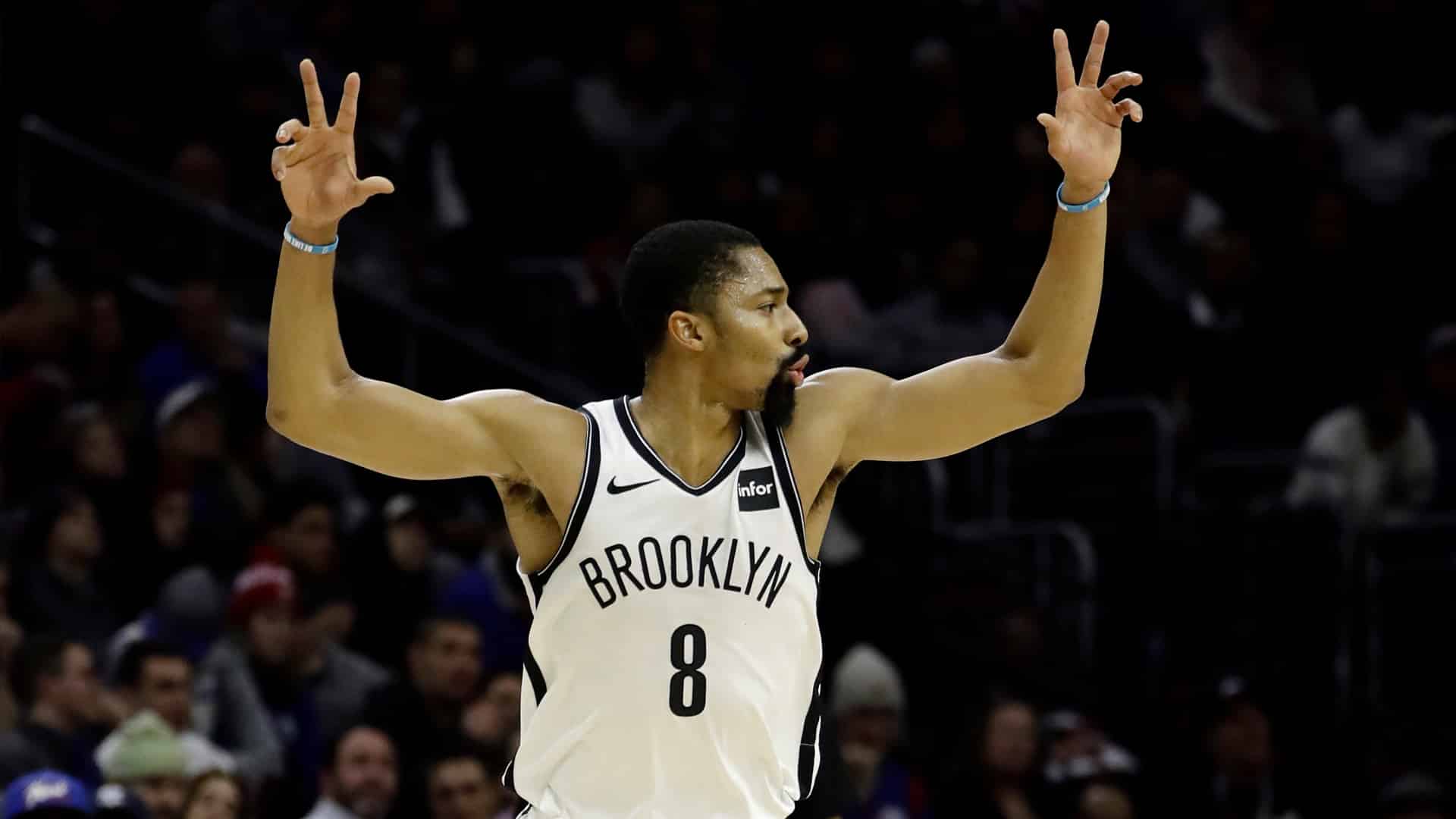 PG Spencer Dinwiddie
Spencer Dinwiddie's attempts to ether Knicks Twitter are both amusing and generally in good fun. But on the court, the 6-foot-6 Swiss Army knife is a coach's dream. Dinwiddie, who finished fourth last season in the running for Sixth Man of the Year, looks poised to take another step in his development.
Dinwiddie's unique blend of silky-smooth drives to the hoop, play-making, court awareness and clutch shooting make him an integral piece on a winning team. After all, the Nets certainly thought as much when they signed him to a three-year, $34 million extension back in December.
Towards the end of last season, Tom Dowd of NBA.com wrote about Dinwiddie's accomplishments. The six-year man out of Colorado set franchise records for both 30-point games off the bench and 25-point games off the bench. Dinwiddie also ranked fourth in the NBA in points per possession in isolation plays, only behind James Harden, Kevin Durant, and Kawhi Leonard.
There was certainly a consideration for Dennis Smith Jr. and Elfrid Payton; however, Smith's well-publicized attempts to improve his jump shot will have to be observed on an actual NBA court before he gets the nod over a player like Dinwiddie.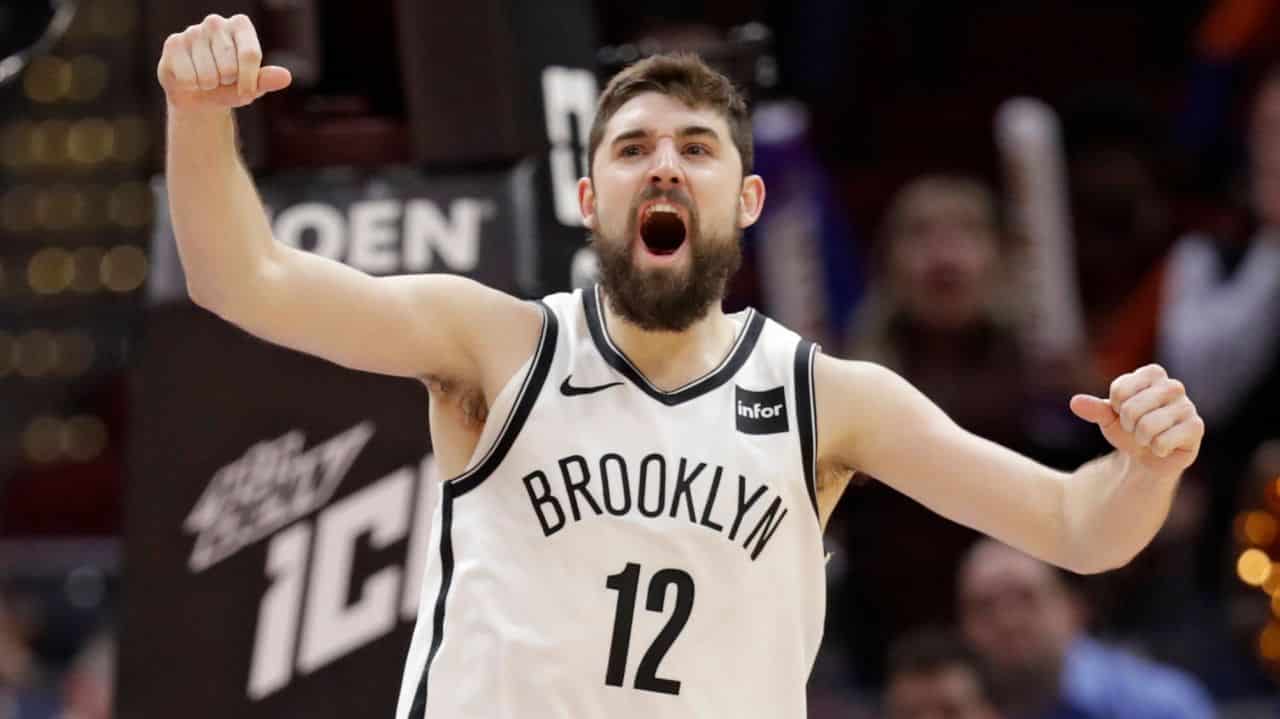 SG Joe Harris

Joe Harris is beloved in Brooklyn. In fact, I'm pretty sure I just heard Ian Eagle yell "book it!" somewhere. Harris is an x-factor in all games and a key target in an opposing team's defensive game plan. Selected to this summer's USA squad during the FIBA World Cup, Harris is slowly, but surely becoming a household name.
Credit Kenny Atkinson and his coaching staff for developing this second-round draft pick and former G Leaguer into one of the game's deadliest shooters. Kyle Wagner of the New York Daily News wrote about Harris's shooting prowess and court awareness.
"But Harris has made three-pointers from the wing at a nearly 50% rate, per StatMuse, and frees himself for those shots often just by standing in an area of the court where defenses aren't trained to guard," Wagner wrote. "He shoots it from where they ain't. And when that doesn't work, he'll sometimes use a little flare screen to pop out for a quick catch-and-shoot, like latter-day Ray Allen or, you guessed it, Kyle Korver."
Of all the players from the 2018-19 roster, Harris' on-court/off-court splits in regards to offensive rating, have the biggest difference. But Harris was more than a floor-spacer and automatic bucket from 27 feet and beyond. Towards the end of the season, Harris showcased an ability to find teammates out of the double and developed a little bit of the clutch gene.
Matt Brooks of ESNY writes that Harris's shooting percentages in the last five minutes of the game separated him from the pack. Hitting his threes at a 47% clip, and positing a 90% shooting percentage from the line, Harris was a model of efficiency in crunch-time last season.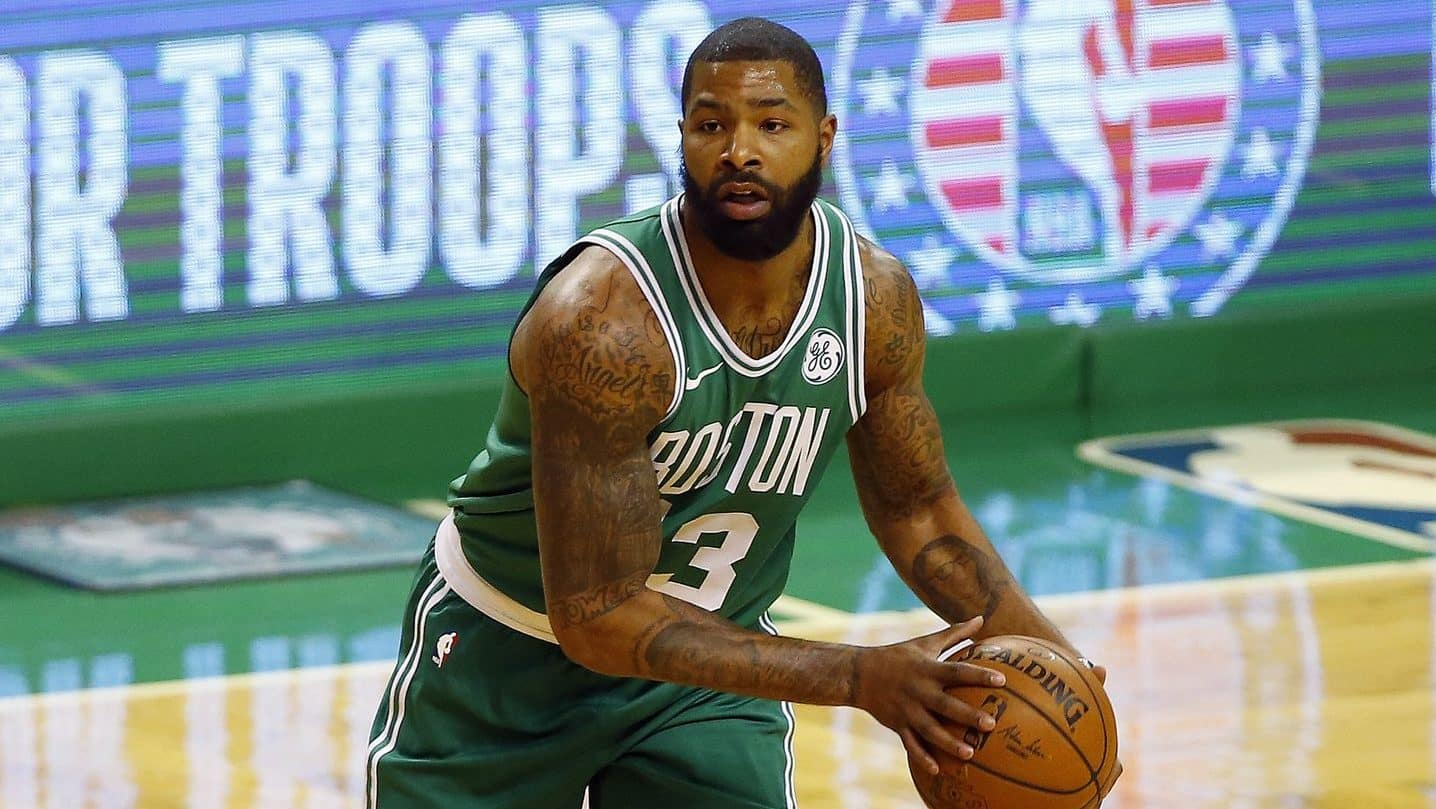 SF Marcus Morris
Marcus Morris has been the epitome of consistency over the last five seasons. Averaging around 14 points per game along with five to six rebounds per game is no easy task in the NBA. Furthermore, during his eighth season in the league, Morris posted career-highs in three-point percentage, field-goal percentage, and free-throw percentage.
Unlike the other shooters on the second-unit, Morris is a bit of an old-school throwback with his mid-range game. Versatility in scoring is an important part of any offense. Since the 2014-2015 season, Morris has shot at least 45 percent from 16 feet out the three-point line. Defenses that are more analytically driven, may try to take away shots at the rim and from the three-point line. Morris will still be able to get his shot off.
Last season, David Fizdale ran a lot of dribble-hand-offs with his young squad and Nets coach Kenny Atkinson ran a motion offense with numerous screens. Per Synergy, Morris ranks within the 69th percentile in scoring efficiency in hand-offs and within the 96th percentile in scoring off screens, meaning that he will likely continue to be a model of consistency heading into the later parts of his career.
Finally, most Knicks fans will remember the night LeBron James came into the Garden and tried to punk Frank Ntilikina. At the time, Enes Kanter stood up for the second-year guard, and the home crowd went wild. It's quite possible that opposing teams will think better than to mess with any of the Knicks-Nets young players with a squad that features Morris, Bobby Portis, and DeAndre Jordan. However, if they do, you can bet Morris will have his teammate's back.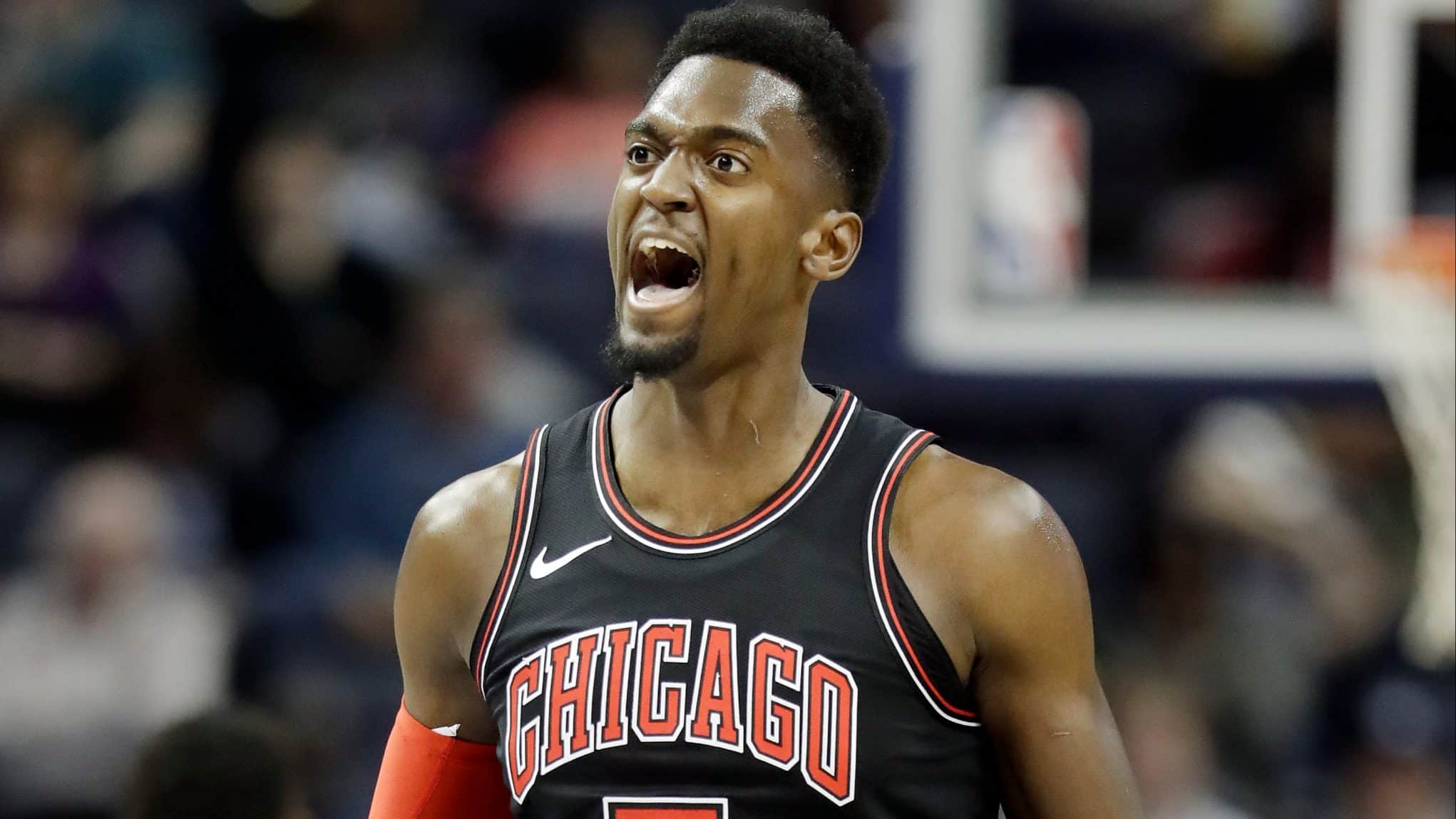 PF Bobby Portis
The forward positions are by far the most difficult selections. You can make fair arguments for players like Kevin Knox and Taurean Prince. Yet in the spirit of balance, a team with high-powered offensive talents such as Durant and Irving, their bench unit needs some toughness and nastiness.
Portis's reputation as an All-back alley All-star came from his very public physical confrontation with then-teammate on the Chicago Bulls Nikola Mirotic. But on the court, Portis, when healthy, is a long, versatile forward, who can shoot and rebound.
A basic statistical comparison between Portis and Prince will yield a lot of similarities. Prince has the edge in career three-point shooting, all three players averaged around 13-14 points per game last season, but Portis has a decided advantage in rebounding. In time split between the Washington Wizards and Bulls, Portis averaged just over eight boards a game. He also edged out both forwards in contested rebounds as well.
On the defensive end, Portis has made some good improvements as well. Per Synergy, Portis ranks within the 78th percentile in guarding the pick and roll as a big, and within the 81st percentile in defending all jump-shots in the half-court. Every second unit needs an enforcer-type. In Portis's case, his edge happens to come with a whole lot of talent and skill.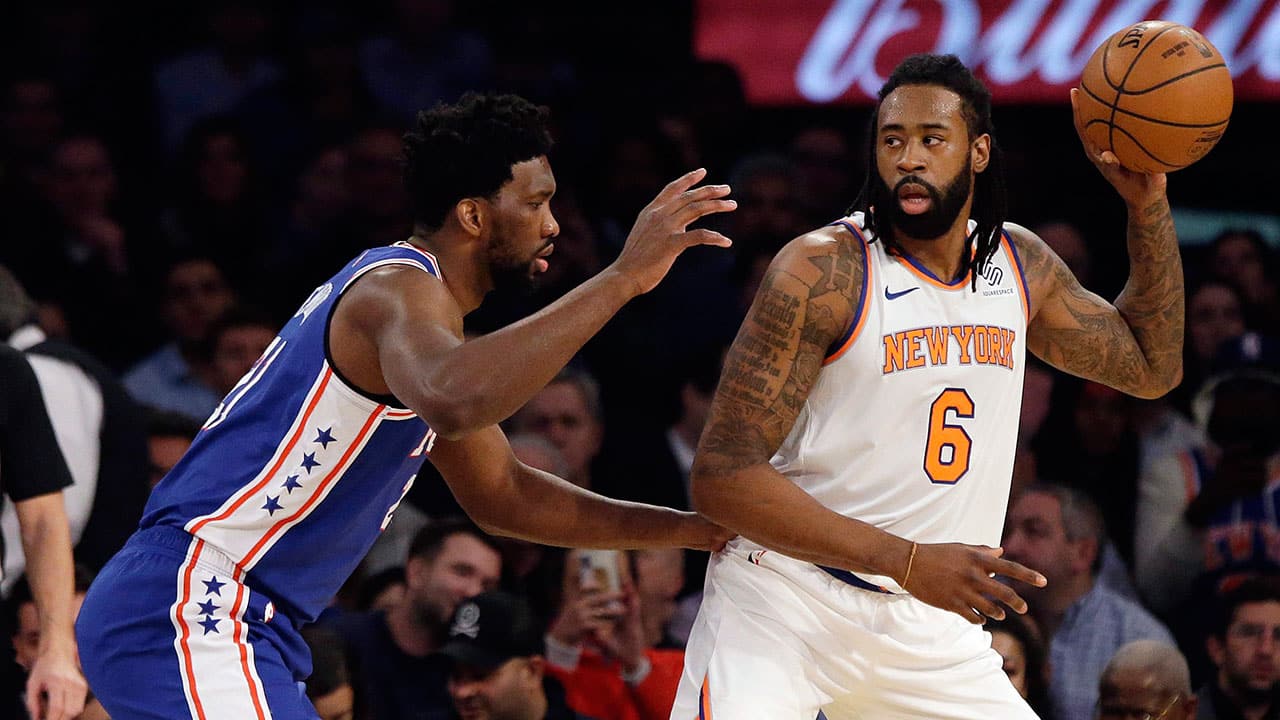 C DeAndre Jordan
DeAndre Jordan is not the perennial Defensive Player of the year candidate that he used to be, but still widely respected around the league and for good reason.
Jordan finished the 2018-2019 season ranked fourth in rebounds per game (9.8), behind only Andre Drummond, Giannis Antetokounmpo, and Joel Embiid. Jordan has always been aggressive in attacking the boards, and a front-line that features Portis, Gibson, and Jordan won't let any missed shot hit the floor.
Jordan's time with the Knicks, albeit brief, allowed him to grow as a playmaker. In 19 games within the orange and blue, Jordan averaged three assists per game. Jordan showcased savvy with hitting wings cutting back-door and he seemed to have a very positive effect on Knicks young stud Mitchell Robinson.
Jordan's final asset is his experience. In six seasons, Jordan has played 57 playoff games, most of them with the Los Angeles Clippers. During that time, he's averaged 15 points per game and 14 rebounds per game. We all know that Jordan can be a liability at the end of the game because of his poor free-throw shooting, but I'll take his experience in high-pressure situations nine times out of ten.
In the third and final part of the Knicks-Nets roster construction series, we take a look at the best of the rest. Filling out the roster will likely lead to some interesting omissions. Who will make the team? Who will be left out? Check back for part three next week.