Joseph Tsai's Brooklyn Nets purchase will have ripple effects across the basketball world. The New York Liberty could be the biggest winners.

Joseph Tsai went into town to buy a few things. He came back with a new arena and full ownership of a rising professional sports franchise.
And $2.35 billion later, Tsai is now the full-time owner of the Brooklyn Nets, a team on the meteoric rise in the NBA. Tsai also emerged with new properties in separate deals. He likewise purchased both Barclays Center and Nassau Coliseum from Mikhail Prokhorov, ending the Russian's decade at the helm of the Nets.
The Nets are now under the supervision of an international businessman who has succeeded in multiple endeavors. His Alibaba retail conglomerate is the world's fourth-largest internet company by revenue. Among Alibaba's properties is the South China Morning Post, which was named Hong Kong's most credible newspaper in a 2016 public survey. Tsai's first break into sports was a lacrosse expansion outing that saw his San Diego Seals reach the National Lacrosse League playoffs in their first year.
Simply put, Tsai is a man who made his wealth through shrewd decisions and the right help. His new NBA franchise is certainly poised for exciting times ahead. The Nets recently put an end to a three-year playoff drought and have only increased their future prospects with the offseason additions of former NBA champions Kevin Durant and Kyrie Irving. Local breakthroughs like Spencer Dinwiddie, Joe Harris and Caris LeVert are all expected to return.
So it's safe to say the Nets have a bright future under Tsai. With that business settled, it's time to decide what becomes of his other hardwood project: the New York Liberty.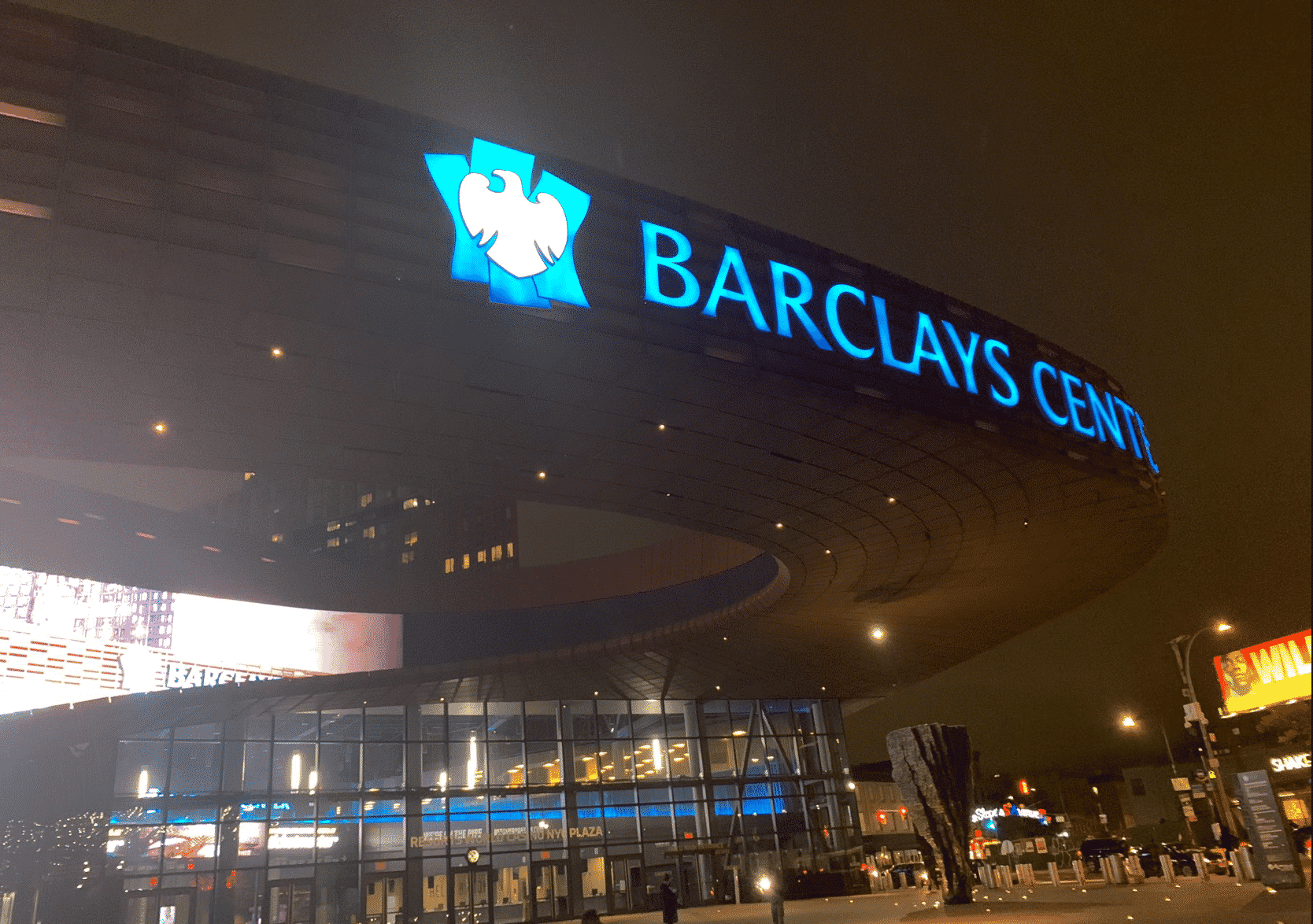 The Liberty are among the WNBA's proudest franchises. A title has proven elusive, but the team has nonetheless accomplished plenty. They are one of three of the league's original squads leftover from the 1997 inception (Los Angeles and Phoenix are the others) and some of the WNBA's most hallowed names have taken the floor.
The Liberty patrolled the holy ground of Madison Square Garden for two decades. Things weren't always secure under MSG ownership…renovations and events like the 2004 Republican National Convention forced the Liberty into three different homes…but they enjoyed a decent run.
MSG put the Liberty up for sale in 2017 and more or less evicted them from the eponymous building (they played two final games at MSG in 2018). Their new home became the cozy Westchester County Center, an Art Deco-adorned relic in White Plains that sits 45 minutes from Manhattan. With a knowledgeable and loud city-based following ostracized in the suburbs, the Liberty have wandered in basketball limbo. They're 15-43 over the past two seasons, despite a plethora of talent on the rosters.
The purgatorial trip had some wondering if the Liberty's run in New York was coming to an end. After all, franchises in Charlotte, Cleveland, Houston, and elsewhere faded away after losing NBA associations.
Tsai came through with a January purchase. His opening statements implied dedication to the New York area.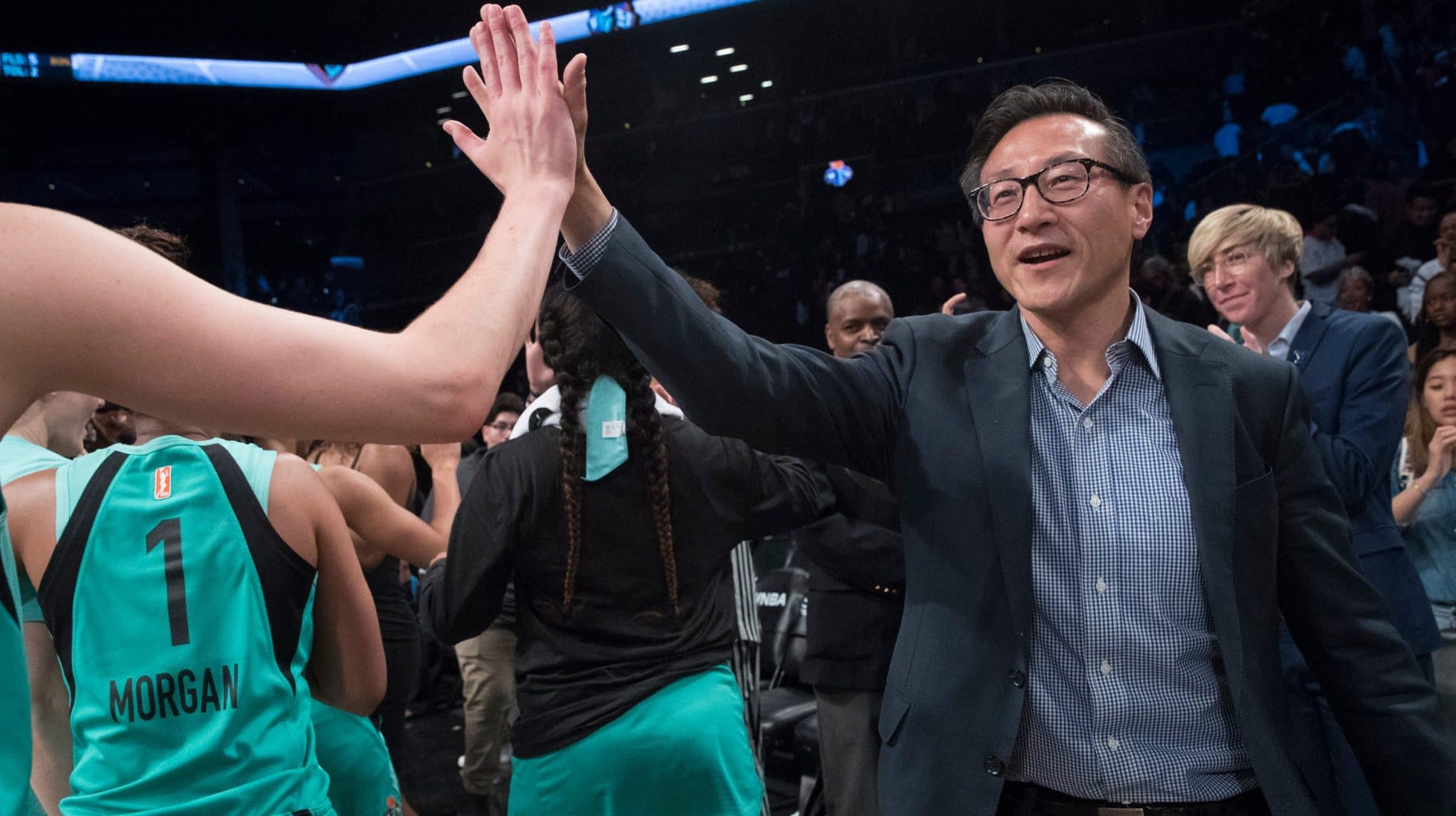 "As one of New York's proudest franchises, the Liberty has played a vital role in New York City over the past 22 years," Tsai said. "The Liberty and WNBA exemplify what it means to compete at the highest level, serve as role models in the local community, and bring greater opportunities to female athletes. Our goal is to continue this important work and help bring the WNBA into its next phase of growth."
With New York power comes great responsibility. The livelihood of the WNBA doesn't live or die with the Liberty. But, in creating an upstart professional sports league, having a team flourish in the media capital of the world is essential.
New York is also a city and area where basketball is a major part of the culture. Courts like Rucker Park, The Cage on West Fourth Street and Tompkins Square Park are all city landmarks essential in a tour of metropolitan sports.
The fact that the Liberty are, by far, one of the most eternal women's teams in the city only adds to the imperativeness of a city-based home.
"Besides the fact that New York City fans are super amazing, I think it's super important because they're one of the three original teams. Most importantly, it sets the tone for all the other teams," WNBA legend Taj McWilliams-Franklin told ESNY earlier this summer. "New York really sets the tone. I know, for me, the impact, back when (MSG) owned the team, of my first time walking into Madison Square Garden and playing the (1999) All-Star Game there, against the Liberty there."

"Fast forward to where I played for the Liberty and fast forward to where I was an assistant coach with the Liberty, the impact is monumental because I think all eyes are always on New York. That's why all the major companies are here, but that's also why our league headquarters are here. We're going to make sure teams know this is the epicenter of the W."
Upon Tsai's purchase, it was immediately announced that a majority of games would remain in White Plains. Two games on Atlantic Avenue were later announced. The first was a May exhibition against the Chinese national squad, and a regular-season matchup with defending WNBA champions from Seattle awaited in August.
The face of the Liberty remains Queens native Tina Charles. An alumna of Christ the King Regional High School, Charles remained politely assertive about her insistence that Brooklyn was where she and her teammates belonged.
Liberty assimilation has indeed begun in the borough. The team practices on the campus of St. Joseph's College and many Liberty players have made their home there. Charles, though, knows there's only one way for the Liberty to make their mark.
"Me personally, when I think New York City, I don't think Westchester," Charles said when the team convened for training camp. "It's extremely important (to play in Brooklyn). I think that's what will make the difference between this ownership and the last ownership we had: showing value in our fans and getting us back in the city where we can be reachable for our fanbase."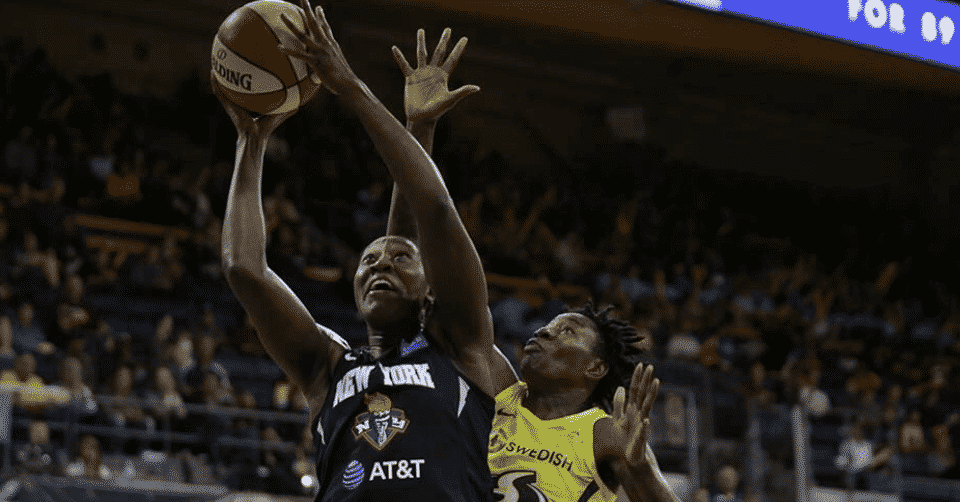 Asked about permanent residence on Atlantic Avenue, Charles declared "That would be the only other ideal place that's suitable for a professional women's basketball team."
Thanks to Tsai's new properties and the magic of New Yorkers, Charles' vision is even closer to becoming a reality.
Just over 4,000 showed up for the Liberty's win over China, a victory that featured rookie and Tsai's fellow Asian immigrant Han Xu scoring a game-high 19 points. Brooklyn outdid themselves in return trip, as 7,715 came out to see their new squad. When compared to 2018 WNBA attendance averages, that number would fifth amongst the dozen teams.
Brooklyn's draw would also outpace the 2018 crowds in Atlanta (State Farm Arena), Indiana (Bankers Life Fieldhouse), and Washington (Capital One Arena). Those squads are among several to have an NBA roommate in their arena (though the Mystics moved to a new, solo arena this season).
The undermanned Liberty (missing starters Asia Durr and Amanda Zahui B) fell by 15 to the Storm. They lost the game but earned the biggest win: a home.
"It's really nice to play in an arena like this," guard Bria Hartley said. "I think at the professional level this is what an arena should look like. The fans are eager to get here, eager to support, so you want to continue that in the future."

"Crowd was great, atmosphere's great, energy's great," head coach Katie Smith added. "All the game ops, fans, it has a really fun vibe for basketball. We had a blast today."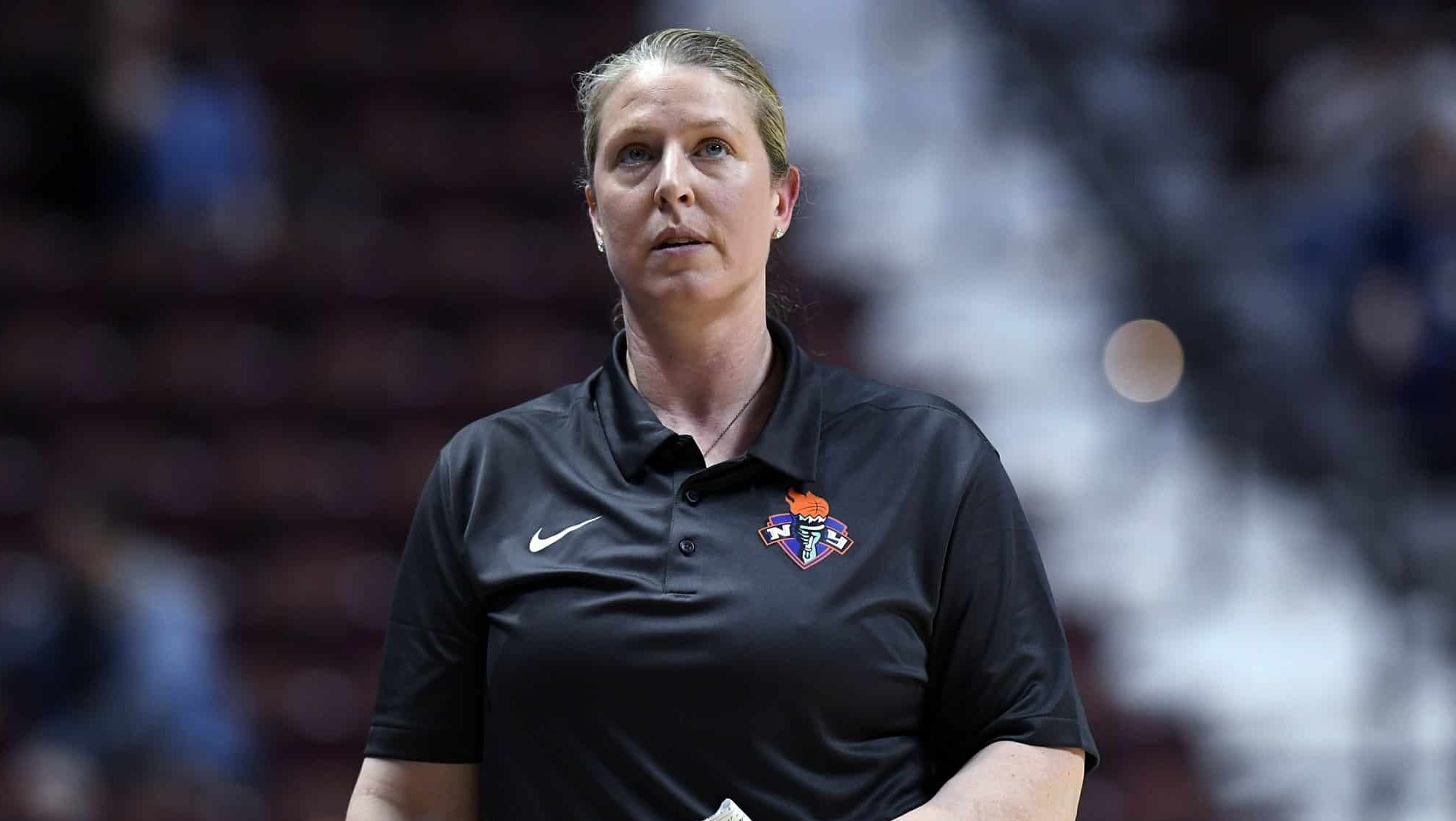 Fan response was unanimously positive. The building even earned a special shoutout from a courtside fan.
"As a basketball fan, (Barclays) is an arena. You'd rather play in an arena rather than a community center," injured Storm star and former WNBA MVP Sue Bird told ESNY. "Things happen, and they had to make the best of the hand they were dealt. But I think the Liberty has done that and hopefully this game can be a start of a maybe a new home from them starting next year or the year after that."

"I think it's safe to say everyone would love to play here."
Top critic duties obviously had to be extended to Charles herself. She was pleased with the output, even if such a welcome party came as zero surprise to her.
"I'm not surprised at the crowd," she said. "The New York Liberty has a great following. This is a legendary organization, being one of the very first franchises when it started in 97. It wasn't a shocker to me at all."
True to form, Charles doubled down on her Brooklyn demand.
"It's not a shot at Westchester, but this organization is deserving of playing in an arena in the likes of Madison Square Garden or Barclays," Charles said in a polite yet assertive declaration. "It's more than just my personal opinion, It's what needs to happen."
Charles is right in her assertion. A dedicated Tsai now has the means to make it happen.
Tsai obviously needs no advice on how to manage his properties. But, now armed with the means to make the request of Charles and many fans come to life seems like a no-brainer after Sunday's event.
After all…a city that worships the roundball came to see some of their finest athletes in a new athletic palace, there to watch a team named after one of their city's most beloved landmarks…novelty concept, no?
Tsai's recent events can ensure Brooklyn games are no longer a novelty, but a phenomenon that should've stayed routine.
Follow Geoff Magliocchetti on TWITTER